Robert K. Weiler '73, HD '00 Announced as Commencement Speaker
March 21, 2019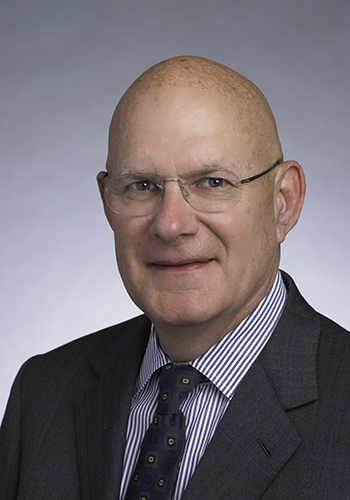 Dr. Steven R. DiSalvo, president of Saint Anselm College, has announced that Robert K. Weiler '73, HD '00, trustee emeritus of Saint Anselm College and Executive Vice President of Oracle Corporation, will deliver Saint Anselm College's Commencement Address on Saturday, May 18, 2019.
During the ceremony beginning at 11 a.m. on the lawn in front of Alumni Hall, the college will also award three honorary degrees to distinguished alumni who have excelled in their fields:
Stephen J. Ellis '69, college trustee and former Senior Vice President and National Director of Sales for the Hartford Insurance Group;
Sheila A. Evjy, R.N. '74, former Vice President of Nursing at Elliot Hospital;
James P. McDonnell '81, former Sheriff of the County of Los Angeles.
Robert K. Weiler '73, HD '00
Robert K. "Bob" Weiler is an Executive Vice President of Oracle Corporation. Previously he was Chairman and CEO of Phase Forward, a leading provider of integrated data management solutions for clinical trials and drug safety. Weiler has over 40 years of technology-industry leadership experience, including his previous tenure as Giga Information Group's Chairman, President and CEO. Earlier in his career, he served as President and CEO of Eastman Software (formerly Wang Software), as well as Senior Vice President, Worldwide Sales and Marketing, for Lotus Development Corporation, where he was instrumental in expanding the company's Lotus Notes business.
He chaired the Saint Anselm College Board of Trustees for almost a decade, and received an honorary doctorate from the college in 2000. Weiler has served on the board of directors of the Waterville Valley Company, Corporate Software, Distributed Management Systems, Cullinet Software, Interleaf, DataLogix, and Giga Information Group. He received the Ernst & Young Entrepreneur of The Year 2010 Award in the Healthcare IT category in New England. In 2009 while he was Chairman and CEO of Phase Forward, the company received the prestigious Technology Pioneer Award from the World Economic Forum. In 2006, he was named to the PharmaVOICE 100 list, and he was also named 2006 CEO of the Year by the Massachusetts Technology Leadership Council, an award that honors individuals who best exemplify leadership and excellence in business and technology.
Stephen J. Ellis '69
Stephen Ellis is retired from a distinguished career with the Hartford Insurance Group, having served as Senior Vice President and National Director of Sales responsible for maintaining $13 billion in assets and selling $150 million of new business over his 38 years there. He has been a member of the Board of Trustees of Saint Anselm College for over 20 years, as well as being appointed by the Governor to the Board of the Community College System of New Hampshire (CCSNH) and serving on the Board of the Indian Stream Health Center of Colebrook, N.H. Past Board of Trustee/Director positions include the Boy Scouts of America (Conn. and N. H.), the Tillotson Cultural Center (Colebrook, N.H.), the North Country Chamber of Commerce, and many other organizations. Ellis has also served two terms as Selectman for the Town of Pittsburg, N.H., where he was Board Chairman, helped established the Economic Development Committee, and helped secure key grants for the town.
At Saint Anselm College, in addition to serving on the Board, his contributions include over 10 years as a member of the Alumni Council; president of the Greater Hartford Alumni Chapter; recruitment of many students; founding membership in the President's Society; founding of the Stephen J. Ellis Annual Scholarship Fund; and recognized leadership in myriad other admission, alumni, and advancement initiatives, including being the recipient of the college's Joseph P. Collins Award.
Sheila A. (O'Donnell) Evjy, R.N. '74
Sheila Evjy is a Board Member of the VNA of Manchester and Southern New Hampshire. She is a member of the Ethics Committee and the Associates of the Elliot Hospital in Manchester, N.H., and has served in many capacities at the hospital including having formerly been a member of the Board of Directors and a member of the Elliot System Special Board. Beginning in 1969, she rose through the Elliot Hospital education and nursing ranks to become the Vice President of Nursing.
Over a long professional career, Evjy has served in many roles in healthcare, participating in numerous workshops, seminars and courses in nursing advances and practice. She was a member of the Board of Registration in Nursing (N.H.), as well as serving as a member of the Advisory Boards of the Saint Anselm College Nursing department and the Salter School of Nursing, and as an adjunct faculty member at the University of New Hampshire. She served as a Special Education Counselor at Pinkerton Academy in Derry N.H., and was a Board member of Birch Hill Terrace in Manchester.
Over the years, Evjy has been the recipient of a number of awards, including induction into the Sigma Theta Tau International Honor Society of Nursing. In 2004, the Nursing Practice and Education Center at Elliot Hospital was dedicated to the names of Hazel Finch and Sheila (O'Donnell) Evjy, and she was subsequently presented with the William S. Green Award for Excellence and the Robert and Lucille Davison Philanthropy Award (both from the Elliot Health System).
James P. McDonnell '81
James P. "Jim" McDonnell was the 32nd Sheriff of the County of Los Angeles, the nation's largest sheriff's department and the second largest law-enforcement agency in the United States, overseeing over 19,000 employees and managing an annual budget of over $3 billion dollars. He previously served as the Chief of Police in Long Beach, CA., and, prior to that as First Assistant Chief and many years of service in the Los Angeles Police Department (LAPD).
During his almost 29 years of work in the LAPD, he held every rank except Chief of Police and served as second in command to Chief William Bratton. As Bratton's Chief of Staff, McDonnell was viewed as an ambassador who helped the department connect with Los Angeles' diverse communities and political leaders. As Chief of Police in Long Beach, he oversaw a 20% drop in violent crime and has been credited with dramatically improving community relations, helping drastically to reduce gang activity, and trying to improve racial diversity in the department.
Sheriff McDonnell was the recipient of the Los Angeles Police Department's Medal of Valor (the Department's highest award for bravery), as well as the Peace Officers' Association of Los Angeles County President's Award, the Los Angeles Police Museum's 2018 Jack Webb Award, the Los Angeles City Council's "Visionary Leadership Award, the 2001 Saint Anselm College Alumni Association's Justice Award for distinguished service in the field of Law/Criminal Justice, and the City of Los Angeles' William Mulholland Leadership Award.