Saint Anselm alum shares expertise on energy industry
April 20, 2022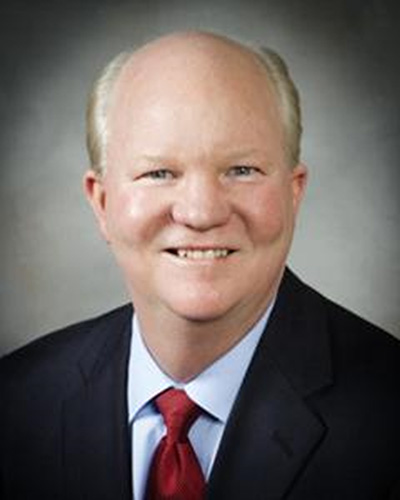 Emeritus President and CEO of General Electric Offshore Wind John "Jeb" Lavelle '82 recently shared his insights on the renewable energy industry with Saint Anselm College students, faculty and staff.
Lavelle, a member of the college's Board of Trustees and the parent of two Saint Anselm graduates, told the audience that a number of global dynamics are impacted by energy policies and practices, from environmental responsibility to jobs to national security. With only 19% of the U.S. electric supply currently coming from renewable sources, Lavelle stressed the need to have a more diversified energy portfolio today with plans to transition to even more renewable sources in the decades ahead.
"The risk we run as a world is that these fossil fuels won't last forever. They're gradually going away," he said. "This fuel in the ground is a bunch of dead organisms, algae and trees, right? That's what's down there. And so we're now pumping out nearly 100,000 barrels a day of oil from the ground. It's not going to last forever."
The conversation titled "The Business and Physics of Renewable Energy" was held in the Goulet Science Center and sponsored by the Physics Department and the Economics and Business Department.
Lavelle described his years working in Saudi Arabia from 2008 to 2011 when he witnessed the decline in gas pressure coming out of the ground from 500 plus psi pounds of pressure on the initial units built, to needing compressors to pump it up to 300 pounds of pressure on the later units.  "It was a real-life learning experience for me sitting there in the desert saying, 'well this is going away; this isn't going to be here forever.'"
"The world needs to use fossil fuels today for a number of good reasons, but also be investing in those renewable energy resources for tomorrow and do more and more and more of them as you go," he said.
Since graduating from Saint Anselm College's 3-2 dual-degree engineering program with the University of Massachusetts-Lowell, Lavelle spent 38 years running various businesses in GE's energy portfolio, while living in five countries and 12 cities along the way.
Jeb was most recently the president and CEO of GE's Offshore Wind business based in Nantes, France. Previously he was president and CEO of GE's Grid Solutions based in Atlanta and Paris; the vice president of the Global Projects Operation in Schenectady, N.Y.; and the president of GE's Coal Gasification business in Houston, Texas. Prior to that, he managed GE's energy interests in Taiwan, China, Indonesia, and Singapore, where he led all of GE's energy activities in Southeast Asia throughout the 1990s. He was named a GE corporate officer in 2007 and served on the Board of Directors for GE/Hitachi Nuclear, GE/Prolec in Mexico, and GE Xian Electric in China. 
Professor Alexander Smith, Ph.D., of the Physics Department and Professor Stephan Unger, Ph.D., of the Economics and Business Department hosted the event and engaged Lavelle on several energy topics before turning it over to the audience for questions.
Junior Hannah Chapman, a physics and secondary education major, stayed after the formal presentation to ask Lavelle more about offshore wind power.
"I really enjoyed the talk a lot because we were discussing how important it is to find the balance between fossil fuels and renewable energy and how we can't have one without the other at least while starting out," she said.
Junior Ian Jarvis said he has interest in the future of the energy industry and hearing about Lavelle's path at GE. "He talked about how he originally worked in fossil fuel energy and started with petroleum-run turbines, and then at some point, he transitioned to more wind energy and renewable energy," Javis said. "And he also kept it more general and how we could pursue our interests to maybe find our own path in that sort of industry which I  very much want to do, so it was great talk."
Lavelle ended his remarks by stressing to the students the value of a Catholic, liberal arts education and how the humanities program provided him the critical thinking, writing and speaking skills that have benefitted his career.
"Don't underestimate the quality of the education you get her," Lavelle told the students. "These professors here are phenomenal. The whole institution, it's terrific."
Related Links