Saint Anselm College adds New Majors to Program Line-up
October 27, 2020
Understanding basic programming as well as how organizations secure their networks will help Danielle Rogers '21 protect herself and others online. That desire to help people safeguard their data and privacy motivated the senior to major in one of the college's newest academic program: cyber criminology. Studying the impact technology has on the criminal justice system is preparing Rogers for future careers where the internet and online information play a big role.
This fall semester added new two majors, a certification, and a Bachelor of Science degree to the college's academic programming. In addition to cyber criminology which is managed jointly by the computer science and criminal justice departments, is a data analytics major administered through the mathematics and computer science departments.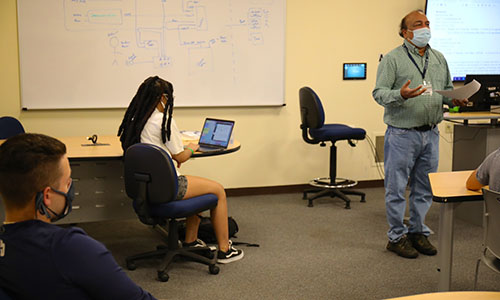 Dean of the College Mark Cronin, Ph.D., explains the importance new majors have in preparing Saint Anselm College students for life after graduation as well as for the college's longevity. "There is no doubt that new academic majors and programs are critical to the college's success: academic fields and work environments are constantly evolving," explains Cronin. "To put that in perspective, about 20-25% of our students are in majors that did not exist ten years ago."
With the widespread use of technology and the internet, cybersecurity has become a priority for our society. One of only a few like it in the country, the cyber criminology major requires 44-semester credits with 11 required courses (four credits each). Cyber criminology will teach students the legal and social aspects of cyber crime and how the criminal justice system manages it. Through an interdisciplinary approach, combining equal parts of computer science and criminal justice classes, students will also receive an in-depth background in computer programming, computer networks, and computer forensics.
"Many different types of students might be interested in this major," explains Professor Liana Pennington, JD, Ph.D. "First, criminal justice students seek a competitive advantage in the job market since many law enforcement agencies are looking for graduates with computer-related expertise. Second, computer science students who want more exposure to computer security issues, which is a high demand area in computer science,"
Data sciences and analytics, another interdisciplinary major, combines aspects of mathematics and computer science while also relating the subject to real-world problems. Students learn techniques such as theory, symbolic logic, calculus, linear algebra, probability, and combinatorics. Majors will graduate with a clear understanding of collecting, validating, and filtering data sources. The college is also offering an approved minor in data analytics.
When asked about the process of creating a new major for students, Dean Cronin said that the college takes into consideration the wants and needs of many members of the academic community.
"Our current majors and programs are always in the process of updating courses and the curriculum. Individual faculty members, academic departments, and the Dean's Office consider what new academic areas might best serve our students on an annual basis. Additionally, the admission office provides data-informed reports on what our applicant pool may be looking for at the college."
In addition to these two new majors, the computer science teacher education program was approved as a certification by the state of New Hampshire. Students who pursue this certification double major in computer science and secondary education. With this initial teacher license, graduates can teach computer science/technology in New Hampshire school systems for grades K-12. In total, students take 18 courses to complete the double-major, 10 computer science and eight education. Several of these courses also fulfill college core requirements.
Finally, the American chemical science major in the chemistry department is being offered as a Bachelor of Science degree in addition to the Bachelor of Arts degree.
Related News