Saint Anselm College Launches Campaign to Build Home for the Humanities
October 15, 2021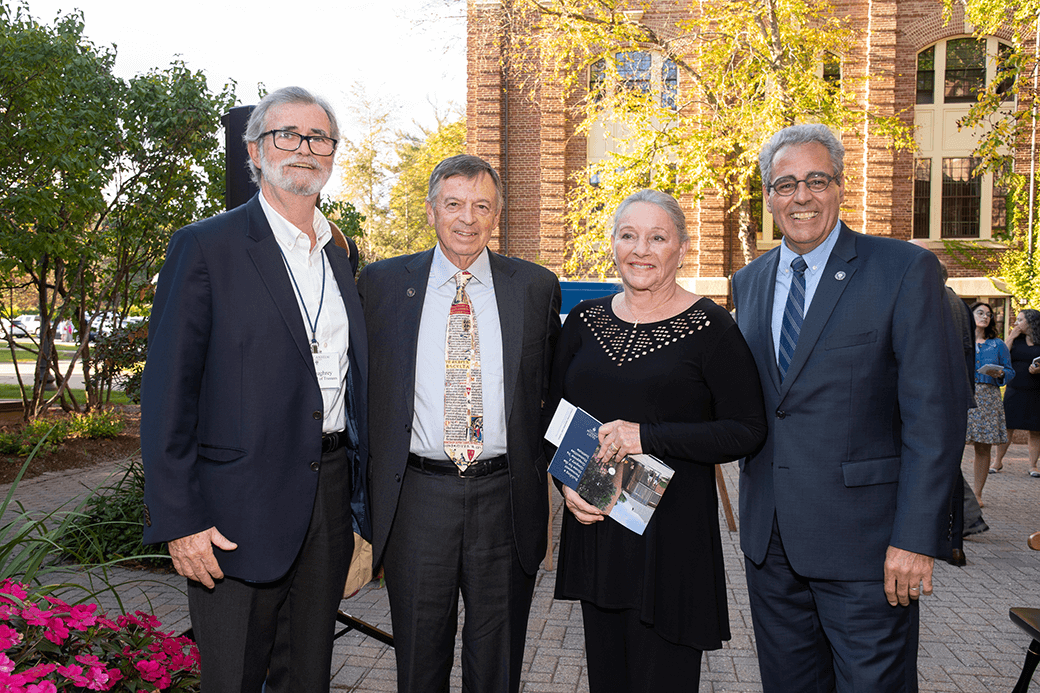 Joe Loughrey, Bob & Bev Grappone, and Dr. Joseph Favazza
On Thursday, Oct. 14, members of the Anselmian community gathered to celebrate the launch of the public phase of a $2 million campaign to build a permanent home for the Gregory J. Grappone '04 Humanities Institute.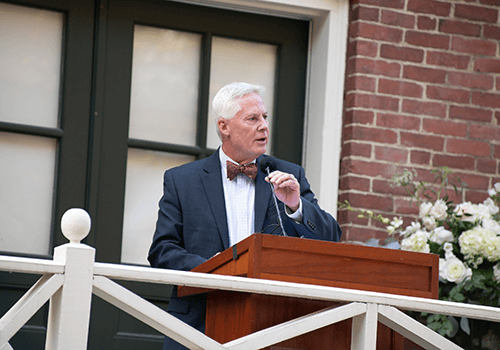 "What we are really doing with the Gregory J. Grappone '04 Humanities Institute is, as our tee-shirt proclaims, carrying on the conversation," explained Professor Gary Bouchard, executive director of the Humanities Institute and professor of English. "Creating not just classrooms, but a Living Room at the center of our campus where conversations of all kinds between people of all kinds can flourish, a place where… our lives can be transformed by one another in shared reflection about the things that matter most."
The two-story facility, located in the Boiler House, will be home to a large, state-of-the-art classroom, a seminar instruction room, a flexible, common meeting and exhibition space, a newly restored and landscaped courtyard, and modest administrative office space. It will be the first structure that visitors encounter upon exiting the new Savard Welcome Center and will be a visible reminder of the central place of the humanities in the life of Saint Anselm College.
"This building will be more than simply an academic facility," said Dr. Joseph A. Favazza, president of Saint Anselm College. "It will be the hub for the Humanities in southern New Hampshire."
During the event, attendees not only learned more about the campaign but also about the life of Gregory J. Grappone '04 and his legacy.
"There was nothing selfish in Greg at all," remembered Beverly Grappone HD '21 during the ceremony. "I believe that is where the best of humanity is. If we can help some other young people to realize that there is more than just what you're thinking about and what you're involved with, then we will have succeeded."
PBS Filmmaker Ken Burns serves as the honorary chair of the campaign.
"The humanities, in all their varied forms, offer us profound and inspired expressions of our shared humanity," says Burns. "As a friend to Greg and a friend to the Grappone family, I am honored to help lead the way in creating a permanent and living memorial to his memory… knowing that it will inspire generations of people to share in Greg's humanity, and seek the wisdom and understanding he discovered and brought to others."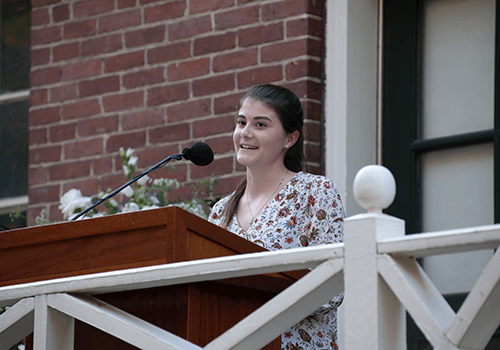 The campaign has raised $1.3 million towards its goal, and plans to break ground in 2022. Included in this funding are two generous challenge gifts - $250,000 from campaign co-chairs Robert and Beverly Grappone HD '21 and $100,000 campaign co-chair Susan Connelly '92 to raise funds in honor of Professor Gary Bouchard.
Near the end of the event, a current student shared her vision for the future.
"I can't help but imagine what future Saint Anselm students will discover when they pass through the doors of the institute we're creating," said Amelie Crowe '22, a Great Books major. "Maybe here they'll discover their voice, stimulated by the often intense Come Friday discussions, or maybe they'll learn to ponder some of life's bigger questions through lectures and panels. Maybe it will provide an environment for another uncertain freshman to find their place here on the Hilltop, as it was for me. Regardless, it will be a testament to the fact that here, at St. A's, the humanities are alive and well."
Related Links