Saint Anselm College Launches Scholarship in Honor of Ernie Thorne '34
July 30, 2020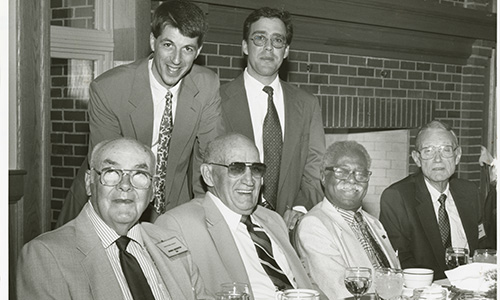 Saint Anselm College is excited to announce the launch of the Ernie Thorne '34 Scholarship Fund for Racial Equality. Ernie Thorne was the first Black graduate of Saint Anselm College and a lifelong resident of Manchester, N.H. This scholarship will provide financial aid and educational opportunities to underrepresented students from Manchester, southern New Hampshire, and California.
"We are grateful to all our generous alumni who contribute to the College, and this gift is particularly important at this moment as we feel a new urgency to our commitment to creating a community of inclusion and equity," said Dr. Joseph A. Favazza, president of Saint Anselm College. "Our strong social justice focus of the Catholic intellectual tradition grounds our work and propels us toward empathy and action."
The idea for the scholarship came from Denis Lynch '81 and Keith Woolley '82 in response to the deaths of George Floyd and Breonna Taylor.
"Denis has been my friend for over 40 years. I believe this long-standing friendship, fostered as students at Saint Anselm, and solidified as Alumni, has been enriched by our willingness to engage in open and candid discussions about race," explained Woolley. "We both believe that now is the time for not just passionate dialog but, more importantly, it is time for action."
"After attending three global Town Hall meetings on racial equality and inclusion by my company, Hewlett Packard, I was motivated and challenged to make a difference in my (new) community of New Hampshire," said Lynch. "I believe that in supporting this scholarship because I know the gift of a Saint Anselm education will benefit the next generation of Black leaders."
Lynch and Woolley have made leadership gifts to establish the scholarship and the Hewlett Packard Foundation will be matching all gifts from HP Inc. employees to the fund through October 31, 2020.
"This scholarship is important to me because it unites two of my passions – Hewlett Packard and Saint Anselm College – so that together we can help break down barriers, promote equality and create a more diverse and equal future world," said Lynch. "This all begins with education."
"As Anselmians, Denis and I see this scholarship as way to recognize Ernie Thorne and his remarkable accomplishment of being the first African American to graduate Saint Anselm College," added Woolley. "This scholarship represents a commitment to recognizing and confronting the inequity and injustice in America and will offer equity in access to a liberal arts education founded in the Benedictine tradition."
Ernie Louis Thorne graduated from Saint Anselm College in 1934, becoming the first Black Anselmian alumnus. While on campus, Thorne was a member of Delta Sigma Mu, serving as the secretary and vice president, and worked as a reporter and contributing editor for "The Tower" newspaper. After graduation, Thorne continued to live and work in Manchester for the rest of his life where he was a well-known member of the community. At his 70th birthday party, former Manchester mayor Sylvio Dupuis said, "He is one of the few people I know who could have a letter addressed 'Ernie Thorne, Manchester' and it would still be delivered to him."
Thorne worked as a car salesman, driving instructor, and later in life as the bartender and host of the Anheuser-Busch brewery in Merrimack, N.H. where he met many Saint Anselm students. He regularly attended alumni and sporting events at the College, and served as the vice chairman of the Order of Golden Anselmians. Thorne passed away in 1995 at the age of 85, and his class ring is held in Saint Anselm's archives.
To support the Ernie Thorne Class of 1934 Scholarship Fund, visit the scholarship page here.