Saint Anselm College Pep Band Brings Excitement to Hilltop Events
December 20, 2021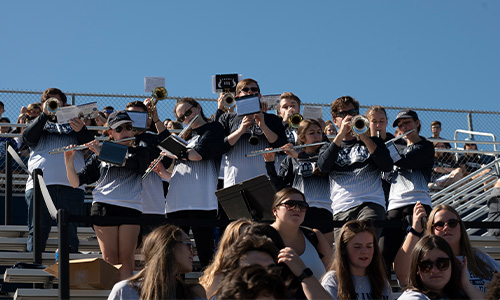 This fall, Athletics featured a fun new addition– the Saint Anselm College Pep Band of 20 members who have been playing at Hawks games and other special events.
"We are excited to have the newly-created Saint Anselm pep band perform at our home games," said Daron Montgomery, director of athletics. "We are always looking for ways to enhance the student-athlete experience, and having the pep band in attendance helps create a unique atmosphere for everyone."
Live music at sporting events is not new to Saint Anselm College. There has been a college band on and off since 1900. According to Keith Chevalier, college archivist, there was a college orchestra the first year of the college (1893) which played for events such as commencement. 
The Saint Anselm College Band listing in the 1938 yearbook states that the "[m]artial airs, snappy uniforms, and shiny brass instruments add color and pep to any collegiate event." There were 45 members "dressed in military cap, white sweaters and trousers, a wonderful sight, marching to the strains of their school song." This incarnation said its genesis was in 1936. They played at football games and it was printed that the band "displayed both its musical caliber and maneuvering ability." Likely due to constant reorganization, the 1942 yearbook states that the college band had been "a feature part of rallies, smokers and bonfires and has added much to the atmosphere of the College. Thus, a bouquet of orchids for their untiring and appreciated endurance in spite of their often-heard blasts of discord during practice sessions in the gym."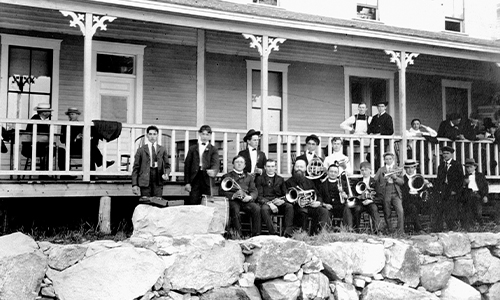 Versions of college bands continued through the 1960's, and in the 1990's a drummer would keep the crowd on their feet during men's basketball games.
The newest version of the pep band is directed by Spencer Aston, a fine arts lecturer and music instructor. The pep band is currently playing selected men's and women's basketball and men's and women's ice hockey games. The band also played at a football games this past semester, and at the launch for the Humanities Campaign.
"[We] are always looking for new members. If any student or community member at Saint A's is interested in joining, we will be playing games through around March of 2022," said Aston. "Our membership is mostly students but we welcome any faculty or staff who is interested in playing with us." 
Related Links