Saint Anselm College Students Excel in New Hampshire Voice Competition
June 29, 2021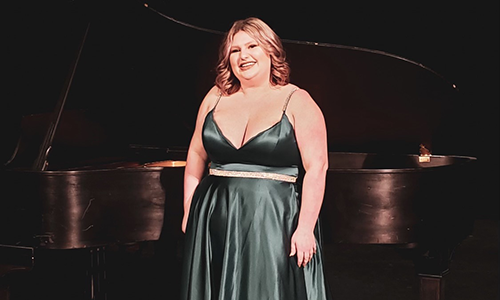 Four Saint Anselm College students took part in a statewide voice competition. The NH National Association of Teachers of Singing (NATS) Festival took place virtually this year. Under the guidance of Professor Sean Parr of the Fine Arts Department, Sabrina Herbert '21, Julia Doucet '22, Macy Doucette '22, and Lillian Strang '22 took part in the competition. Both Herbert and Doucet placed first and third, respectively in the Upper College Classical Division. The competition is available to all students whose professor is a member of the NATS at the national level.
"I am so proud of both Sabrina and Julia--they have become such confident, musical, and expressive singers with beautiful operatic voices," said Professor Sean Parr. "Placing first and third in the NH NATS competition is a watershed moment, both for them as singers achieving these great accolades and for us at the College--the first-time singers from Saint A's have placed at the competition, beating out singers from other much larger music programs throughout the state."
In addition to the competition, five Saint Anselm College students sang in the College's first all-student opera performance of Puccini's Suor Angelica. The concert was held on Friday April 23, and Sunday April 25, 2021. The production took place at the Koonz Theatre, in the Dana Center and Professor Molly Lozeau of the Fine Arts Department conducted and played the piano. The cast included Herbert, Doucet, Doucette, and Strang, as well as soprano Rebecca Spaulding '21.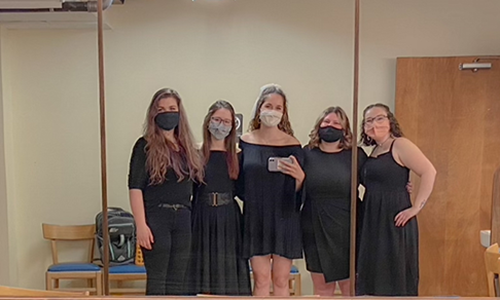 "Sabrina presented an excellent senior recital full of wonderful repertoire ranging from opera to German art song and music by African American composers. She also performed as the title role in Puccini's Suor Angelica in April and moved the audience to tears with her performance," shared Parr. "Julia also performed beautifully and with great musicianship in the Puccini opera. "
Related Links