Saint Anselm Community Gearing Up for Hispanic Heritage Month Celebrations
September 27, 2019
From September 15 to October 15 Saint Anselm College's Intercultural Center alongside the Modern Language Department has a month full of events aimed to educate and celebrate Hispanic Heritage Month.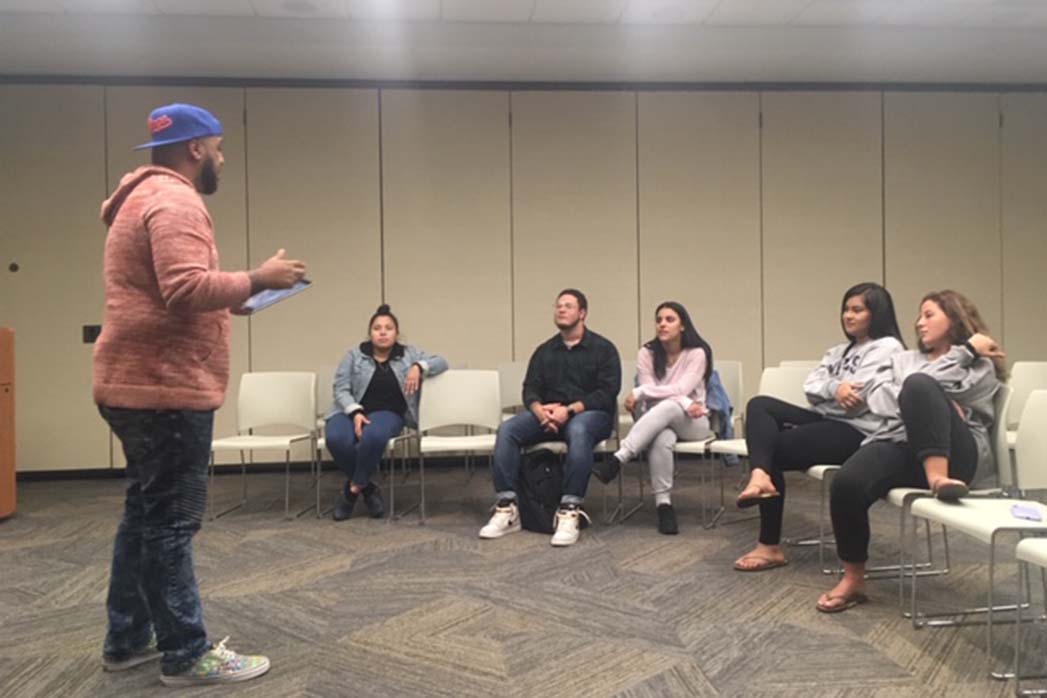 This year's series of events began on September 17 with Lem Gonsalves, a writer, poet, and host at Afterbuzz TV covering multiple different shows from the reality genre to drama to red carpet interviews for almost four years. His style infuses humor, passion, and ideals which inspire as well as entertain. On Tuesday, September 17,  Saint Anselm students, faculty , and staff welcomed Gonsalves for a poetry reading as part of their Spoken Word Artist series.
On Saturday, September 21, in addition to Homecoming weekend, the college hosted Multicultural Day featuring food and tables from around the world as well as performances by Barranquillia Flavor, the Bollywood Dance Company, the Wha Lum Chinese Lion Dancers and Akwaaba. 
Wayne Currie, Director of The Intercultural Center says, "It is important to celebrate Hispanic Heritage Month to educate and expose everyone in the college community about the contributions of Latinos and Hispanics." Currie encourages students to attend at least one of the events throughout the month.
On October 22, students are invited to learn Dominican Bachata, a dance originating from the Dominican Republic in the Caribbean Islands and influenced by other styles of music like merengue, bolero, salsa, and cumbis. It is danced all over the world, but it is not always danced identically. 
Dr. Ande Diaz explains that Hispanic Heritage Month offers us an opportunity to celebrate commonalities across cultures while recognizing what is unique about specific cultures.  
Hispanic communities (plural) are complex, "Cuban-Americans from Florida, Mexican-Americans from California, and Central Americans from Texas, all have different family and intergenerational immigration experiences. Both Dominicans and Puerto Ricans from New England, can have similarities in food and language, but because of their respective citizenship, the sense of belonging on U.S. soil is distinctly different." 
She adds "and as my abuelita (which means little grandmother) often reminded me, Puerto Ricans from New York City may have very different perspectives than those from the island of Puerto Rico. All in all, Hispanic Heritage Month events are a great place for Anselmians to learn something new!"
September 15 marks the beginning of Hispanic Heritage Month as well as the anniversary of independence for Latin American countries Costa Rica, El Salvador, Guatemala, Hondorus, and Nicaragua. Mexico and Chile gained independence on September 16 and 18, respectively. Hispanic Heritage Month began under President Johnson and was expanded and enacted into law by President Ronald Reagan in 1988 to cover the thirty-day period of September 15 to October 15. 
Additional Events:
October 1, 6 - 7 p.m.
Lower Level of the Abbey Church
October 2, 4 -6 p.m.
Hispanic Movie Series: Todos Lo Saben
Modern Language Resource Center, 4th Floor Alumni 
October 8, 7 – 8 p.m.
LLC Classroom
October 9
LLC Classroom
Hispanic Movie Series: Mi Amigo Alex, 4 -6 p.m.
Modern Language Resource Center, 4th Floor Alumni 
October 22
Sharing the Hispanic Experience, 4 – 6 p.m.
Modern Language Resource Center, 4th Floor Alumni 
Learn Dominican Bachata, 7 – 8 p.m.
LLC Classroom
October 30, 4 – 6 p.m.
Modern Language Resource Center, 4th Floor Alumni 
Related News