Saint Anselm Community Moves Online
March 30, 2020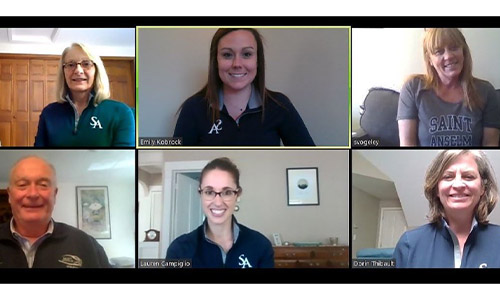 Since Saint Anselm College is not currently able to host events in person, the college is creating a virtual campus to help Anselmians stay in touch with the Hilltop. Events from departments that are regularly scheduled in addition to some that are new, are going "virtual" so students, faculty, staff, alumni, and friends may continue to connect with one other. 
"For Saint Anselm, community is the cornerstone of who we are and stability is one of our core values so at a time like this when people feel alone and isolated, it's more important than ever to help connect people to the community," says Susan Gabert '91, assistant dean of students and director of campus ministry. 
Among virtual experiences that are already happening, the college and Saint Anselm Abbey are excited to announce that the Sunday morning, Wednesday evening, and daily morning Mass in the Abbey Church are being livestreamed and available to view on the college's website. Sunday morning's Mass on March 29 drew 1,886 views.
In addition, The Gregory J. Grappone Humanities Institute, Office of Campus Ministry, Center for Ethics in Business and Governance, and others are also going online so the entire community may "login" to participate. 
Campus Ministry is in the midst of their 10-day "Busy Person's Retreat," a self-guided prayer model for reading ad reflecting. The office also created a play list of music on Spotify, a music streaming service, to which Anselmians can add songs or listen. 
The Humanities Institute's Come Friday Forum moved from the LLC to the online space on Friday, March 27 at 11 a.m. with a discussion on "Can we live St. Benedict's Rule outside of an abbey?" Those interested in this week's discussion, "Why does The Great Gatsby matter," can participate via Zoom. 
Campus community members are excited about the possibilities that are developing to engage our community online. 
"I think it is really important to share the vitality of our community. I'm really excited about making this virtual community a reality," says Gabert. 
"Just as many families are having to find new ways to connect and stay close, so too the Saint Anselm community is adapting to keep the community together," says English Professor and Executive Director of the Grappone Humanities Institute Gary Bouchard. "This is all working really well only because such a solid community was already in place."
From athletic teams to the Intercultural Center, departments and college groups are finding new ways to hang out, check-in, and have some face time, even if it is remotely. A regularly scheduled "Multi-Hangout" two times a week is keeping students in touch with the Intercultural Center and with each other. Students are also sharing photos of their lives in quarantine and even having a discussion about a new Netflix movie. Through the Meelia Center's social media, students are connecting and continuing to support communities by sharing why they're staying home.
So far, Anselmians are appreciating the Hilltop connection. Economics major Connor O'Brien '21 tuned into Wednesday's Mass with his family from their home in Westminster, Mass. He says that in those moments, life paused as they were able to take time to focus on their faith. "This celebration of the Eucharist was just what my family needed as we reached the halfway point of the week," says O'Brien. "This Mass gave my family a breath of fresh air and re-energized us for the rest of our week. This Mass brought our family together in a time of isolation."
Riley Armstrong '21, an English and theology double major, participated in several of the events offered by Campus Ministry last week. "All of these programs have provided me with something to look forward to throughout each day. It has been so fun and uplifting to see familiar faces and incorporate the events that we would have had on campus into a weekly routine at home."
As Dr. Favazza noted in his message to the community on March 23, the college began a new chapter last week as it moved to a new, active remote-learning environment.
Dean of the College Mark Cronin says that faculty too are working to create community in this new space. Classes are running as planned including labs and Conversatio. Faculty are having office hours for students and connecting with other faculty.  
More information with details about how community members may participate in this new virtual campus with additional events and programming will be coming soon. In the meantime, follow college social media (on Facebook, Instagram, and Twitter) for brief glimpses into life on this new "campus."
Related Links