Saint Anselm Receives $2.8M in Federal Support
January 10, 2023
Saint Anselm College was awarded funds as part of the congressionally directed spending in the $1.7 trillion omnibus bill signed Dec. 29 by President Biden. The college is slated to receive: 
$600,000: For the Meelia Center for Community Engagement, Campus Ministry, and Saint Raphael Parish to coordinate and deliver programs that connect refugee and immigrant families with services like childcare, health care, mental health services, job training and financial assistance. Funds also could be used to renovate an existing community center to include a computer lab, classroom space, outdoor community space and an updated kitchen and food pantry. 
$2.2 million: Toward the construction of a state-of-the-art nursing and health sciences facility to support the college's new School of Nursing and Health Sciences.
 
Saint Anselm College President Joseph A. Favazza, Ph.D., thanked New Hampshire's congressional delegation for supporting these community-centric proposals.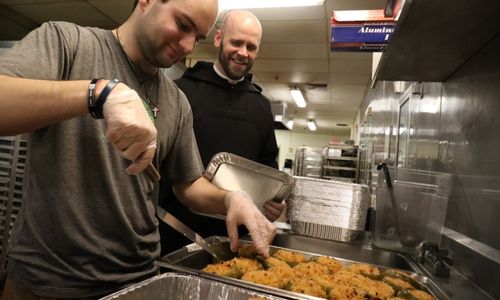 "This funding will help advance two areas of strength and distinction for Saint Anselm, and clearly align with our 'Vision 2025' strategic initiatives," he said. "My thanks to (New Hampshire Institute of Politics Executive Director) Neil Levesque for working closely with our congressional delegation to include our requests. It is a wonderful way to end 2022 and begin 2023."
President Favazza had announced plans in June to establish a School of Nursing and Health Sciences for the college's nationally acclaimed nursing program. The new learning facility is estimated to cost between $25 and $30 million and would include nursing simulation labs, high-fidelity patient simulators, classrooms, and student collaboration spaces.  
U.S. Rep. Chris Pappas made the nursing building request on behalf of the college. "I am proud to have worked closely with community leaders across the First District to deliver targeted funding for these important priorities, and I will continue to advocate for the needs of our state in my work in Washington," Rep. Pappas said.
The Meelia Center works closely with the greater Manchester community on a wide variety of initiatives, from an annual holiday fair, this year attended by 327 families, to Access Academy, which this fall provided an opportunity for 119 Manchester School District students to participate in college-level classes taught by Saint Anselm students and faculty. The Office of Campus Ministry is at the heart of the college's spiritual life and operates many off-campus service and solidarity missions. Saint Raphael was founded by the Benedictine monks of Saint Anselm Abbey in 1888 to serve German and Irish immigrants and continues as a parish in the West End of Manchester sponsored by the Benedictines to this day.
The coordinated effort to connect refugee and immigrant families with important community services is a significant part of the mission of the Meelia Center, Campus Ministry and Saint Raphael. The funds will be used to support staff and renovations to Saint Raphael's community center. U.S. Sen. Jeanne Shaheen, a senior member of the Senate Appropriations Committee, championed the college's immigration and refugee funding.