Saint Anselm Students Return to the Hilltop
August 18, 2020
Samantha Tasker '21 was among the first students to return to the Saint Anselm campus last week.
A senior nursing major, Tasker was working with ClearChoiceMD, the college's COVID19 testing partner, to screen students and parents as they arrived for their move-in day.
"I'm excited to be back with all my friends I've made here and my roommates," Tasker said.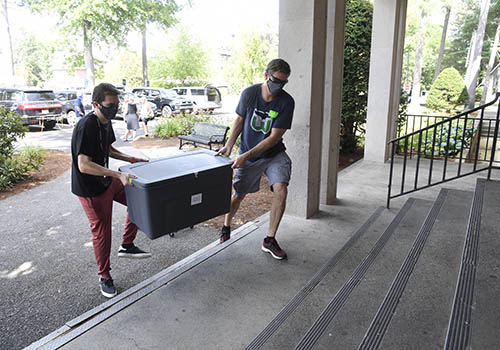 Saint Anselm welcomed back 1,823 students over 10 days, making the college the leader in the region to resume a full campus community. The first day of classes will be Aug. 19.
The arrival of students marks the end of preparations that have been ongoing since Dr. Joseph A. Favazza, Ph.D., announced in June that Saint Anselm would resume in-person instruction for the fall 2020 semester.
The "Return to the Hilltop" team – led by Dr. Alicia Finn, Vice President of Student Affairs and Dean of Students; Dr. Mark Cronin, Dean of the College; and William Furlong, Vice President of Finance and Chief Financial Officer – worked in earnest through the summer to reimagine academics, student experience and the physical space to prepare for a safe resumption of the campus experience.
"Our campus life has been entirely reimagined, and we begin the year with a renewed spirit that is driven by our desire to get back to the place we love, safely and smartly," said Dr. Favazza.
Among the changes that have taken place, density has been reduced in housing, classrooms and common spaces; the academic calendar was modified to begin and end the semester early; professors have put an emphasis on teaching in a variety of modalities; and many changes have been made to campus building to encourage social distancing and other safety measures.
Read more about summer preparations 
"We have spent innumerable hours and considerable resources to arrive at this moment and I firmly believe we are ready for students' return to the Hilltop," Dr. Favazza said.
Testing for COVID-19
A key element to the college's ability to resume campus life has been the ability to create a robust testing program, which included two tests for every student upon arrival: A PCR lab test, which was done in partnership with ClearChoiceMD, and a rapid antigen test done with a Sophia 2 machine purchased by the college.
The rapid test was used to release students from quarantine, while the PCR test through ClearChoiceMD, which operates the state of New Hampshire's testing sites and set up a testing facility in the Thomas F. Sullivan Arena, was used to confirm the result.
During the semester, the college will conduct surveillance testing to spot check for incidences of COVID-19 and quickly see if there has been any spread of the virus.
Students who leave the campus for practicums, internships and other purposes will be tested frequently and a process for testing all students will be tested frequently throughout the semester.
Maura Marshall, the director of Health Services for Saint Anselm, said the move-in week came after innumerable hours of testing preparations and the creation of health and safety protocols to reduce the risk of COVID-19 on campus.
"I think because people love this school so much they were willing to do whatever it takes," she said. "I think we are all so dedicated to the students that we wanted them back here because we know they wanted to be back here."
Rapid test results were coming back in less than 24 hours, which meant students were released within a day sooner than originally anticipated. By Sunday afternoon, students wearing green wristbands indicating they had cleared quarantine were beginning to sit in small, socially distanced groups on the upper quad.
Head Athletic Trainer Michael Sirois, who has been working with Marshall and the medical team, helped obtain the Sophia 2 rapid test machine, which will be used for the college's surveillance testing throughout the semester.
"We're really fortunate to have a Sophia 2 machine on campus," Sirois said. "It's a very sought-after machine, obviously in this time, and to be able to have that rapid testing is incredibly important."
Campus Life and Academics Reimagined
In addition to testing, the campus was reimagined to reduce density in housing and classrooms, and to install safety measures in common spaces such as learning areas and bathrooms.
Davison Hall underwent the most significant overhaul, with plexiglass installed at the food stations; single-serve silverware, drinks and condiments; and reduced seating for indoor dining.
Much of campus life will take place outside as the semester begins. Tents have been installed for classes, dining and social-distance congregating in small groups.
And while not the same as most years, a robust program of activities will take place, from virtual trivia nights to movie nights on the quad.
"It won't look the same, to be sure, but it will be memorable, and, yes, it will be enjoyable," Dr. Favazza said.
During the move-in week, Davison Hall served boxed meals for breakfast, lunch and dinner. Pizzas and other food options were provided for late-night options, and an ice cream truck served frozen desserts prior to an outdoor movie playing on the lower quad Sunday night. The food "surprises" were organized by the Alumni Relations office.
As they returned to campus knowing the semester will be different than previous years, students seemed energized about their return to campus. Each day, as more students arrived on campus, the enthusiasm was growing.
"I'm excited to be back," said Basson Kollock '22. "I feel like they have good guidelines in place and we're all going to be healthy and safe being back on campus, and I'm excited to get it started."
Like campus life, there will be changes in the classroom for the fall semester. Classes will be taught in person, by remote instruction, and through a hybrid of in-person and remote.
The Dean's Office has worked with faculty over the summer on a variety of issues to get ready for the fall semester, including "de-densifying" classrooms; adding tents and "crop circles" to the Alumni Quad for outdoor instruction; and preparing for a variety of teaching modalities.
The Instructional Technology department partnered with the Center for Teaching Excellence and the Dean's office to offer workshops this summer on hybrid, remote and online teaching strategies.
"All of this, because our faculty are excited to be working with our students once again," said Dr. Mark Cronin, Dean of the College. "They want to be back on campus as much as our students do."
The academic schedule was adjusted to bring students back early so in-person classes could end Nov. 20, just prior to the Thanksgiving holiday. The spring semester is scheduled to begin around Feb. 1.
Upon arrival, students signed an Anselmian Community Care Covenant, which outlined 10 steps to keep the campus safe, including social distancing and limits to off-campus travel. Nursing major and orientation leader Eleni Rizos '21, said students are prepared to do what it takes to have a rewarding and safe semester.
"Doing your part is very important and the world is going to keep moving so we are going to we need to take the proper precautions as it moves," she said.
 
Return to the Hilltop Slideshow
Changes at Saint Anselm College
What Anselmians Must Do to Keep the Community Safe
Related News