Saint Anselm Welcomes the Class of 2026
August 25, 2022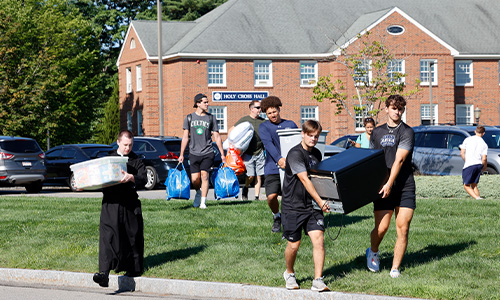 With lots of cheering and smiles Saint Anselm College finally welcomed the class of 2026 to the Hilltop on Thursday, August 25.
From early in the morning until almost mid-day, loaded cars, vans, and trucks lined up in front of residence halls to empty their heavy cargo into the waiting arms of the current students, monks, and staff who supported families on move-in day. Throughout the day there was a resounding, excited chorus of "This is amazing!" from parents who were watching their children being moved into their new home. 
"Move-in day at Saint Anselm is awesome," said Tony Lucca who was dropping off his son, Mark Lucca '26. "We're so proud of him and we think the school is great; it will be a great fit for Mark and we're just so happy for him to start his college journey here at Saint Anselm."
Fifty-three resident assistants, 70 orientation leaders, and every fall sports team, well over 300 student-athletes, supported the move-in.
"The athletics staff, coaches and student-athletes are always eager to help the College in any way possible," said Director of Athletics Daron Montgomery. "We always look forward to welcoming first-year students to the Hilltop and greeting their families at move-in. It is a highlight of the year for sure."
Boxes, bags, bins, plastic containers, clothes on hangers, pillows, and refrigerators were just some of the items carried into Joan of Arc Hall, Baroody, Hall, Dominic Hall, and Second and Third Streets in Alumni Hall, where first-year students will reside. Five hundred and one members of the class of 2026 will reside on campus.
374 students moved into their dorms on Thursday.
127 students moved in previously due to their participation in fall athletics, the Transitions Program, or the RA2B program.
Students and families spent the morning settling into their new digs, finalizing paperwork, checking out the bookstore, and finalizing any last-minute items.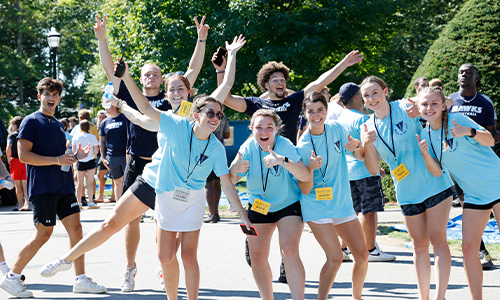 Mid-morning, new commuter students met in the Center for Intercultural Learning and Inclusion in the Jean Student Center getting to know one-another, touring the space, and learning about resources available to them.
The afternoon included lunch in Davison followed by the New Student and Family Mass in the Abbey Church where Fr. Mathias Durette, O.S.B. presided and Fr. Francis McCarty '10, O.S.B., gave the homily.
Finally, at the end of the day, with the class of 2026 banner hanging from the entrance of Alumni Hall, College President Joseph A. Favazza, Ph.D., welcomed students, parents, and their families to campus. "As we stand at the threshold of a new academic year, you stand at the threshold of a new experience," said Favazza.
"Today as you transition from one community, your family, whose love and sacrifice have brought you this far, and you join other communities: the Benedictines whose spirit infuses all that we do in this place, faculty and staff who will be your fiercest challengers and champions, and your fellow students who will become like siblings to you. Trust me and all of the over 24,000 Anselmian alums when I say: you will be transformed."
Kaitlin McCormack '23, the student chair of the new student orientation program, also welcomed students and their families, sharing her own experience of moving onto campus in 2019. The Spanish and secondary education major "never in a million years" expected to be standing in front of a similar crowd four years later.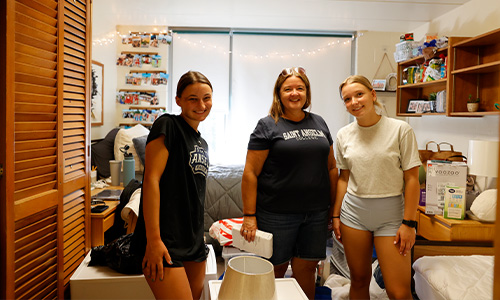 "But, thanks to this wonderful community and endless opportunities to get involved, here we are. With that, my biggest piece of advice I can give to you is to get involved with something during your first semester. Even if it isn't something you see yourself being a part of down the line, getting involved will help you meet new students, and it will also open other doors for you," she said.
"You all have it in you to step out of your comfort zone, to be bold and brave and to do hard things. There is something here for everyone."
And with that, first-year students hugged their families good bye as they took the next step into their college journey with the beginning of new student orientation. First-year and transfer students will spend the next couple of days getting to know each other and campus, preparing them for their first year on the Hilltop.
With a busy weekend ahead, orientation highlights include the Brian Maguire Day of Service, a BBQ, pep rally and women's soccer game, sessions on academics, being Anselmian, and building an inclusive community, fun nightly programs, and finally, the annual first-year banquet where students watch as their banner is raised to the ceiling of Davison Dining Hall for the first time. Saint Anselm is nothing but full of traditions.
See the full schedule new student orientation schedule
About the Class of 2026
With 531 first-year students, the class of 2026 is academically the strongest incoming class on record, with an average high school GPA of 3.41.
Thirty-eight transfer students are beginning their journey at Saint Anselm this year.
Thirty-six students have had at least one parent also attend Saint Anselm; 86 have had parents or extended family members attend (grandparents, aunts, uncles, siblings).
Students come from 20 states and five countries.
One hundred and fifty-nine students are first-generation students.
The most popular majors are:
Names
The most popular female name in the incoming class is Abigail, with Emily and all iterations of Katherine following respectively. For the males, the most popular name is John, followed by Michael and Thomas.
This class as a whole is outstanding, but some folks really stood out to our admission counselors during the application process:
Entrepreneurship and ambition are two themes that we noticed. Joining us this fall are students who run podcasts and sneaker businesses on Instagram, a student who drives an ice cream truck, and a student who amassed 3 million views on a YouTube Channel.
The New Hampshire Institute of Politics will be in good hands for the next four years. We have a student who worked as an Election Poll Proctor in their town and a student who was a member of both the Young Democrats and Young Republicans clubs in high school.
Lastly, also joining us this fall are some inspirational individuals. One who has overcome multiple heart surgeries, one who ran the Boston Marathon and raised over $20,000 to benefit a special needs school, and one who once saved a life while lifeguarding.
---