Secretary of State Mike Pompeo Speaks at Politics and Eggs
September 23, 2022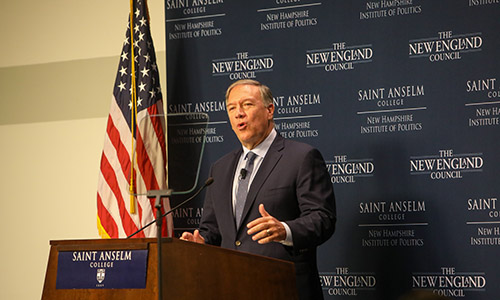 The New Hampshire Institute of Politics welcomed former Secretary of State Mike Pompeo on Tuesday, Sept., 20, 2022 at the well-known Politics and Eggs Series, co-produced by the Institute with the New England Council. 
Pompeo provided the audience of local business and community members as well as Saint Anselm College students his take on the challenges America faces. Pompeo was sworn in as Secretary of State in 2018 and served until 2021. Prior to his appointment as Secretary of State, he served as Director of the Central Intelligence Agency from 2017-2018.
After serving in the United States Army, Pompeo made it clear that he is proud to be an American and it is his goal to put America first. That is why the opioid crisis in America is important to him. Another central issue is illegal immigration.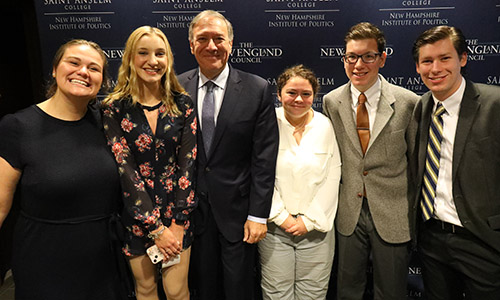 "For me, for those of us who come from a conservative place, the basic question is just as clear is to ask what follows what's worth fighting for in America? And is this nation worth fighting for?" asked Pompeo. "I think every one of you would say 'yes, I certainly do' and we can never waffle or waiver over that central thesis. Its a time to choose, we can choose to believe in America again, to find greatness in our ideas and in our founding or we can surrender and all the hope that comes with that and give into defeat or despair."
The former Secretary's visit created multiple mentions in the national media including: 
 
Boston Herald - Biden is 'woke, weak and waffling,' Pompeo says, hints at 2024 run 
Washington Times - Pompeo explains the perils of Biden's three Ws
Yahoo! News - Former Secretary of State Mike Pompeo on a potential 2024 presidential campaign
NHPR - In N.H., former Secretary of State Mike Pompeo says, 'I am here; it is not random' - NHPR
NBC Boston - Mike Pompeo Tests 2024 Presidential Waters in New Hampshire
WMUR-TV - Pompeo says more must be done to control border in New Hampshire speech
Fox News - Pompeo, preparing for potential 2024 run, walks fine line on Trump during New Hampshire stop
Longview News Journal - Pompeo hints at 2024 run
Related News