Student Receives Fellowship for Oncology Nursing
September 16, 2019
This year's recipient of the Susan D. Flynn Oncology Nursing Fellowship, nursing major Alexxis Talbot '20, spent the summer working at the Wentworth-Douglass Hospital in Dover, N.H., gaining valuable hands-on experience in nursing oncology.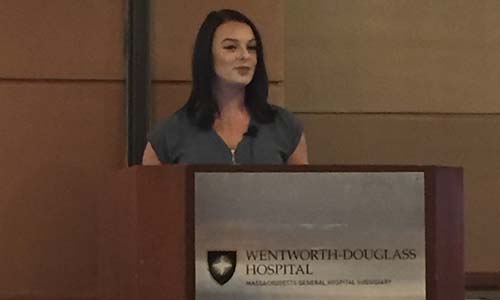 The fellowship's goal is to further the professional background of students interested in oncology nursing and to train them in clinical practices. Through the fellowship, Talbot gained experience in compassionate patient care, medical and surgical oncology, clinical research, and palliative oncology.
"The Flynn Fellowship is a prestigious and extraordinary opportunity for nursing students to learn about cancer care," says nursing professor Caryn Sheehan.
Splitting her time between the medical surgical unit and the hospital's cancer care center, Talbot shadowed nurses every day. She spent a good portion of her time in the radiation and infusion departments, which focus on chemotherapy and blood transfusions. Talbot also completed lab work, and worked on a research project of her own design titled, "Cancer HURTS: The Impact of Integrative Therapy on Managing Emotional Well-being."
"I chose this topic because I wanted to learn more about non-pharmacological options for symptom management that cancer patients have during treatment," says Talbot. "I wanted to develop a project that allowed me to work directly with patients, as well as focus on the emotional impact that cancer has on someone's life."
She presented her research at the end of the fellowship and will present it again to a nursing class this fall.
Nursing instructor Destiny Brady attended fellowship's reception in July where Talbot presented her research. "Alexxis presented her research clearly and confidently.  She was an excellent representative of what our students have to offer."
Talbot says that she has always wanted to go into oncology, and that the fellowship was valuable because it exposed her to the clinical aspect of the profession, adding a new layer to what she learned at Saint Anselm.
"This fellowship opportunity was the biggest blessing for me, I was beyond excited when I found out that I had been chosen," says Talbot. "I've learned so much this summer and met some incredible people; it's been the perfect way to lead my future career in the right direction."
The Susan D. Flynn Oncology Fellowship was created by Frederick C. Flynn Jr., in honor of his late wife Susan Flynn, who passed away in 2013 after a courageous battle with ovarian cancer. Frederick Flynn was moved by the exceptional nursing care his wife received during her illness, and wished to express his gratitude and respect for this care by founding this fellowship to encourage potential oncology nurses in their career development.
Photo credit: Destiny Brady