Students Conduct Summer Research Through INBRE
August 12, 2019
This summer, nineteen students took their studies out of the classroom and into the lab as they conducted research in partnership with their professors through the New Hampshire INBRE program. 
The New Hampshire IDeA network Network of Biomedical Research Excellence (NH- INBRE) supports the professional and academic development of students at Saint Anselm and other partner institutions by funding student and faculty research in biomedical fields. Research will continue until August 13, when students have the opportunity to display their findings at a conference. 
"The NH-INBRE program provides students with the opportunity to engage in biomedically related research activities for an extended period of time. In doing so, students work collaboratively with their faculty mentor and other students to develop skills and understanding related to their specific research topic as well as communicate what they have done.  The program also helps set the stage for those interested in further research activities, such as graduate school," says Derk Wierda, professor of chemistry at Saint Anselm College. 
From the Classroom to the Lab
American Studies major Katherine Warth ('21) hopes to use her research to forge a connection between two topics that are important to her: the liberal arts and the sciences. With Professors Tauna Sisco, sociology department, and Deborah McCarter, nursing department, Warth is statistically analyzing data from questionnaires answered by recent mothers in an attempt to identify a relationship between postpartum depression and breastfeeding. By working in two disciplines, Warth is able to address a key issue related to both. "To me, doing research that directly connects the liberal arts and the sciences and sharing my research with others shows the practical importance of interdisciplinary research. I also hope that my research can specifically be used in nursing to influence the way that healthcare professionals communicate with and interact with mothers during the postpartum period," says Warth. 
Professor Joseph Troisi, working with psychology major Rebecca Spaulding ('21), is also doing research that helps students merge schoolwork and fieldwork. Using rats as an animal model, they are examining nicotine addiction in humans and studying conditions that lead to recovery of drugged behavior to better understand human relapse. "Lab experience and doing research is part of the educational process," says Troisi.  This lab work solidifies the knowledge students learned in class and helps them in their later application process to laboratories and graduate school.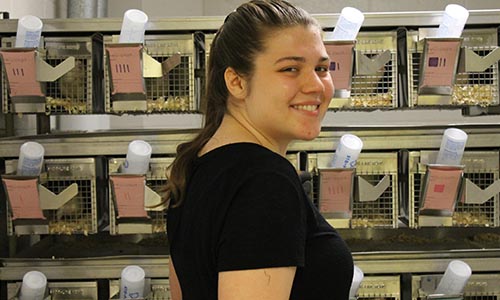 The INBRE program gives students the opportunity to do research on current and pressing scientific matters, which allows them to help the world and advance their professional development. Natural sciences major Michael Goddu ('20) is using his INBRE project to solve an urgent and widespread problem-- discovering the root causes of certain cancers. Goddu is studying two types of proteins found in the human body that may cause chromosomal mutations in human cells, eventually leading to cancer.
After graduation, Goddu plans to apply to medical schools, with the aspiration of becoming a trauma surgeon. The professional lab techniques and deeper understanding of the human body's cells that he has gained in this program have made him confident and well equipped to pursue his goals.
Chemistry major Paul Zayka ('20)  also believes the scientific background he gained during INBRE will bolster him when applying to graduate school. This summer, he has acquired SYNONYM? practical experience with chemical reactions and experimental processes he previously had only learned about in classroom, and has developed laboratory skills that will make him more competitive in his field. Zayka is researching how cellular vesicles can be used as a targeted drug delivery system, which could ensure that only diseased cells are affected when a patient undergoes dangerous treatment such as chemotherapy.
Learning Through Mentorship
Every INBRE student works on a research project in conjunction with a faculty member. In doing so, students learn from an expert in their field and receive support in pursuit of their passions.
Student Lucas Romano ('20) is studying, alongside Professor Dan Broek (biology), the mechanism by which a repair protein can fix double stranded breaks in DNA. As these breaks sometimes incite development of cancer, Romano hopes a better comprehension of their repair can be used to prevent cells from becoming cancerous. 
"I have learned so much in research that can't be taught in the class room or in the lab, simply because of the one on one  teaching experience that the professor has with the student in research," says Romano, a Biology major. "On top of the skills I have learned in the lab, research has given me the opportunity to think critically, apply what I have learned in the classroom, and test hypotheses and experiments that I wouldn't otherwise have the ability to do." 
Psychology major Janelle Fassi ('21) is also experiencing the positive effects of working with a professor. Fassi is conducting an ongoing study focused on the lives of retired grandparents, with the aim of better understanding how daily stressors can affect their physical and mental well-being. She believes this research will import to policymakers the necessity of making resources accessible to grandparents who are the main caregivers for their grandchildren.
Says Fassi, "Professor Rickenbach has been like a mentor to me and I am incredibly grateful for her support. She has given me the passion to pursue a career in gerontology and public policy after graduation, where I will put my research into practice. I hope I can advocate for at risk populations and make some real change for these grandparents. The INBRE program has been such an integral part of my college experience and I would suggest it to any student who is looking to learn more about research opportunities or exploring a career in the sciences."
On August 13 and 14, all participating students are attending a conference at the Omni Mt. Washington Resort in Bretton Woods, N.H. Sixteen Saint Anselm students will present their data to fellow INBRE students from around the state. The conference will give the students the opportunity to network with other researchers and gain further experience discussing their projects in a professional capacity. The INBRE conference combined with extensive lab work and publication in journals, provides students with important additions to their graduate school applications and future jobs.