Students Enjoy Weekend Activities at Semester's Halfway Point
October 9, 2020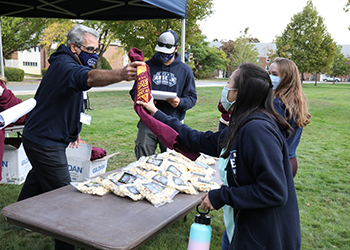 With Homecoming on hold this fall, the Saint Anselm Office of Alumni Relations provided students with a fun fall weekend with different events to enjoy on campus. Homestaying Weekend kicked off on Friday night with movies "Jurassic Park" and "The Goonies" on the quad, and the rest of the activities continued the following day.
Kylie Desrosiers, associate director of the Alumni Relations Office was heavily involved in planning the weekend. She says, "Due to the pandemic, we were unable to host an alumni Homecoming back on campus. Since the weekend of October 3rd would've been Homecoming weekend, we decided to host a Homestaying weekend for the students to keep the Homecoming spirit alive. This weekend is also the halfway mark for the semester and we wanted to celebrate that and thank the students for keeping to the Campus Care Covenant."
The fall weather was perfect on Saturday morning for the 5K run, and the winners were Timothy Holmes '21, Caroline Butts '21, and Colleen Enestvedt '21. The afternoon was filled with many activities on Alumni quad. Students made custom face masks and painted ceramic pumpkins along with enjoying the food from the grilled cheese and whoopie pie food trucks. Later, students gathered on the rugby field for the cornhole tournament. A huge success, the winners, Will Conaton '21 and Shane Correale '21 received two custom Saint Anselm College cornhole boards. In the evening, the Campus Activities Board hosted CABingo with some great prizes, including an apple watch.
During Saturday's events, President Joseph A. Favazza handed out shirts on the quad to the students, saying "What I liked best about Homestaying Weekend was the focus on our present students. Homecoming is about welcoming back alumni to reconnect to their alma mater. It is great fun, but current students can be lost in the excitement.  Homestaying had activities and food just for our students. I loved it and the grilled cheese was excellent!"
Homestaying Weekend was hosted by the Alumni Relations Office with help from the Office of Residential Life and Education, Office of Student Engagement and Leadership, The Center for Intercultural Learning and Inclusion, Campus Ministry, Athletics, Campus Activities Board, the Student Government Association, and the Student Alumni Ambassadors. 
Related Links