Students Provide Cheer to Manchester Children during Virtual Holiday Fair
December 9, 2020
This year the Meelia Center for Community Engagement's 29th Annual Children's Holiday Fair took place virtually with more than 180 students, faculty and staff members participating.
"Although the Holiday Fair looked different this year, we are grateful that the Manchester community and Saint A's were able to work together to keep the magic of the holiday season alive," shares Katherine Carey '18, Meelia Center assistant director. "Children and families of Manchester usually come onto campus to celebrate the holidays with us, but this year, our community was able to bring the Holiday Fair to them."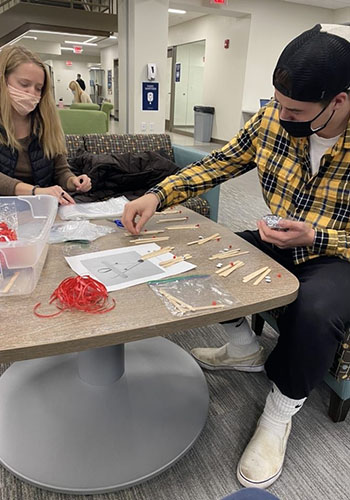 In November and December, students assembled 855 bags for children aged 3 to 15. The bags included between three crafts, holiday cards, candy canes, reindeer food and other treats, as well as instructions to complete the crafts and a link to the Meelia Center's YouTube channel that included how-to videos, festive videos and more. All of this was created by student, faculty and staff volunteers.
"We had so many students reach out to support us in creating craft bags and videos for the community. Students were eager to assist us and spread holiday cheer regardless of the pandemic," explains Abigail Harwood '23, a service event coordinator at the Meelia Center. "We are so appreciative of all the volunteers that put hard work into this fair."
The Meelia Center then distributed the bags to 11 community partners which included after-school programs, shelters and other outreach programs around Manchester. Alumni, faculty and staff also had the opportunity to request bags.
The annual Children's Holiday Fair is always a highlight of the year for students, and while this year's event looked different, there were some advantages, not only were they able to reach more children in the community, as having a single day, on campus event could create barriers to attend, but they also were able to involve more students, faculty and staff than in years past.
"Thank you to all the students, staff, alumni, and community members that worked so hard to carry on this special tradition," said Carey.
Students dressed up as Anna and Elsa from "Frozen," then took pictures around campus to include in the holiday bags, departments like Campus Ministry and the Intercultural Center wrote holiday cards to all of the children, and the Office of Alumni Relations and the Mail Center helped assemble bags.
"I hope our craft bags put a smile on the children's faces," concludes Harwood. "They need holiday cheer this year more than ever and it's important that they still feel connected to the community and know that Saint A's cares and is thinking about them.
While there are no more craft bags available, people can access all of the Holiday Fair videos at: http://bit.ly/MeeliaHolidayFair