Students Reflect on Summer Experiences
September 28, 2022
With the fall semester well underway on the hilltop, students have taken the time to reflect on their summer experiences. For some, summer break means enjoying some well-deserved relaxation. For others, it is a chance to explore new opportunities and expand upon the concepts they've learned in the classroom. From internships to clinical positions, Saint Anselm students held a wide range of roles this summer. 
---
Accounting
Many students are intrigued by the prospect of advancing their careers and honing their skills with a summer internship. Interns gain hands-on experience in their field, often applying concepts they learned in class to real life. Accounting and Finance major Joe Sgobbo '23 did just that this summer as a Deal Advisory and Strategy intern at KPMG International. 
Sgobbo's role focused on financial due diligence. He performed financial statement analysis to advise a portfolio of clients. Sgobbo found that his summer internship experience tied directly to his coursework at Saint Anselm. 
"I specifically remember having to go through the deferred revenue of my client, and we talked about that extensively in multiple accounting classes," he said. 
Sgobbo gained more than just experience from his time at KPMG this summer; he will return to the company full time next fall as an advisory associate. 
---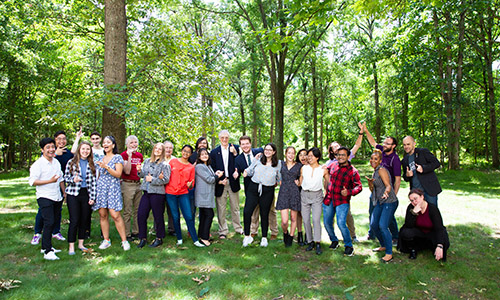 Physics
Students are connected with internships in a variety of ways. Like Sgobbo, some find their positions on LinkedIn or other social networking sites. Others use their campus leadership roles to leverage a network. 
Physics and psychology major Emma Goulet '23 utilized her role as president of the campus Physics Society to find her summer internship through the Society of Physics Students (SPS). The SPS is a national organization of college Physics Society chapters that both creates an accessible community of physics students and provides access to opportunities in the field, such as internships. 
Through the SPS network, Goulet spent the summer as an intern for the American Institute of Physics, the Center for History of Physics, and the Niels Bohr Library and Archives. In this role, she worked with the Washington D.C. based institutions to research and amplify the stories of underrepresented women in physics.
As for the impact on her career path, Goulet said "[My internship] has both broadened my horizons and made me second-guess my career plan, which I am extremely grateful for."
---
Communication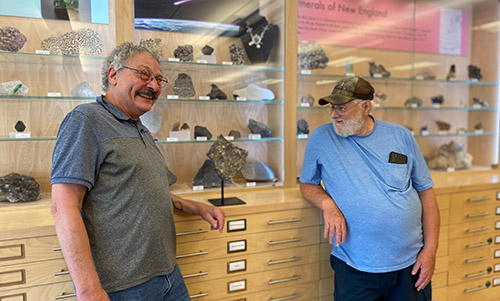 Saint Anselm students credit their education at the college, particularly their liberal arts background for allowing them to succeed in their summer roles. Communication major Ambrose Ward '24 pulled concepts directly from his Principles and Practices of Journalism course into his internship role at the Sun Journal of Lewiston, Maine.
"[Principles and Practices of Journalism] provided me with a lot of background for what the journalism industry is all about. When starting my internship, I was able to take the skills and terminology I learned in that course and apply them to my day-to-day work," reflected Ward. 
---
History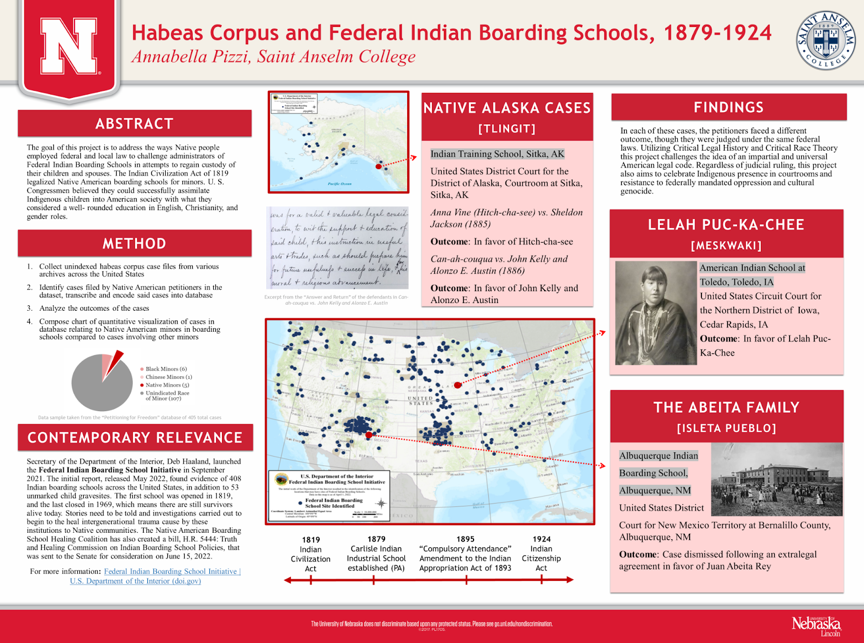 History and Spanish major Annabella Pizzi '25 spent the summer as a
research scholar at the History Department of the University of Nebraska Lincoln. Pizzi conducted her research project titled Habeus Corpus and Federal Indian Boarding Schools, 1879 - 1924 at the university's Digital Legal Research Lab. 
Like her peers, Pizzi found that her research experience complemented her history studies at Saint Anselm. 
"What was great about this experience was that I had never done anything like it before," said Pizzi. "I was able to expand my knowledge on American history and discover new fields of interest." 
Now an aspiring law student, Pizzi reflected that the research program helped set her sights on a future career in either constitutional or international law.
---
Arts
Students also used the summer break to strengthen their passions in the arts. Natural Science major Theresa Szafranski '25 fulfilled a lifelong goal of training at the Royal Danish Ballet in Copenhagen, Denmark. 
Under guidance of dance teachers from all over the world, Szafranski learned a range of dance styles, including ballet, jazz, and modern. Beyond developing her dance skills, she got to experience life abroad this summer as well. 
"Dancing overseas this summer has helped force me to learn and experience life in new ways," she said. 
Szafranski drew connections from her coursework to her experience in Copenhagen as well. She had previously studied the city's sustainability initiatives in an Environmental Science class, which motivated her to apply to the dance program. 
---
Nursing
Students also used the break as an opportunity to get ahead on their clinical hours and coursework. Nursing majors Shannon Parr '23 and Paige Lapriore '23 completed their pediatric clinical requirement at a summer camp in Amherst, N.H. 
At Camp Young Judaea, Parr was responsible for assessing campers, providing first aid, administering medication, among other tasks. Parr's experience in the field preceded her Pediatric Nursing course this fall. 
"The skills I learned will certainly help me through my Pediatric Nursing class because I was able to work with a variety of childhood diagnoses that we will be learning about," said Parr. 
Like other students, Parr also found her next career steps through her summer experience. She hopes to return to Camp Judaea again next summer to work part-time and continue to hone her nursing skills. 
---
Biology
Audrey Wetjen, environmental science '24 spent the summer as a Conservation Aid for the Nevada Department of Wildlife, where she got to hike into remote areas and monitor native fish and reptiles.
No matter what their summer entailed, Saint Anselm students sought valuable experiences, and came back to the Hilltop this fall with an eagerness to apply their newfound skills.
 
Related News