Students Reflect on Unusual Semester
December 15, 2020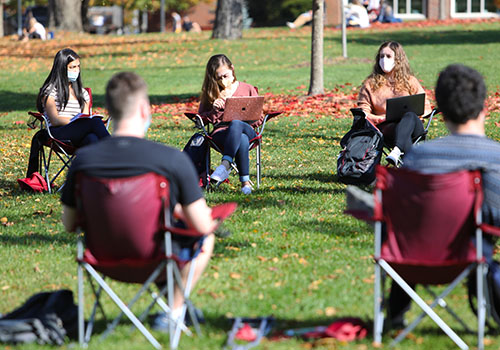 This semester was one like no other in the history of Saint Anselm College. Students and faculty alike did their part to prevent the spread of COVID-19 while also providing an environment for education and community on the Hilltop. One of the biggest changes to campus activities has been the initiation of a new coronavirus safety guidelines, known as the Anselmian Community Care Covenant. For students, unprecedented changes have been made to classes, athletics, student groups, and the community as a whole.
Changes to in-person classes were some of the most evident examples of COVID-19's effect on the college. For many students, remote learning became part of their schedule, with Dean Mark Cronin indicating that one-third of classes were in person, one-third were remote, and one-third were a hybrid. For those students who had in-person instruction, masks were required to be worn and social distancing practices were greatly encouraged. Despite these drastic changes, many students applauded their instructors for creating an environment conducive to learning while also taking into account the care covenant.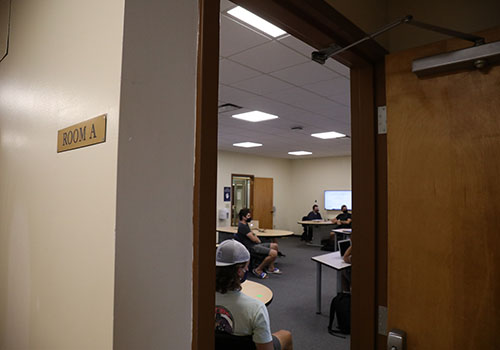 "The professors and administration have gone to great lengths to provide the best possible academic experience on campus," said Aidan Pierce '22, an International Relations and History double major. "With that being said, I and many other students certainly miss being close with our professors and other classmates. Professors have certainly done their best to adapt to this new reality, especially those that are teaching remotely. While we all miss the memory of semesters past, students are indeed doing their best to adapt to this new reality."
Athletics was another area affected by the coronavirus. Fall sports were postponed to the spring due to the pandemic. However, team activities, including practices, meetings, and training, continued with the proper safety protocols set forth by the NE10 and NCAA. Both fall sports and spring sports are expected to take place simultaneously in the spring. Cross-country captain Jordan Cook '21, shared his thoughts on the changes to fall athletics this semester.
"One of the biggest changes to this season was the limited number of practices we could have as well as the locations we are allowed to run. Earlier in the semester, we weren't allowed to run off-campus. This was particularly challenging since our campus is limited in size. Now we can run off campus, but we must always have masks on us. Nevertheless, our group has found creative ways to preserve our practices as well as our team bonding. Overall, we are trying to stay positive as seniors and are treating things as if there will be some sort of competition in the spring"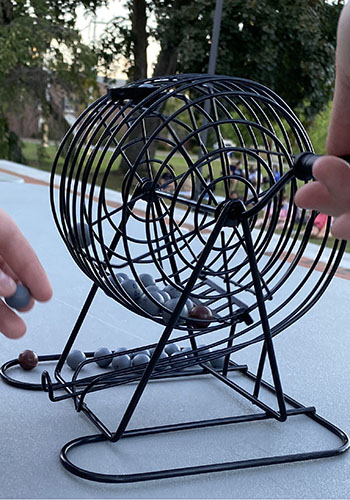 Various other student groups had to reimagine events and activities, none more than the Campus Activity Board. CAB is a student-led group that has been an instrumental part in providing engaging campus activities to the student body. This year, challenges have led to the group having to come up with creative new ways to reach the student body while also keeping the care covenant in mind.
"I think that CAB has been successful this semester with events," shared CAB activities coordinator Caroline O'Brien `21. "The group has really come together and has been thinking creatively to come up with many events that students will enjoy."
The semester has been especially unusual for freshmen students. Nursing student Anthony Spinella '24 spoke about the importance of freshman orientation and his experiences meeting other students.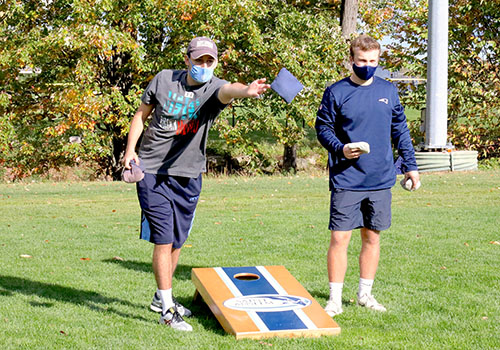 "Meeting new people has been difficult but not necessarily impossible," explained Spinella. "We still have some in-person labs for Anatomy and Physiology, and I've found other Nursing majors from the freshman orientation activities at the beginning of the year. The freshman orientation definitely helped me come out of my shell. I think my experience on campus has been pretty good so far."
The fall semester has undoubtedly been a challenge for all of the students at Saint Anselm College. The changes have tested the strength, perseverance and dedication to the education of every Anselmian on the Hilltop. Despite these obstacles, the college was successfully able to make it to Thanksgiving break and ensure the overall safety of the student body this semester. Dr. Joseph A. Favazza, president of the college, shared his gratitude and thanks to the student body in a virtual message sent out as students moved out on Nov. 20.
"In the spirit of Thanksgiving, I want to express my heartfelt gratitude to all of you who did everything you could to protect the health of our community, and to keep us on campus for the entire semester," shared Dr. Favazza. "Our Anselmian values call us to do the right thing for the betterment of those around us … From those simmering days in August, I said that this semester would be in your hands. Here we are four months later after a successful semester on campus. You should all feel very good about what you have accomplished."
Related News