Anselmians Study Abroad
April 10, 2019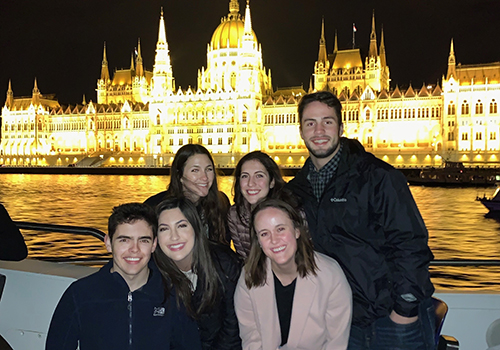 This semester, 73 Anselmians are studying abroad, temporarily trading the Hilltop for Austria, Ireland, Spain, and more. For many, their experiences have been exciting and enlightening, as they learn to navigate another country's history and culture.
Payton Gullikson, a junior communication major with a politics minor, is studying in Austria at Salzburg University. The four courses she is taking (Austrian Contemporary Culture, World War II and Central Europe, Music in the Age of Mozart, and European Integration) provide her with a better understanding of Austrian culture both in and out of the classroom, through excursions built into the curriculum. Gullikson travelled to an authentic Austrian café during a pastry tasting seminar, tested her culinary skills at an Austrian cooking class, and even spent a weekend in Vienna. 
"My professors have worked hard to make the information we are learning in the classroom come to life through various field trips," she says. "For my World War II class, we went to the site of Hitler's summer residence and will be going to a former concentration camp. For my class on Mozart, we visited Mozart's birthplace (right here in Salzburg), a museum containing many instruments used during Mozart's residence in Vienna."
Gullikson's European Integration course is a research-based independent study, which allows her special access to the University of Salzburg for her thesis on European integration. With access to resources not readily available in the United States, Gullikson is eager to continue learning more.
In Ireland, junior business and accounting double major Kerri Hanson attends the National University of Ireland: Galway (NUIG). Enrolled in five classes, including Brand Management, Public Economics, International Business, Global History, and Studies in Medieval Literature, Hanson still finds time to explore her surroundings and connect with new faces.
"I think that studying abroad pushed me out of my comfort zone and has made me more outgoing. I can genuinely say that I have met friends for life here and they're from all over- my roommates are from Ireland and Alaska," she says. "Studying abroad is also a time to see the world. I have been able to experience cultures from all over Europe and Ireland and I know that I would not have this chance if I didn't study abroad."
Hanson has visited Hungary, Austria, England, Germany, Italy, and the Netherlands, for many of which, English is not the native language. But, she says that having a language barrier is actually beneficial, because it means stepping outside a comfort zone and experiencing a new culture.
Juniors Michelle Bui and Megan Grenier are taking courses in Sevilla, Spain for the semester. Bui, a psychology and Spanish double major, is fully immersing herself in the Spanish language- in fact, her only English-taught course is Social Psychology. Taking Spanish Women and Literature, the Expression of the City through its Art, and Bilingual Negotiation Skills all in Spanish leaves her plenty of time to work on increasing her communication skills in another language.  
While in Spain, Bui also joined a women's rugby team in Sevilla. The team plays in a national league that competes against top-level teams in each region. A member of the Saint Anselm College rugby team, Bui wanted to keep her fitness up while she travelled, and was given the perfect opportunity to challenge herself athletically and academically.
Grenier, a communication major with a Spanish minor, also found a way to stay active while travelling. She says, "My program, ISA, has 'soccer Mondays.' So, on Mondays, ISA students studying at different universities in Sevilla come to play soccer together. It's a fun way to stay active and meet new people. I was interested in this because I love to play soccer, and I wanted the opportunity to meet new people."
In addition to staying active, Grenier is a student blogger for International Studies Abroad (ISA). She is responsible for completing three main blog articles throughout the semester. Grenier's first story was titled "Going From Lost to a Local in Sevilla, Spain." She is gaining writing experience, while simultaneously reflecting on her new adventures.
No matter where a student's interests lie, the Office of International Programs offers Anselmians a wide range of study abroad opportunities, from Global Seminars to traditional semester-long study abroad trips.