Students Choose Service during Winter Break
January 9, 2018
Ten teams of Saint Anselm College students are providing leadership in charitable work around the United States during their winter break. Led by pairs of upperclassmen, the groups of 14-20 students each will travel to ten different U.S. sites, as diverse as Appalachia and Washington D.C., January 6 to 13.
In their 28th year, the Service and Solidarity Missions, including trips during the college's winter break (Winter Break Alternative or WBA), and spring break in March (Spring Break Alternative or SBA), are run by the Office of Campus Ministry. WBA group responsibilities vary from site to site, with activities including home repair and construction, food service, hurricane relief, social justice in the city, refugee resettlement, and more. A total of 138 Saint Anselm College students are participating in WBA 2018.
Many leaders of this year's trips are participating in their third or fourth Service and Solidarity Missions trip. Universally, students are plunged into challenging service circumstances, and consistently, the leaders of student teams report extraordinary satisfaction and personal growth as results of helping those in need at the WBA sites.
"I get to see the light of those we get to serve; the happiness and appreciation that they show towards us is unreal," says Lauren Case '19 of Rye, N.H., who is co-leading a site in Salem, West Virginia with Kelsey Kurtz '19 of Lunenberg, Mass. "Being a part of WBA has helped me become the person I am today," explains Case. "It continues to show me that no matter what is going on in the world, a helping hand and a smile goes a long way. Our trips bring people together; it creates a community to help improves those in less-fortunate situations."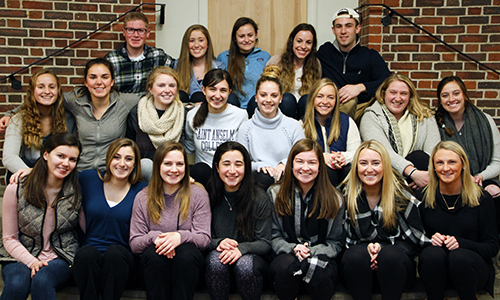 The West Virginia team in Appalachia is working with Nazareth Farm, a building and outreach program to assist residents in extreme rural poverty. Students go beyond hammering nails and painting walls to dig deep into the community's most basic needs.
In New Orleans, Nicole Francischelli '18 of Madison, Conn. and Adrianna Manzi '18 from Woburn, Mass., support ongoing disaster relief through the Saint Bernard Project, rebuilding homes for families with insufficient financial resources. The students also serve meals throughout the city.
"Immersing yourself in a different culture is both rewarding and challenging," says Francischelli. "You are in a position where you want to help these people all you can, but sometimes your service does not seem sufficient. You need to keep reminding yourself that even just a simple smile or short conversation can change an individual's day."
Susan Gabert, director of Campus Ministry at Saint Anselm College, underscores the personal and societal value of Winter Break Alternative.
"These trips provide participants not only with the opportunity to serve others but also with an experience that further develops lessons learned in the classroom," says Gabert. "Students step beyond their comfort zone throughout their week of service, prayer, and reflection and ask themselves meaningful questions about who they want to be in the world."
Additional sites and student leaders for Winter Break Alternative 2018:
PHOENIX, Ariz. (Hospitality for the Homeless): Jenna Baker '18 of Scituate, Mass. and Gregory Tubman '19 of Hopkinton, Mass.
This team at The Andre House of Hospitality, a Catholic Worker Soup Kitchen, helps provide homemade dinner to as many as 600 people a night, laundry services, a clothing closet and showers for guests.
ATLANTA, Ga. (Urban Poverty Relief): Meghan Golden '18 of Scituate, Mass. and Martha Heavey '19 of Mansfield, Mass.
Participants will work with DOOR Atlanta, serving people with mentally disabilities, homelessness, or transition for recent immigrants.
PHILADELPHIA, Pa. (Urban Community Development): Danielle Phinney '18 of West Roxbury, Mass. and Emma Kincaid '18 of West Bridgewater, Mass.
Participants will be working with the Daughters of Charity at St. Vincent De Paul in Philadelphia. Students will be engaged in both educational activities as well as service grounding in Catholic Social Teaching, the corporal works of mercy, and the mission of St. Vincent De Paul.
HARTFORD, Conn. (Social Justice in the City): Margaret O'Connor '19 of Scituate, Mass. and Georgie Rooney '18 of North Hampton, N.H.
Through Hartford Catholic Worker, WBA participants in Greater Hartford are assisting several service agencies. The aim of this trip is to both learn about Catholic Social Teaching and the Catholic Worker movement, as well as put these lessons into practice via their service engagements.
WASHINGTON, D.C. (Homebound Food Assistance): Samantha O'Neill '18 of Tyngsboro, Mass. and Emily Vallari '18 of Hopkinton, N.H.
Participants are working with Food and Friends, the only organization in the Washington, DC metropolitan area providing specialized, nutritious meals, groceries, nutrition counseling and friendship to people with HIV/AIDS, cancer and other life-challenging illnesses.
MANCHESTER, N.H. (Refugee Resettlement): Braelyn Croteau '19 of Somersworth, N.H. and Ashley Robichaud'18 of Plymouth, Mass.
With the International Institute of New England, Saint Anselm students are helping families resettle in the United States. Responsibilities include workforce development, assists with transition to a new culture, and education about topics such interviewing skills and financial sustainability.
BEAUMONT, Texas (Disaster Relief): Ashley Kosikowski '18 of Bristol. Conn. and Caroline Trickett '18 of Groton, Mass.
Participants are working with Community Collaborations in Hurricane Harvey relief, preparing flooded homes for restoration including muck out, gutting, cleaning and sanitizing, mold control and remediation, and reconstruction.
WINSTON-SALEM, N.C. (Affordable Housing Construction): Joseph Bonin '18 of Milford, N.H. and Caroline Ireland '19 of Windham, Maine
In Forsythe County, N.C. with Habitat for Humanity, Saint Anselm students are taking part in the organization's "Collegiate Challenge" of working through a school vacation. Responsibilities include construction, thrift store work, and donation procurement. The students are side-by-side with homeowners who are helping build their own homes and those of their neighbors.
Follow the observations and achievements of WBA students on the Service and Solidarity blog.