the advantage
With Saint Anselm College tuition, fees and apartment cost, students can spend a semester in Italy.  The advantage of the Orvieto semester-long program, is that it is a Saint Anselm College program: most financial aid follows, the courses are Saint Anselm credited courses taught by Saint Anselm faculty (just on a different hill-top campus) and many of the courses fulfill core learning requirements.  The semester-long program, offered Spring semester, is open to sophomores, juniors and seniors.
An integral part of this program are the weekly tours which form the core of the required course ITO200 Chiavi: Keys to Our Cultural Heritage.  The bus trips, museum and site admissions and guided tours are all included as part of the program.  These tours provide students with the opportunity to learn about in class and then visit important cultural and historical sites in Italy.
---
For now we wait for COVID to subside, but we will update you here with any new information about the program.
---
cultural immersion
The Orvieto semester-long program offers the chance to experience Italy leisurely as a 'resident' of an Umbrian hill town, to explore cultural high-points of Italy through the included weekly academic excursions, and to travel and explore further afield during scheduled long weekends and a 10 day spring break.  The Orvieto program offers students the opportunity to experience another culture while providing the support of still being part of the Saint Anselm community.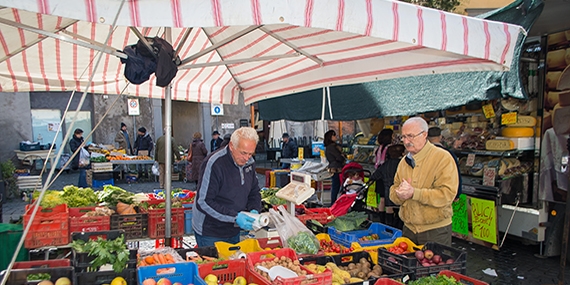 program location
Orvieto is conveniently located in Italy's Umbria region, as it is one hour from Rome and one and a half hours from Florence by train.  Orvieto itself is an amazingly charming city, full of history, archaeology, art, and culture.  It boasts a Cathedral that is an architectural marvel whose chapels house some of the finest art that central Italy has to offer.  In addition Orvieto is a safe and friendly city with a lively and interesting cafe and food scene.  Every Thursday and Saturday morning the Piazza del Popolo hosts an open air market.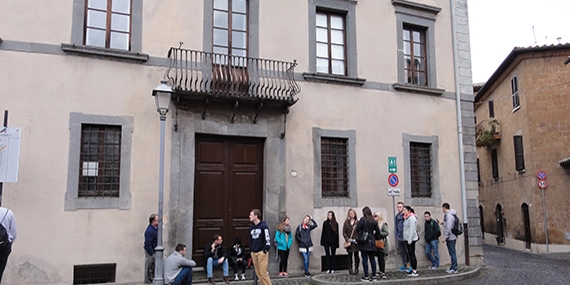 classrooms in a palace
Our classrooms are located in the Palazzo Negroni, an 18th c. palace on the main floor of this beautiful three story building.  The classroom building is equipped with high-speed internet for student use as well as a very popular coin-operated espresso machine. 
Students take four courses.  All students are required to take ITO 200 Chiavi: Keys to Our Heritage which integrates local culture, art, architecture, and history through weekly academic excursions and workshops.  The other courses offered all incorporate the Italian setting into their curriculum.  Many of these courses fulfill core learning objective requirements.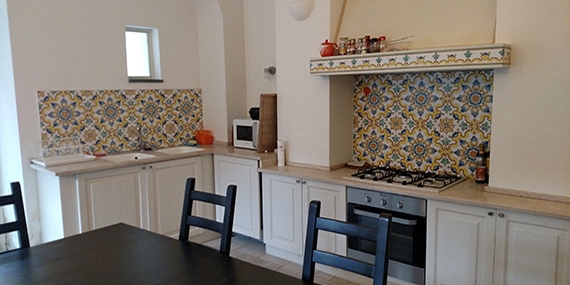 student housing
Students live in fully furnished apartments located throughout the historic district of Orvieto within easy walking distance to the school, as well as to cafes, restaurants, shops and grocery stores.  Most apartments are shared by four students and contain two double-occupancy bedrooms, a common area, and a fully equipped kitchen.
All expenses such as water, gas, and electricity bills, as well as a weekly cleaning of the apartment are covered.  Sheets and towels are provided.
To see and read about student experiences in Orvieto,
visit our Facebook page @ SACinOrvieto.
Contact Information
Prof. David George
Faculty / Director
Saint Anselm College Orvieto
Palazzo Negroni, Piazza Corsica, 2.
Orvieto (TR) 05018 Italia
phone: +39 333 9313426
dgeorge@anselm.edu
Prof. Linda Rulman
Faculty / Director
Saint Anselm College Orvieto
Palazzo Negroni, Piazza Corsica, 2.
Orvieto (TR) 05018 Italia
phone: +39 333 9313426
lrulman@anselm.edu