On Friday, May 15 at 4 p.m., the Baccalaureate Mass will stream live from the Abbey Church. The Honors Convocation will be celebrated as part of the in-person commencement at a later date.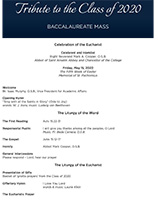 Baccalaureate Program (order of events)
Having trouble viewing the video? Watch the Livestream in a New Window »
Prayers/Intentions for Baccalaureate Mass
Member of the Class of 2020,
As part of the ceremonies celebrating your class, mirroring your experience freshman year at the Grotto, seniors are invited to submit a prayer or intention of something you are grateful for in your time at Saint Anselm and something you are hopeful for in the future. These prayers will be collected and brought up at the offertory at the live-stream Baccalaureate Mass celebrated on May 15.
To submit a prayer/intention simply fill in the field below. We look forward to the celebration and to the time we can all gather for your commencement exercises. Be assured of our continued prayers!