Although Saint Anselm College's traditional, in-person commencement has been postponed, the community is honoring the class of 2020 with a special event streaming live from the Abbey Church on Saturday, May 16.
President Joseph A. Favazza, Ph.D., will certify those seniors who have successfully completed their graduation requirements to earn a degree from Saint Anselm College. Dean of the College Mark Cronin will read all the names of the graduating seniors. The certification and reading of names will begin promptly at 11 a.m.
Tune in at 10:45 for a special tribute to the class of 2020.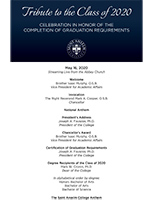 Celebration Program (order of events)
Celebration in Honor of the Completion of Graduation Requirements
Having trouble viewing the video? View the Livestream in a New Window »
Submit Well-wishes to the Class of 2020
Join the Anselmian community online as we cheer, toast, and wish our class of 2020 best of luck. Submit your messages using the form below and we will post your message on the well-wishes page throughout the week.