Telling UNICEF's Story: Lauren (Weybrew) Davitt '08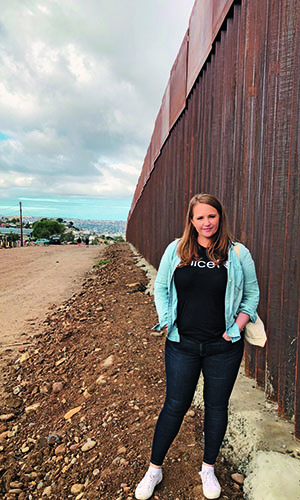 UNICEF was founded more than 70 years ago to help children in war-torn Europe, the Middle East and China. With programs across the globe, it has helped save more children's lives than any other humanitarian organization.
Lauren (Weybrew) Davitt '08 never suspected, while trick-ortreating in her Hatfield, Mass., neighborhood with a UNICEF donation can in one hand, that someday she would work for the organization. As director of public relations for UNICEF USA, with a master's degree in international affairs from the Fletcher School at Tufts University, she plays a vital role in programs that have resulted in everything from school desks to scholarships to drone-assisted medical supply delivery
"It's an exciting place to work, and its mission is unparalleled," Davitt says.
It was a senior year internship in the Office of Communications and Marketing at Saint Anselm that set the history major (with a certificate in French) on her career path. After graduation, she spent six years at Manhattan communications firms before seeking work that was more in line with her passions. UNICEF USA is the organization's presence in the U.S., conducting fundraising, education and advocacy to support worldwide programs.
Davitt's work has taken her to 11 countries—a benefit for someone who has always loved travel. (Her writings about Paris during a semester abroad appeared on the college website.) For three months in 2019, she worked in Malawi when that program lacked a chief of communications. Most of the time, however, she oversees a staff of five in an office on Wall Street. "Our job is to figure out the best way to get information into the hands of those who need it," she says. Sometimes that means correcting misinformation and "putting out fires."
It can be a demanding job: "Whatever's happening anywhere, I get pulled in. If there's an emergency in Indonesia, I'm on my phone with my team. It's a lifestyle."
It is because of this dedication and her work with UNICEF that Davitt earned recognition from New York Nonprofit Media as one of their inaugural 40 Under 40 honorees.
In addition to leading the day-to-day P.R. operation, Davitt has developed key programs including a highly successful media partnership strategy.
"I saw an opportunity to tell UNICEF's story in local markets," she says. "I felt it would be a huge win for us if we could take a local broadcast station into the field." A news team from Los Angeles joined UNICEF staff at a refugee camp in Kenya, airing stories and producing a half-hour special. In what Davitt calls "a super-calculated risk," UNICEF received $125,000 in one week, nearly all of it from first-time donors. The model is being replicated in several cities in the U.S.
Davitt also manages a partnership with MSNBC called K.I.N.D. (Kids in Need of Desks) in a campaign that has donated 900,000 school desks and provided scholarships to young women in Malawi. Through this program, Davitt became friends with Joyce Chisale, an inspiring 17-yearold who is determined to become a doctor and a poet.
This, Davitt says, is her biggest passion project: "Education for women. I will be a champion and an advocate for this cause for the rest of my life."
BY LAURIE D. MORRISSEY
---
Past, Present, Anselmian: Benjamin Horton, Ph.D. '12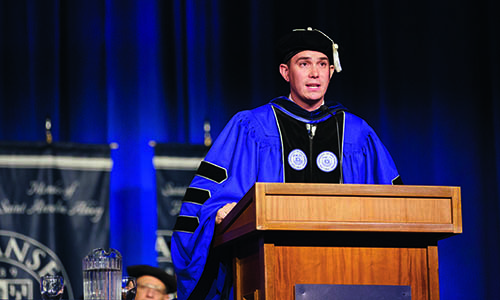 As a student and peer tutor at Saint Anselm College, Benjamin Horton, Ph.D. '12, always saw himself as an educator. His passion for teaching fueled him to go on to get his M.Ed. and ACE Teaching Fellowship from the University of Notre Dame, and eventually his Ph.D. in Higher Education Leadership and Policy from the University of New Hampshire.
Horton is now back on the Hilltop as assistant director of the Academic Resource Center, helping students meet their academic and personal goals.
"Students are what make it such a joy to come to work each day. That's why I chose to return to Saint Anselm as an employee—because the college's wonderful faculty and staff made my experience so meaningful and formative. I hope to pass that on to each and every student I interact with," says Horton.
Horton's impact extends far beyond the walls of the Academic Resource Center, however. In 2015, he began teaching in the college's Conversatio program, a seminar-style course geared towards first-year students. Two years later, his Conversatio cohort piloted the Hillsborough Humanities Program, adding a service-learning component to the class. The program brings the humanities curriculum to Goffstown's Hillsborough County Nursing Home, engaging elderly residents in conversations about Plato and Boethius alongside Saint Anselm students.
"Hillsborough really has given me a lot of perspective in terms of my work," he says. "It has shaped the way I teach, explain things, the way I ask questions, the way I listen—I think it's been a meaningful experience for the students as well."
Horton was awarded the Campus Compact for New Hampshire Presidents' Good Steward Award in 2019 for his work with the Hillsborough program.
Horton's newest project, Hilltop Academy, is a newly created tuition-free, for-credit summer program designed for incoming first-years. As co-director of the program, Horton will help students adjust to the Anselmian community with a 2-credit academic course during the summer before their first semester.
Recently, Horton was inducted into the Union Leader's 40 Under Forty class of 2020 for his public service and professional development in New Hampshire. He joins his wife and fellow alumna Alexandra (Puglisi) Horton '11, who was inducted in 2015, and is owner of Café la Reine in Manchester.
"For me and for Alex, we have found Saint Anselm to be a very supportive home. We've also found New Hampshire to be a very positive place for us to live, to have a business, and to work," he says.
Despite his long list of achievements, Horton considers himself a "hobby guy." In his spare time, he loves to fly-fish, spend time with his rescue Schnauzer, Keefe, and play in an ice hockey league. He even builds an ice rink in his yard every winter.
One of Horton's lesser-known achievements is his first-place prize in the college's annual Staff Chili Cook- Off. He secured a spot in the winner's circle with one secret ingredient: his own honey. Horton, and a friend, raise bees in their spare time, and also sell their honey at Café la Reine.
From serving the community to serving cups of chili, Horton has made his mark on the Hilltop, and will continue to inspire students in the years to come.
By Samantha Jette '20
Find the recipe for Horton's award-winning chili below.
 
Chili Champ
Award-winning chili recipe from Benjamin Horton, Ph.D. '12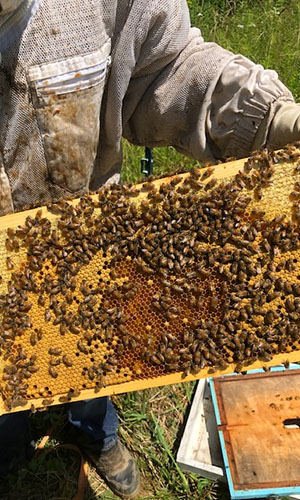 Ingredients
Horton's own raw, local, organic honey from KB Honey, Barrington, N.H. (Shhhh… secret ingredient)
New Hampshire maple syrup
1 cup of Frank's Red Hot Buffalo Sauce
1 jar of Trader Joe's organic marinara sauce
4 cans assorted beans (kidney, black, red—pretty much whatever I can find in the cabinet)
Chili powder
Tabasco
Cinnamon
Fresh jalapeño (1)
2 lbs. cooked ground beef
 
Directions
Cook in crockpot for 5 hours on high and enjoy before a chilly Saturday Hawks victory!
Also in the Issue
Past Issues