Saint Anselm Breaks Ground on New Welcome Center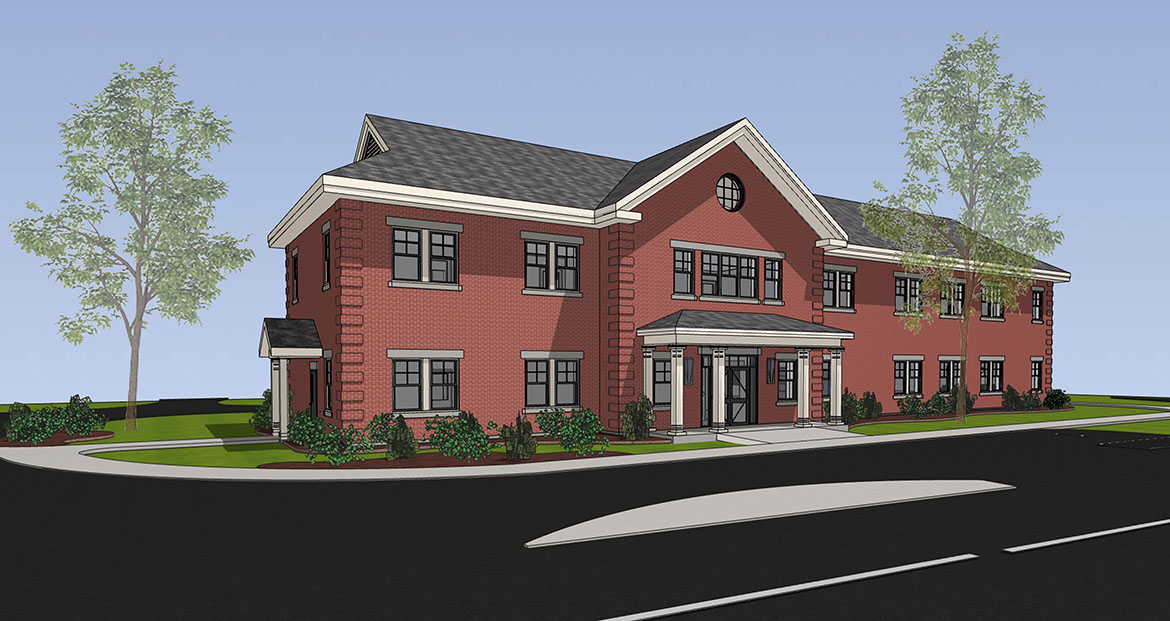 On the first Friday in September, students, alumni, and staff gathered to break ground on an important new addition to the Saint Anselm College campus—the Welcome Center.
"The Welcome Center project has been in the works for over three years and we are very excited to celebrate today's milestone," said Ann M. Catino, Esq. '82, chair of the board of trustees for Saint Anselm College.
As the Office of Admission's new home, the Welcome Center will provide a cohesive, easy to locate, visitor space on campus. It will include a reception space, outdoor patio area, offices for admission to conduct individual interviews with students and families, space for the student ambassadors, and a larger presentation room. In addition to its role in admission, the Welcome Center will also be home to function space available for alumni reunions, homecoming, and other community events.
"The admission staff are very excited about the new Welcome Center," said Michael Iorio, assistant vice president of enrollment and director of admissions. "With visits to campus on the rise, the center will allow for appropriate space to accommodate our many visitors throughout the year and be a true showcase of our Benedictine hospitality at Saint Anselm College."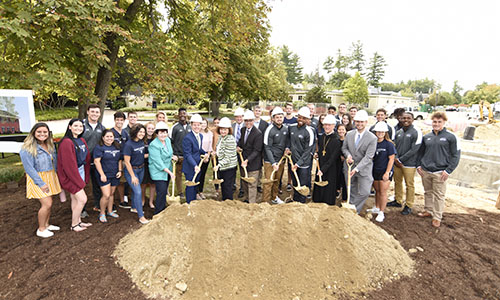 "The Welcome Center will serve as a front porch of the college and signify the arrival into our Anselmian community," said Dr. Joseph A. Favazza, college president. "This hospitality is not only seen in the mission of the Welcome Center, but also in the loyalty and commitment of those who have generously supported the building of the center."
During the groundbreaking, Joshua Hughes '20 and Jacob Ethier '20, Saint Anselm College's student body president and vice president, unveiled the renderings for the new Welcome Center which will remain in place until the project is over. Abbot Mark Cooper, O.S.B. '71, then took a few minutes to provide a benediction for the new project.
The construction of the new Welcome Center is the result of work of a number of people including: Bill Furlong, vice president of finance and CFO, Jonathan Woodcock, project manager, John Deloia, vice president of Eckman Construction, Dennis Mires of Dennis Mires-The Architects, Michael Iorio, assistant vice president of enrollment and director of admission, and the entire Office of Admission staff. The Welcome Center would not have been possible without the generous leadership gift made by the estate of Sherwood Blake '50 (see below).
The project is expected to be completed by fall of 2020.
 
Rendering courtesy of Dennis Mires PA The Architects
Photo by Kevin Harkins
Sherwood Blake '50: A Lasting Legacy
The Welcome Center would not have been possible without a legacy leadership gift from Sherwood Blake '50, a longtime supporter of service and Saint Anselm College who passed away in April 2017. A veteran of World War II, Mr. Blake graduated from Saint Anselm College in 1950. He spent his career living in New York City and working for Marsh & McLennan, retiring in 1992 as the vice chairman of the insurance broker. He always stayed connected to the Hilltop through his friendship with Father Robert Quirk, O.S.B. The two kept in touch throughout the years, and after Father Quirk passed away, Mr. Blake set up an endowed scholarship fund in his honor. Mr. Blake was a member of the 1989 Society, and a special honorary member of the President's Society. Through both gifts, Mr. Blake has left a legacy of not only welcoming future Anselmians to campus, but to also ensure their success as students, and in the years to come.
---
CEBG Welcomes New Co-Directors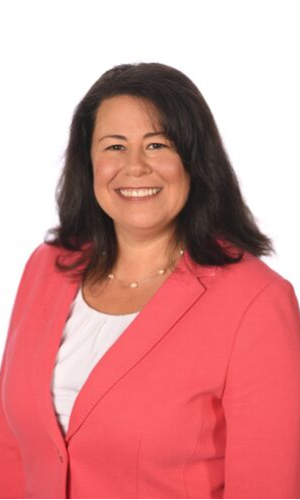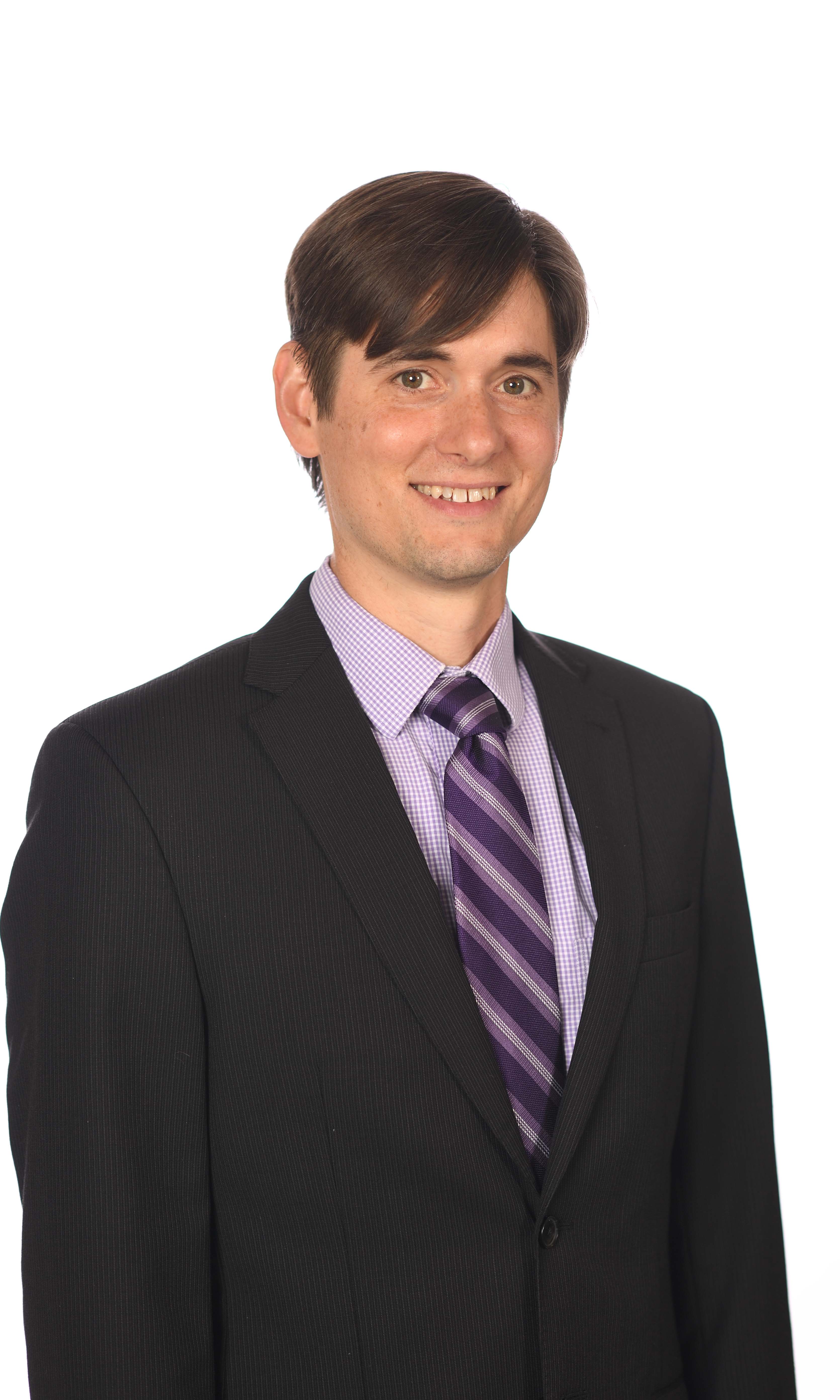 Sarah Jacobs and Jason Sorens have been appointed the new codirectors at the Center for Ethics in Business and Governance (CEBG).
As co-directors, Jacobs and Sorens will oversee academic, community, and governance programs aimed at addressing ethical issues in our communities. These include major initiatives geared towards addressing the affordable housing crisis in New Hampshire, providing New Hampshire's high school students (especially underrepresented populations) opportunities for reflection and dialogue, and offering governance resources for schools, municipalities, and non-profit boards.
According to philosophy Professor Max Latona, the center's executive director, the center had originally planned to hire one director; however, upon meeting both Jacobs and Sorens, their plans changed. "The hiring committee really liked two of the candidates very much, and thought they might complement one another tremendously," Latona said.
Jacobs has experience as an administrator for both K-12 and higher education levels, with a background in community engagement, student affairs, program and curriculum development, project management, and public relations. She studied sociology at Fitchburg State University during her undergraduate years, and earned a Master of Science in College Student Development and Counseling from Northeastern University.
Sorens has taught at Yale University, Dartmouth College, and the University of Buffalo, and has won two awards for best teaching in his department. He has researched and written more than 20 peer reviewed journal articles, as well as a book for McGill-Queens University Press entitled Seccessionism: Identity, Interest, and Strategy. In his research, Sorens focused on fiscal federalism, U.S. state politics and governance, movements for regional autonomy and independence around the world, as well as the affordable housing shortage in New Hampshire. Sorens earned a B.A. in economics and philosophy (with honors) from Washington and Lee University in 1998 and went on to receive his Ph.D. in political science from Yale University in 2003.
The CEBG has cultivated discussion about ethics since its inception in 2017 by serving as a platform for collaboration between academia, non-profit, business, and public policy leaders.
 
Photos by Gil Talbot
---
New VP for Enrollment Management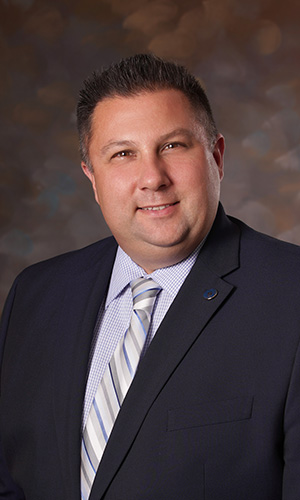 Steven E. Goetsch has joined Saint Anselm College as the new vice president for enrollment management.
Goetsch comes to Saint Anselm from Felician University in Rutherford, N.J., where he served as the vice president for enrollment management. He serves on the President's Cabinet and oversees the efforts of the admission and financial aid teams.
"What first drew me to Saint Anselm was the spirit of the college: the mission, the hospitality, and the community," says Goetsch.
Goetsch has demonstrated a track record of innovation and success in higher education enrollment. In his role at Felician, he increased last year's first-year class by 30 percent while maintaining academic levels and decreasing the university's discount rate. Prior to Felician University, Goetsch was the associate vice president for enrollment management at Keene State College and held additional positions in admission at Felician University, Western Connecticut State University, Fitchburg State College and Regis College.
Goetsch holds an M.B.A. from Plymouth State University and a B.A. in communication studies from Plymouth State College.
 
Photo by Jeff Dachowski
---
Meet our New Faculty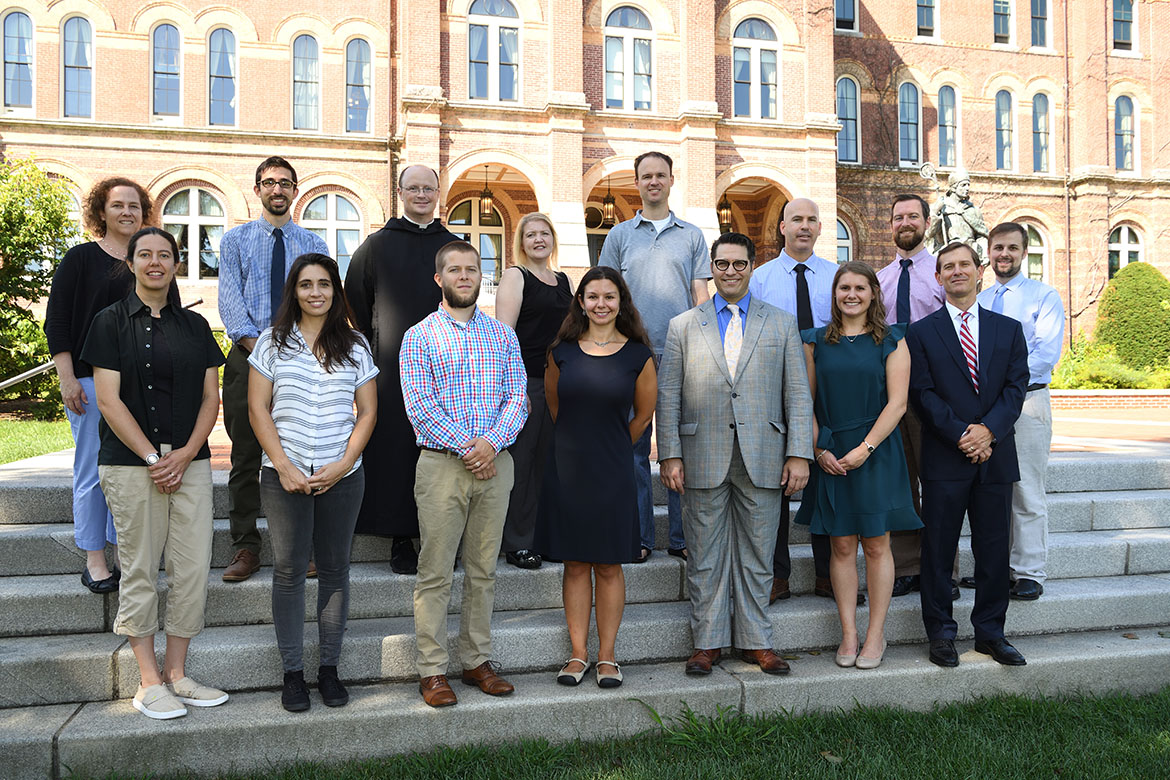 Front row from left: Emilie Talpin, instructor, modern languages and literatures; Brittany Gentry, assistant professor, philosophy; Philip McCormack, assistant professor, criminal justice; Britney Privett, assistant professor, chemistry; Christian Gregory, assistant professor, education; Jennifer Pace '13, assistant professor, chemistry; Mark Cronin, dean of the college. Back row from left: Christine Gustafson, associate dean of the college; Bryan Picciotto, assistant professor, English; Fr. Bernard Disco, O.S.B. '92, assistant professor, theology; Melinda Ferguson, clinical faculty, nursing; David LaVigne, assistant professor, history; Christopher Bell, assistant professor, psychology; Marc Rugani, instructor, theology; Jeffrey Wiebe, assistant professor, economics and business.
Photo by Gil Talbot
---
O'Malley Receives Fr. Bernard Holmes Scholarship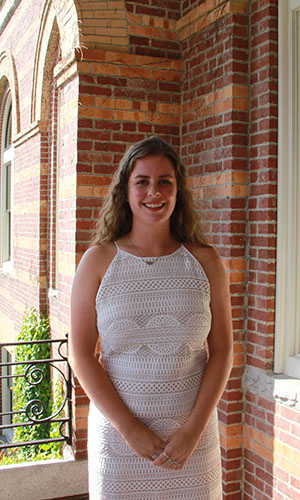 Rose O'Malley '20, an English and Spanish double major and member of the honors program, has been selected as the Fr. Bernard Holmes, O.S.B., Scholar for the 2019-2020 academic year.
The award is presented annually to an incoming senior, and provides a full tuition scholarship for the student's final year at Saint Anselm College. Bernard Holmes scholars show concern for and work to provide assistance to others, demonstrate leadership potential, and actively participate in the life of the college. The scholarship was established through the generosity of Mr. and Mrs. Robert C. Davison, in memory of Fr. Bernard Holmes, O.S.B., former president of the college.
"I am so humbled and honored to have received the Father Bernard Holmes Award," says O'Malley. "I am grateful for every day at Saint Anselm College, and I owe much of my growth to the incredible community of students and staff. I am proud to call Saint Anselm my home."
O'Malley works at the Meelia Center for Community Engagement as a co-coordinator for Access Academy, a program that teaches critical writing and thinking skills to students of refugee, immigrant, and underrepresented families, to support them in higher education and career aspirations. In this role, O'Malley organized the placement of volunteers in the Manchester School District elementary and middle schools, and visited a fourth grade classroom weekly, monitoring the progress of the program as well as bonding with the students.
O'Malley also studied Spanish in Granada, Spain, and participated in two Service and Solidarity Missions Trips with the Office of Campus Ministry, one to Orland, Maine, and one to Los Chiles, Costa Rica. "These were extremely valuable and meaningful opportunities that allowed me to serve the community and work alongside my classmates in a constructive and supportive environment," says O'Malley.
This past year, O'Malley also completed two honors projects with Professor Thorn in the English department, one focused on the history and voices of the native Ojibwe people, and the other on the story of a young enslaved woman in 18th century Jamaica.
Despite the time O'Malley pours into bettering the world through academics and volunteer work, she finds time to be an avid participant in Saint Anselm College campus life and events. She has worked at the Geisel Library and the Office of Residential Life and Education. She recently completed the college's Road for Hope. She is a member of Delta Epsilon Sigma and plays on an intramural volleyball team, and loves to engage in Saint Anselm College traditions such as Mind Over Major, Relay for Life, Foster and Adoptive Parent Night Out, and the Valentine's Day Dance.
O'Malley emphasizes how service work has impacted her life. "These jobs have strengthened my love for Saint Anselm and helped me grow into a more unassuming and empathic person, with a focus on community and education."
 
Photo by Annee Giard
---
Brother Celestine Hettrick Enters Novitiate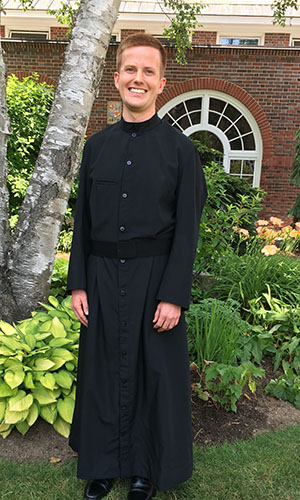 On Wednesday July 10, 2019, Mr. Benjamen Hettrick was received into the novitiate and was clothed in the habit of a novice. Abbot Mark Cooper, O.S.B. '71 gave him his religious name, Brother Celestine, after Pope Saint Celestine V. Brother Celestine is a native of Salem, N.H. He attended Holy Family Academy in Manchester, N.H., and The International Theological Institute in Trumau, Austria. Father Bernard Disco, O.S.B. '92 will serve as his Novice Master.
Photo by Saint Anselm Abbey
---
Melucci Scholarship Awarded to Two Seniors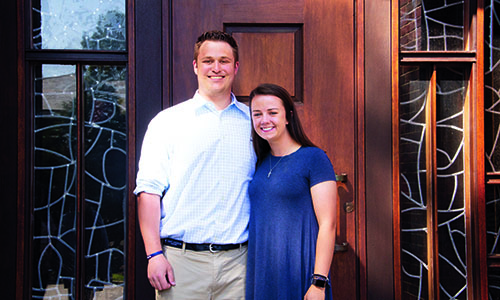 Christina Behen '20 and James Judge '20 have been selected to receive the 2019-2020 Thomas A. Melucci Jr. Memorial Scholarship, an award that annually provides full tuition to two seniors who have demonstrated significant spiritual and personal growth throughout their time at Saint Anselm College.
Behen is a nursing student who led this year's Road for Hope. She has spent her time at Saint Anselm College actively engaged in the Meelia Center, attending Service and Solidarity Trips, volunteering with UpReach Therapeutic Riding Center, and is a member of the Society of Saint Elizabeth Seton.
"The minute I stepped on Saint Anselm's campus, I thought, this is it, this is home," said Behen. The scholarship relieves the burden of worrying about financing her final year of college, and she's thankful for the Melucci's generosity to make that happen.
Judge is a communication major who is involved in campus ministry. Last year, he led a winter break alternative trip to West Virginia and also walked the Road for Hope in August. He has participated in two Food, Clothing and Furniture (FCF) Drives. He shares that the kindness and generosity shown across campus has inspired and shaped who he is as a person.
This year, Judge is looking forward to focusing on academics and the rest of his commitments. "This scholarship means the world to me and my family," said Judge. "I am truly honored to be a Melucci Scholarship recipient."
The Thomas A. Melucci Jr. Memorial Endowed Scholarship was established by Thomas and Gail Melucci as a memorial for their son, Thomas, who graduated from Saint Anselm in 1988. Mr. and Mrs. Melucci remain closely involved with the scholarship, serving on the committee that selects recipients each year. Mr. Melucci is a former trustee of the college.
Photo by Annee Giard
---
Brother Basil Professes Simple Vows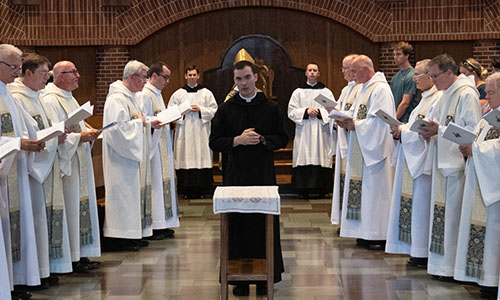 Brother Basil Louis Franciose, O.S.B. '17 professed temporary vows as a monk of Saint Anselm Abbey on July 11, 2019, the feast of Saint Benedict. Abbot Mark Cooper, O.S.B. '71 clothed Brother Basil in the full monastic habit and presented him with a copy of the Rule of Saint Benedict. The day co-incidentally was Brother Basil's 25th birthday.
Through his temporary profession of vows, Brother Basil embraces the vows of the Order of St. Benedict: obedience, stability, and conversatio morum (fidelity to monastic life) as cited in chapter 58 of the Rule of Saint Benedict. Upon completing three years as a junior monk, and after careful prayer and deliberation, he may petition the monastic community to profess solemn vows and become a permanent member of the monastic community.
Brother Basil is from Salt Lake City, Utah. He graduated from Saint Anselm College in 2017 with a degree in theology and a minor in philosophy. Brother Basil graduated from Judge Memorial Catholic High School in Salt Lake City in 2013.
"I am humbled to be a part of this community that I had the joy of interacting with for four years as a student." said Brother Basil, "When I look back on God's hand in my life over my 25 years, I can see his gentle nudges that have brought me to this day. I trust that God has brought me here with his grace."
Brother Basil began pursuing seminary studies for the priesthood this fall at Saint John's Seminary in Brighton, Mass.
Photo by Kevin Harkins
---
Author Elaine Weiss Brings Women's Suffrage Talk to the NHIOP
On the centennial anniversary of New Hampshire's ratification of the 19th Amendment, the New Hampshire Institute of Politics (NHIOP) hosted award-winning author Elaine Weiss to speak on her latest book, The Woman's Hour: The Great Fight to Win the Vote (Viking, 2018).
The Woman's Hour focuses on the six-week battle fought by suffragists in Nashville during the summer of 1920. Thirty-five of the necessary 36 states had ratified the amendment, and suffragists saw Tennessee as their best hope for ratification before the 1920 presidential election.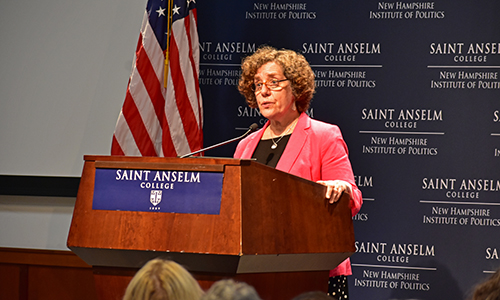 In her talk, Weiss explained that by 1920, women had been fighting for the right to vote for 72 years. She centered her Bookmark Series talk on key events that helped suffragists win the right to vote, including New Hampshire's role in the movement.
New Hampshire's own Marilla Ricker began testing the state's prohibitions against women voting in 1870 by showing up to vote on Election Day. Susan B. Anthony inspired this charge, and by the 1872 presidential election, women throughout the country had joined in. Anthony, known as "the woman who dared to vote," was arrested and convicted of illegal voting in a federal election as an example to other women.
"They tried every political angle," said Weiss, "including going straight to presidents." Weiss shared how President Theodore Roosevelt supported suffragists and a federal amendment for suffrage. The media negatively reported Roosevelt's position however, causing him to lessen his support.
The most passionate anti-suffragists, according to Weiss, were actually women. "They thought it would lead to an unhealthy shift in gender roles and saw women's suffrage as a threat to their traditions," she explained.
In addition, Frederick Douglass and other abolitionists thought African American men needed the right to vote before women did. "It's not the woman's hour," Weiss said they told the suffragists. "The woman's hour will have to wait."
According to Weiss, a third generation of suffragists soon arrived, and they were not willing to wait. "There's often a split having to do with strategies and tactics in movements; this was the split in the suffragist movement," she said.
The new generation of suffragists began trying things that had never been done before. They picketed President Woodrow Wilson and protested on the steps of the Capitol and the White House. As a result, they were arrested, jailed, and assaulted. "They were just trying to break the movement," said Weiss.
A federal amendment was finally sent to the states for ratification in June 1919. Due to the summer recess, most legislatures were not in session—causing the governor to call a special session requiring legislators to come in and vote. According to Weiss, special sessions were not common in New Hampshire, but Governor John Bartlett had "political courage" to support women and make the call.
On September 10, 1919, New Hampshire became the 16th state to ratify the 19th Amendment, expanding the right to vote to women. It became law on August 18, 1920, just in time for the presidential election in November.
"Social change is slow, and political change is hard," Weiss concluded. "There is still much work to be done... we must make it easier, not harder, to vote."
Photo by Alexis Soucy
---
Saint Anselm Adds En Iwamura Exhibition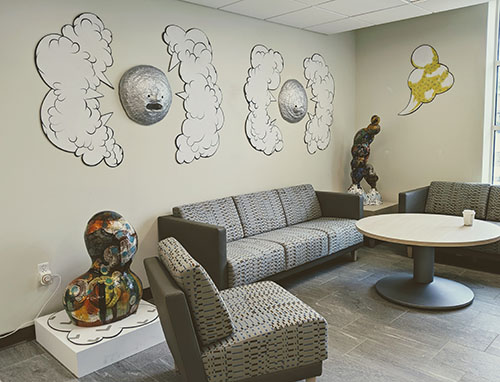 Saint Anselm College is excited to announce an exhibition with the work of sculptor En Iwamura. The exhibition, Dear My Heroes, opened on October 8 in the Roger and Francine Jean Student Center Complex and features Iwamura's ceramic sculptures alongside the debut-viewing of a time-lapse video of Iwamura and Saint Anselm students working on 1,500 pounds of clay. The exhibition will be available in the student center through the end of the academic school year.
A Japanese artist of growing international fame, Iwamura's latest exhibition at Saint Anselm features pop-culture saturated ceramic sculptures. En Iwamura first visited Saint Anselm in 2016, serving as a Living Learning Commons (LLC) Visiting Artist. During that trip, he worked with Saint Anselm students to create a clay wall which appears in the time-lapse video entitled "Appearing Clay Wall."
"Much about this work is incredibly fitting for an inaugural exhibition in the student center," says Professor Kimberly Kersey Asbury. "Both the LLC Galleries, Living Learning Commons, our collaborative Visiting Artist Series there, and now too the student center itself all represent new beginnings as well as En's work itself, now regarded as his 'early work' in a career that has taken off."
Born in Kyoto, Japan in 1988 En Iwamura was under the influence of parents who were both painters, growing up in an artistic environment. After attaining his BFA in craft at the Kanazawa collage of Art and Craft, he began to be interested in the international art world.
En Iwamura says his artwork uses, "cartoony/abstract drawings on cutout wooden props as an important part of my installation with ceramic pieces to create theatrical experimental installation." He continues, "I believe that continuing ceramic art in the international level makes me able to communicate with someone new, finding something important and going somewhere far and away."
This project was made possible by the Department of Fine Arts, En Iwamura, Office of Residential Life, Conversatio, and Student Affairs.
Photo by Kimberly Kersey Asbury
---
Women's Ice Hockey League Approved for NCAA Division I Membership
The New England Women's Hockey Alliance (NEWHA) received official notice from the National Collegiate Athletic Association (NCAA) that it has officially been approved for active NCAA Division I membership, effective for the 2019-20 academic year.
Starting with the 2021- 22 season, active Division I membership allows the NEWHA champion to be eligible for a bid to the National Collegiate Women's Ice Hockey (Division I) Championship.
Per NCAA guidelines, the women's ice hockey National Collegiate Championship is a combined championship opportunity open to all Division I and Division II programs that sponsor the sport and play the requisite number of contests against Division I/II opponents.
The NEWHA is comprised of two NCAA Division I institutions and four NCAA Division II institutions.
NEWHA administrators convened in July 2018 to finalize and solidify its status as an official NCAA conference and discuss organizational details.
These individuals were joined by representatives from the NHL, College Hockey, Inc., the Northeast-10 Conference, and College Hockey America for discussion regarding the growth of women's ice hockey and ways to further competitive opportunities for women.
Also in the Issue
Past Issues