Brother Francis Professes Solemn Vows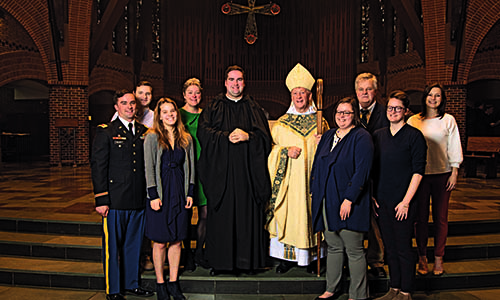 Brother Francis Ryan McCarty, O.S.B. '10, has professed solemn vows as a monk of Saint Anselm Abbey. On February 2, 2020, the Feast of the Presentation of the Lord and the World Day of Consecrated Life, Abbot Mark Cooper, O.S.B. '71 clothed Brother Francis in the monastic cuculla, a pleated choir robe, the symbol of his solemn profession.
Standing before his confreres, Brother Francis took the three vows of the Order of St. Benedict: stability, obedience and conversatio morum to permanently join the community. These vows solidify his place in the monastic community of Saint Anselm Abbey. As a solemnly professed monk, he becomes a member of the monastery's chapter as well as a member of the Saint Anselm College and Woodside Priory school corporations.
Brother Francis also known as Ryan McCarty from North Smithfield, R.I., graduated from Saint Anselm College with a degree in history and a certificate in Catholic Studies in 2010. Prior to joining the monastic community, he was a theology and technology education teacher at Mount Saint Charles Academy in Woonsocket, R.I. He is the son of Philip McCarty, Jr. and Rita Turcotte and was a parishioner of Saint James Church in Manville, R.I.
Speaking at a reception for family and friends after the ceremony, Brother Francis said, "Mark Twain once said, 'The two most important days in a person's life are the day they are born and the day they found out why.' I have found the reason why. It is to be a monk of Saint Anselm Abbey, to serve this community which is so dear to me. I am grateful to God for the gift of this vocation and so very grateful to all those who have supported me thus far."
Brother Francis is currently a seminarian at Saint John's Seminary in Brighton, Mass., and hopes to be ordained to the priesthood in the near future.
---
2020 Institution of Lectors
On Saturday April 25, the feast of Saint Mark the Evangelist, Abbot Mark A. Cooper, O.S.B. '71, instituted two monks of Saint Anselm Abbey, Brother Titus Phelan, O.S.B. '12, and Brother Basil Franciose, O.S.B. '17, into the ministry of lector. The ministry of lector is formally conferred on those men who are preparing to be ordained as priests.
"We are pleased to have two of our brothers take this step toward the priesthood," said Abbot Mark. "This event is a fine representation of how our community continues to grow and flourish."
Brother Titus is currently in his first year of theological and priesthood studies at the Boston College School of Theology and Ministry in Brighton, Mass. He is a native of Swampscott, Mass.
Brother Basil is currently in his first year of theological and priesthood studies at Saint John's Seminary in Brighton, Mass. He is a native of Salt Lake City, Utah.
---
Catholic Volunteer Network Recognizes Saint Anselm as a Top School for Service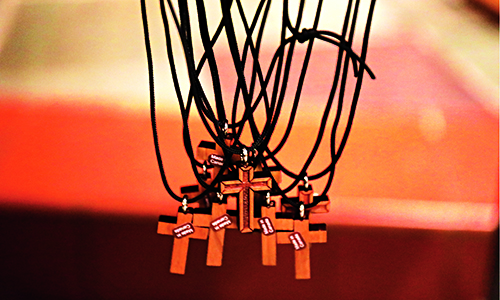 The Catholic Volunteer Network (CVN) has named Saint Anselm College one of the top five schools for service in the New England region on their recent national Top Schools for Service List.
The recognition highlights colleges and universities who have demonstrated excellence in collaboration with their network and have advocated for post-graduate service among its students. Saint Anselm College has achieved this honor along with Boston College, Stonehill College, Providence College, and College of the Holy Cross.
"I hear often from recruiters and program directors how well prepared our students are for a year of service because of their ability to recognize the differences between service and social injustice, their clear experience connecting their faith and articulating that through reflection, and their generous hearts to give in whatever capacity is needed," says Campus Minister Joycelin Raho.
After graduation 21 members of the class of 2019 began a year of service in August. Raho estimates that in the past 12 years, well over 150 students have spent an extended amount of time in service with a CVN partner. 
Kaitlyn Brine '20 has chosen to complete a year of service at Homeboy Industries in Los Angeles, Calif., through the Saint Joseph Worker Program.
"My decision to do a year of service came from my experiences through Campus Ministry and the Meelia Center [for Community Engagement]," says Brine, "At Saint Anselm we have the privilege of being provided opportunities to engage in community and, in doing so, broaden our understanding of society and humanity."
CVN is a leading membership organization that promotes full-time volunteer service opportunities and includes a community of volunteer program staff members, volunteers and missioners, parishes, religious communities, and colleges and universities.
The Saint Anselm College Office of Campus Ministry has partnered with CVN for 10 years. The organization has helped Saint Anselm students like Megan Miller '19 find postgraduate and summer service programs. The network has also assisted the college in organizing it's post-graduate volunteer fair, held in October.
Miller is currently in the midst of a year of service with the Amate House, a social justice and leadership development program for young adults. She is placed at the Coalition for Spiritual and Public Leadership (CSPL), doing grassroots faith-based community organizing. Miller, a Peace and Justice and Spanish double major at Saint Anselm, was also involved with the Meelia Center for Community Engagement.
Other Saint Anselm graduates have gone on to serve at places such as the Salesian Lay Missionaries in Cambodia, So Others Might Eat in Washington D.C., the Jesuit Volunteer Corps Intl. in Belize, the Colorado Vincentian Volunteers, the Chris House in Washington D.C., and through the ACE Program at the University of Notre Dame where students earn a master's in education while teaching in Catholic schools around the country.
Along with Brine, current Saint Anselm seniors Caitlin Golden and Madi Jones have chosen to serve at Saint Joseph the Worker in Los Angeles and Colorado Vincentian Volunteers, respectively, for the coming year.
CVN is not the only community to recognize Saint Anselm College's excellence and commitment to its Christian identity. College Factual named Saint Anselm 13th for Best Catholic College nationwide.
---
Celebrating Excellence in Diversity and Inclusion Innovation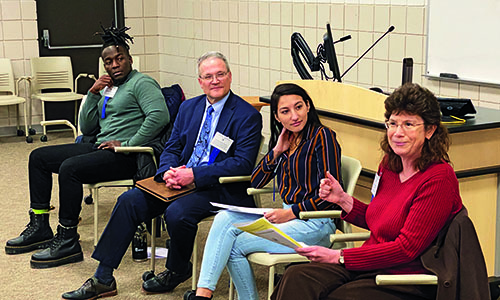 The college recently celebrated excellence in research and innovation at the President's Innovators Reception, the inaugural event showcasing Diversity and Innovation Fund Recipients.
Alumni, faculty, staff and students joined Dr. Joseph A. Favazza, college president, to hear from a panel featuring prior fund recipients. Alumnus Michael Akinlosotu '18, Kenneth Walker, director of the Academic Resource Center, student Sneda Hoda '20, and history Professor Beth Salerno, Ph.D., discussed their experiences with the Diversity and Inclusion Innovation Fund.
The Diversity and Inclusion Innovation Fund supports faculty, staff, monastic and student community members in the development of a project that will advance diversity and inclusion. The funds encourage crosscampus collaborations to improve diversity and inclusion for long-term community growth.
As a student, Akinlosotu collaborated with English professor Michael New, Ph.D., on their Diversity and Inclusion Innovation Fund, hosting a three-part series of discussions on Angie Thomas's novel The Hate U Give (Balzer + Bray, 2017). The discussions began with the novel followed by an analysis of poems by 20th-century African American poets, presentations from New and Akinlosotu, and then an open mic for students to present their own written work.
Akinlosotu, who was a computer science major,  now works in Washington, D.C. as a STREAM (Science Tech Reading Engineering Art Math) instructor teaching music production and robotics to third- to eighth-grade youth.
Walker shared his two programs resulting from the grants. The fall semester's "Foundations in Health Care Training" Program for Visiting Students with Intellectual Disabilities was a collaboration with clinical nursing faculty member Joanna Parolin and the training program she developed Foundations in Health Care. This semester's second program Neurodiversity and Lifelong Learning is a collaborative initiative with Saint Anselm College students, visiting learners with intellectual disabilities and retired senior members of the local community through the Moore Center and Birch Hill retirement community. Psychology professor Elizabeth Rickenbach and her Brain Aging and Dementia class are involved in the current program.
Hoda, a computer science major, discussed the fund she and her corecipient, alumna Pauline Yates '19 received last year, Empowering Women in Computer Science. Under the advisement of English and gender studies professor Jennifer Thorn Ph.D., Hoda and Yates educated themselves about the gender gap in computer science and technology through conversations with successful women in tech at conferences focused on mentoring women and people of color. They conducted information-gathering about fellowships aimed at bringing women into computer science and companies that especially support women. Lastly, they hosted a film and discussion on campus.
"It was inspiring to hear what support of woman by other woman can mean," said Hoda. She said it also encouraged her to volunteer at the Meelia Center for Community Engagement's Access Academy program, teaching high school-age students programming skills.
Finally, Professor Salerno, shared her experience taking students from her fall 2019 team taught course to New York City. Salerno and modern languages professor Jaime Orrego, Ph.D., developed and taught Latinx History and Literature in the United States in the fall of 2019.
The weekend's trip fully immersed students in the Latinx culture, making the history come alive said Salerno. "Students were connecting their New York reality with a new New York reality that they hadn't experienced before."
---
Salamone Family Athletics Hall of Fame Dedication Celebrated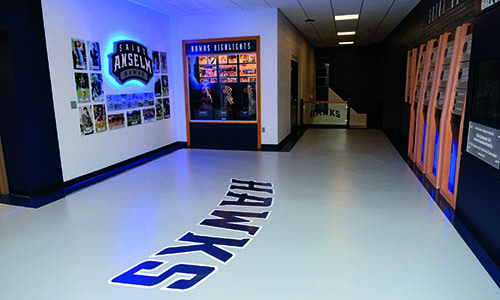 Spurred by a legacy gift commitment from former men's basketball student-athlete Chris M. Salamone, J.D. '84, Saint Anselm College started construction on a physical Hall of Fame space during the summer of 2019. The Salamone Family Athletics Hall of Fame was dedicated on February 15, 2020 prior to the college's Athletics Hall of Fame Induction Ceremony.
The new Athletics Hall of Fame space was designed to be a powerful motivational tool, one that reflects and sustains not only the rich tradition of Hawks Athletics, but also the core values upon which Saint Anselm College was founded. The role of the student-athlete is uniquely connected to the Hilltop experience and thus is recognized within a creative, customized tribute area.
Salamone graduated with a degree in business and economics, and during his time at Saint Anselm, he competed in both basketball and baseball for the Hawks and finished with more than 100 career games played on the hardwood. He was named captain of the basketball team as a senior after claiming the Al Grenert Proficiency Award as a junior, issued to a student athlete whose values extend beyond the basketball court. He led the Hawks in scoring in 1982-83, averaging 12.2 points per game and picked up several Northeast-8 Conference Weekly Honor Roll selections.
With the project in motion thanks to Salamone's generosity, plans and renderings for the space were unveiled on January 26, 2019 to those gathered for the induction of the 2019 Saint Anselm Athletics Hall of Fame class.
The Hall of Fame construction project included a complete facility upgrade of the west lobby of Stoutenburgh Gymnasium, with the scope of work including modern flooring, lighting, painting, glass, and custom display areas. Recent Hall of Fame inductees are prominently featured as a focal point of the gallery within modules flanking an interactive, touchscreen tower that contains photos of all-time Hall of Fame members, the College's All America selections and a historical timeline.
Other elements of the space include two dynamic Hawks Highlights trophy galleries as well as a back wall which features 24 former student-athletes and a historical timeline.
The completion of the Hall of Fame project coincided with several other college-funded improvements to Stoutenburgh Gymnasium, which was originally constructed in the late 1950s. New bleachers (upper and lower level), railings, accessible seating and new lights were installed in 2019.
The physical Hall of Fame exhibit connects to the Roger and Francine Jean Student Center Complex. This custom designed space recognizes more than 150 current Hall of Fame members and also pay tribute to decades of athletic success on the Hilltop.
---
Anselmians Gather for the Dedication of Thomas A. Melucci Jr. '88 Theater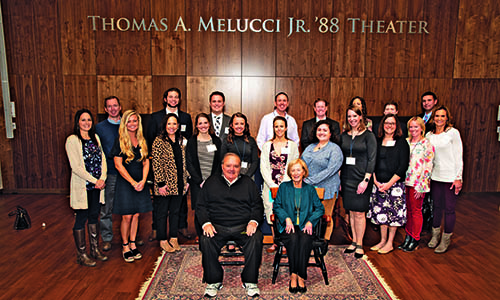 On Saturday, November 23, 2019, members of the Saint Anselm community, past and present, joined together to dedicate the new Thomas A. Melucci Jr. '88 Theater.
The dedication began at the Abbey Church with a Memorial Mass celebrated by Father John Fortin, O.S.B. '71, former Dean of Students at Saint Anselm College and professor emeritus of philosophy.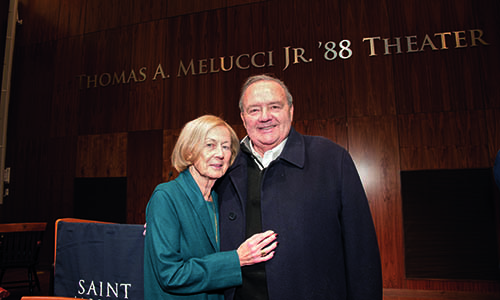 Following Mass, the Melucci family, the Melucci scholars in attendance, and members of the community which included a large contingent of the Class of 1988 made their way to the Roger and Francine Jean Student Center Complex for the dedication of the Thomas A. Melucci Jr. '88 Theater, where attendees honored the life of Thomas A. Melucci Jr. '88 and recognized the tremendous generosity of Thomas and Gail Melucci over the past 30 years.
"We, the Saint Anselm College community, can never put in to words how the Melucci Family's generosity has touched the lives of so many Anselmians," shared James Flanagan, senior vice president of college advancement.
The theater is named in memory of Thomas A. Melucci Jr. '88, who died in May 1988, and whose diploma was awarded posthumously to his parents. Melucci entered Saint Anselm College in the fall of 1984 as a business major. He quickly stood out as an athlete, as a member of the hockey team his freshman year and a member of the ski team his sophomore, junior, and senior years. During the theater dedication, friends remembered his "miracle catch" on the field as part of an intramural softball game. Melucci also regularly volunteered at New Horizons soup kitchen and food pantry in Manchester.
"I first met Tom in the fall of 1984," recalled friend and classmate, Charles Gadbois '88. "Over the coming days, weeks, years, I got to know Tom well, as the guy across the hall, classmate, and then close confidant. Through all of it one thing stood out, and that was his infinite love for his family." Speaking of Mr. and Mrs. Melucci, Sr., Gadbois continued, "Their dedication not only to the memory of their son, but to his true spirit reveals their character."
Since 1988, Thomas and Gail Melucci have been active members of the Anselmian community. They established the Thomas A. Melucci Jr. Memorial Endowed Scholarship which, since 1989, has awarded full tuition scholarships to 61 students in their senior year at Saint Anselm College— the largest scholarship program of its type at the college. In 1998 Thomas Melucci received an honorary doctor of laws and Saint Anselm College dedicated the Thomas A. Melucci Jr. Memorial Field. Mr. Melucci served on the Saint Anselm College Board of Trustees from 2002 until 2018.
"It's beyond imagining the impact the Meluccis have made on Saint Anselm College," said Dr. Joseph A. Favazza, Saint Anselm College president. "What a legacy we celebrate here today."
Melucci scholars spoke about the impact the scholarship had on their lives during their senior year as well as how the generosity has impacted the choices they have made since then.
"Someday in your life, we want you to do something for someone else," challenged Thomas A. Melucci Sr. to those in attendance. "You'll find that time to give help to another individual."
The generosity of the Meluccis not only helped relieve the financial burden of the scholars during their senior year, but inspired them. Those recipients took the lessons and value of the "paying it forward" mentality so evident in the lives of Tom and Gail Melucci into their professional lives—to leave the world a little bit better.
"I couldn't have known then, that the dream was not just to be here, but to leave here," said oncology nurse Stefanie Iannalfo '10, who founded the Food, Clothing and Furniture drive on campus.
The event ended with a reception where attendees had the opportunity to socialize and reminisce about their time at Saint Anselm College and memories of Thomas A. Melucci Jr. "It was truly an amazing event—a homecoming in every sense of the word, said Maura Devine McShane '88.
"I think of the smile, the laughter, his spirit, and that he was always at the center of things," said Erik Jones '88. "This theater is a fitting tribute for someone who had a starring role in all of our lives."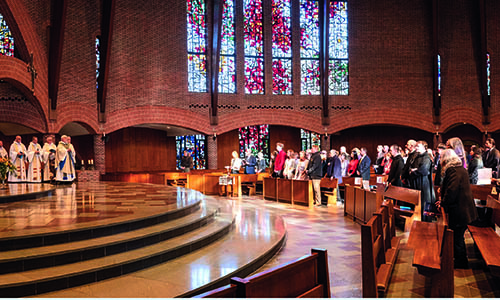 ---
Amanda Cogner '20 Receives 25th Annual Hockey Humanitarian Award
Amanda Conger '20 of the Saint Anselm College women's ice hockey team was selected as the 25th recipient of the prestigious Hockey Humanitarian Award.
The award, first presented in 1996, is presented annually to college hockey's finest citizen—a student-athlete who makes significant contributions not only to his or her team but also to the community-at-large through leadership in volunteerism.
Conger was nominated in recognition of a selfless act that took place last summer. Through an internship experience in her home state of Vermont, she met a local man, Cameron Ouellette, who was diagnosed with stage five kidney disease.
"I am in complete and utter awe by the fact that I was considered a nominee for this prestigious award," said Conger. "I was in even more awe that I was a finalist, let alone the recipient. I feel extremely honored and am humbled just by the thought of it."
"While I am exceptionally grateful to be the recipient of this award, it was completely unexpected," said the Saint Anselm team captain. "I can only hope that the more my story is shared, the more awareness it brings to the importance of organ donation. I am fortunate this is another platform to do just that."
After learning of the public appeals for a donor, Conger went through the process of learning if she was a match. Balancing academics and working with the kidney transplant team, it was discovered during the spring of 2019 that she was a match. The harvesting and transplant procedures took place in early June 2019 and, to date, both Conger and Ouellette have been recovering well.
Heading into her senior campaign with the women's ice hockey team at Saint Anselm, Conger was prevented from lifting anything more than five pounds for a large portion of the summer. She has since fully recovered from the procedure and headed into this past season with no restrictions.
Conger cites the overwhelming support from her teammates, the Hawks coaching staff and, most importantly, her family who supported her decision from start to finish.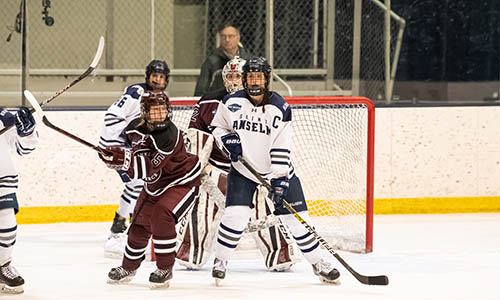 On the ice, Conger has responded from the intense medical procedure to skate in a career-high 32 games in 2019- 20, scoring three goals with 10 assists for 13 points (3-10=13). For her career, she has played in a program-record 116 games with 31 goals and 41 assists for 72 points (31-41=72)—she has missed only two games in the last four campaigns.
As part of the women's ice hockey team, Conger has volunteered her time with numerous noteworthy causes, including Team IMPACT and Girls with Power Tools. She also has worked with the College's Assault & Violence Education & Reporting Team (AVERT) and in the Harbor, an on-campus hub for prevention, education and awareness of domestic and dating violence.
"I truly believe it is Amanda's outlook on life to make the most of all her opportunities and not take life for granted," said her Head Coach, Kerstin Matthews. "It takes a special person to be so selfless to add a physical challenge of this degree right before her senior year. It is amazing to see how this young woman has touched so many lives—what's more, she doesn't see it in terms of what she has done for them, but rather what they have done for her."
Announced as one of five finalists in early February, Conger is the 25th winner of the national award and the second from Saint Anselm—Tucker Mullin '13 was so honored in his senior season. As an institution, Saint Anselm becomes the fifth college or university to have individuals win in multiple years, joining Boston College, Northeastern, Yale and Wisconsin.
"Over 25 years, we have been incredibly impressed by the caliber of our nominees," said Matt Patrick, Executive Director of the HHAF. "Amanda's sacrifice exemplifies all that the Foundation seeks to honor. She is in every way a true heroine. We could not be more pleased."
The Hockey Humanitarian Award Foundation will present Conger with a check for $2,500 with the funds earmarked to Donate Life Vermont, the organization that also received her earlier donation of $500, issued to each of the five HHA award finalists.
Also in the Issue
Past Issues