Two words: endless gratitude. Thank you. 
As a generous member of Saint Anselm College's tight-knit community, YOU helped our students continue to learn and grow through unforgettable Anselmian moments.
8,600 donors.
$7.2 million in gifts and commitments.
Approximately 98% of Saint Anselm students receive some form of institutional grant or scholarship assistance.
 
2019-2020 President's Society Honor Roll of Donors
Our 2019-2020 Honor Roll of Donors thanks all of the benefactors who give to support our students and our mission at the President's Society level. We are deeply grateful to the many Anselmians who give in order to sustain and strengthen this special college. Every effort has been made to ensure the accuracy of the 2019-2020 Honor Roll of Donors, which includes gifts received between July 1-June 20, 2019. We apologize for any errors. Please direct any questions or report any discrepancies to Mark Reimer at mreimer@anselm.edu.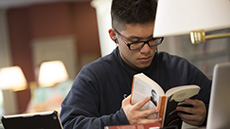 The Saint Anselm Fund
Make a gift every year.
Make an impact every day.
As alumni, parents, and friends, you are a vital part of our Anselmian community. Thank you for your support of The Saint Anselm Fund.