EXPERIENCE ITALY WITH SAINT ANSELM COLLEGE STUDENTS & FACULTY
Orvieto Opportunities
Saint Anselm College Orvieto presents two very unique opportunities. The first is the Spring semester-long program which offers you the ability to take Saint Anselm classes in Italy that fulfill core requirements through a variety of courses. You live with fellow Anselmians, you take Saint Anselm College classes, you are taught by Saint Anselm College faculty.  And just outside your classroom or apartment is a medieval hilltop town in the center of Italy.  
The other opportunity allows those of you who are more daring to participate in an archaeological excavation run by Saint Anselm College faculty for six weeks in the summer. 
Whether you choose the semester-long program, the six-week dig, or both, Orvieto is the opportunity of a lifetime.
Chiavi: Keys to Our Cultural Heritage
Chiavi, the required core course for the Spring semester-long program, is structured around weekly guided tours and food/wine workshops which highlight Italian cultural achievements from ancient to modern.
Chiavi's weekly seminars provide, through select readings, discussion and lectures, information that prepares students to appreciate more fully the historical and cultural landmarks we visit.
Students are then able to experience first-hand what they learn in class the same week. 
destinations include: 
Rome, Pompeii, Florence, Siena, Assisi, Subiaco and more...
Life in Orvieto
Orvieto is a small town that sits spectacularly atop a high rock outcropping.  It has many winding narrow streets and broad boulevards and is in the heart of Italian wine and olive country. There are a large number of piazzas that dot the town with tavernas, bars, gelateria (ice cream shops), and ristoranti for all tastes.  The town has a farmers' market on Thursday and Saturday in a piazza very close to the school where you can buy fresh produce, fresh fish, an amazing quantity of local meats as well as craft products. 
Only about 5,000 people live on top of the mesa so it is an easy place to make friends with Italians of all ages and experience what it is to live as an Italian.
ORVIETO PROGRAM OPTIONS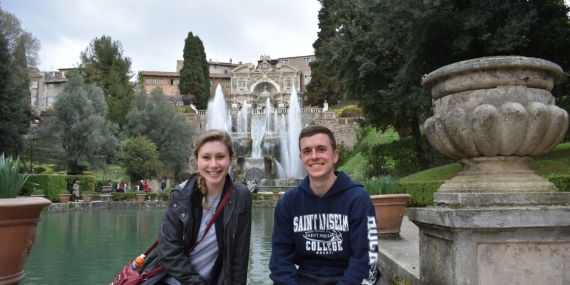 SPRING semester-long program
is open to Sophomores, Juniors and Seniors in good academic and disciplinary standing.
The program expenses are covered by Saint Anselm College tuition, fees and apartment cost without meal plan. Students enroll in four courses earning Saint Anselm College credit, many of which fulfill Saint Anselm College core curriculum requirements. Sixteen weekly tours and cultural workshops are also included as part of Chiavi, the required core course.
Students live in fully furnished apartments located in the historic center within walking distance of the school.
Most financial aid carries.
Airfare and food are not included.
A 10-day semester break and two long weekends allow for travel and exploration further afield.
SUMMER 6-week archaeological field school
is open to all Saint Anselm College students and alumni.
The cost for the archaeological field school is $3600 for 6 weeks which includes full room and board, transportation to and from the sites, hands-on archaeological training in both the field and labs and weekly lectures.
Airfare and optional Saint Anselm College course credit for CL280 (4 or 8 hours) are not included.
Weekends are free to explore Orvieto or more.
ora et labora
Participating in the semester-long program will put you in direct contact with the deep roots of the College that go back to the sixth century.  Orvieto has a number of Benedictine-founded churches and overlooks a former monastery established by one of his monks shortly after Saint Benedict's death.  In Subiaco you will visit the cave where Saint Benedict prayed for 3 years before organizing 12 monasteries; one of which, Santa Scolastica, boasts one of the oldest libraries in the world.  The Benedictines have been committed to humanistic education from their beginnings.  You will also visit Montecassino where Saint Benedict wrote his Rule- the ultimate motherhouse of Saint Anselm Abbey.
nunc est bibendum
One of the best things about being in Orvieto, besides the friendly people, is the food and wine.  Italian cuisine, wine and coffee are amazing.  Orvieto was one of the founding members of the Slow City movement and is a Slow Food city.  Situated in the heart of Italy, Orvieto is surrounded by agriculture.  Everywhere you go around Orvieto you see wheat fields, dairies, wineries, olive groves, as well as sheep across the landscape.  The food in the restaurants and taverns is fresh.  The wine production has grown beyond the famous Orvieto Classico to great reds.  You can have an entire meal that was sourced within 25 miles of the city.  Our workshops provide a unique culinary experience to see and sample local production.
Contact Information
Prof. Linda Rulman
Faculty / Director
Saint Anselm College Orvieto
Palazzo Negroni, Piazza Corsica, 2.
Orvieto (TR) 05018 Italia
phone: +39 333 9313426
lrulman@anselm.edu