our campus. our traditions. our community.
LIFE ON THE HILLTOP
What's it like to live at Saint Anselm? Here you can lead, sing, play, volunteer—do whatever it is that you love to do. There's great food, nature to explore, the city of Manchester, unique people to get to know, and more than 80 clubs and organizations to join!
80.00 8080 +
clubs and organizations
# 15.00 1515
national ranking for campus dining
94.00 9494 %
of first-year students live on campus
Anselmian Events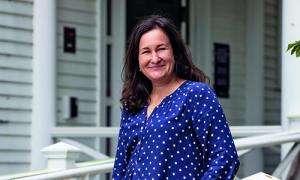 Community
On April 12, the Center for Ethics in Society is hosting a Recovery Housing Roundtable Forum that will bring together stakeholders from around the state, as well as national experts, to discuss the challenges that recovery homes are facing in New Hampshire.
The day will include a featured speaker, facilitated roundtable discussion, and a panel presentation, all of which will educate the audience on how these homes are vital for their residents and protected by the Fair Housing Act, but also provide opportunities for community members to share their insights about the challenges facing these homes (including fears and misconceptions), and solutions to those challenges.
This will take place in the Auditorium of the NH Institute of Politics. Breakfast and lunch are included. Register here →
This is an invitation only event. If you are interested in attending but have not received an invitation, please email: ethics@anselm.edu.
Schedule:
9:00 am Registration and Breakfast
9:30 am Welcome Dr. Max Latona, Executive Director, Saint Anselm College
9:45 am Moderated Panel Discussion: Darrell Mitchell, Chair of the National Association of Recovery Residences; Kim Bock, Executive Director of NH Coalition of Recovery Residences; Sean Toomey, NH State Fire Marshal
10:45 am Break
11:00 am Roundtable Discussion & Sharing Out
11:45 am Lunch
12:15 pm Panel Discussion: Moderated by Laura Knoy; Donna Benton, Director of Planning & Community Development, City of Dover; Mark Bonta, Advisory Council, Recovery Friendly Workplace; Bill McKinney, Building Official/Manager, City of Nashua, NH; Daisy Pierce, Executive Director, Navigating Recovery of the Lakes Region
1:15 pm Closing
Contact Information
Hannah Beaudry
Center for Ethics in Society Program Coordinator
603-641-7230
Additional Information
Special thanks to the NH Community Development Finance Authority for supporting this program.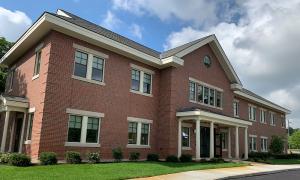 Join us on the Hilltop for our Admitted Student Open House. You'll have the opportunity to attend classes and meet students and community members from all different clubs and organizations. 
Location Information
Savard Welcome Center
Contact Information
admissionevents@anselm.edu
Additional Information
*Registration and more information coming soon!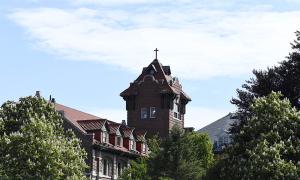 The Center for Ethics in Society is proud to host Women of Influence, a three-part series devoted to topics relating to women's success in business and governance. 
Session Three: Entrepreneurship - April 19, 5:00 - 7:00 pm
Innovative entrepreneurship requires courage, creativity, and patience, and often relies on community support. In the third and final session of this Women of Influence series, panelists will share how they started their own businesses, the support they received, and how their businesses have improved their communities.
This three-part series will examine challenges and opportunities in getting a career started, the importance of a good mentor in professional development, and the courage, creativity, and patience required for innovative entrepreneurship. Research indicates that companies and organizations with a greater number of women at the executive or board level tend to perform better financially. Consequently, allowing women to progress without glass ceilings or sticky floors is a good business decision, as well as a great benefit to the economy and society overall, particularly in a context of talent shortage. Parity at the decision-making level of an organization is crucial. Enabling women at all levels to achieve career advancement creates a pipeline of female talent and increases the representation of women in sectors where they have historically been underrepresented. 
Sponsored in part by the NH Business Review.

Location Information
The series will take place in the Dana Center at Saint Anselm College.
All members of the public are welcome to join us for one or all three sessions!
Contact Information
Hannah Beaudry
Program Coordinator - Center for Ethics in Society
603-641-7230
Additional Information
Session Three Panelists
Amy LaBelle: Winemaker, entrepreneur, author, and media personality, Amy LaBelle is an international phenomenon with local roots in New Hampshire, but quickly growing across Boston and the Northeast area. As the co-owner of LaBelle Winery, her passion, commitment, and hard work have made Amy the lifestyle personality to watch in 2023. She not only produces award-winning wines, but she launched two wineries that have put New England on the wine map, quickly positioning her as a key player in the wine industry.
Alexandra Horton: Bio coming soon.
Bio coming soon.
Event details for Women of Influence: Part Three, Entrepreneurship
Some of our favorite traditions
With over 130 years of history, time-honored traditions are a part of everyday life on the Hilltop.
• Your class banner will hang in Davison until commencement week 
• Enter the annual Gingerbread House Competition
• Help raise over $100,000 annually by participating in Relay for Life 
• Spread holiday cheer by dining with friends during the Christmas Feast
• Honor the bard with a day of sonnet reading on Shakespeare's Birthday
Out and About in the Queen City
Less than 3 miles away, downtown Manchester offers students all kinds of fun from concerts and baseball games to taco tours and coffee shops. 
Facing Mental Health
Moving out of a pandemic and into a post-pandemic world, where uncertainty is often the only constant, a group of dedicated students and their advisor help peers recognize, navigate, and discuss the many layers of mental health.