Follow your passion. Find your place.
Studying the liberal arts at Saint Anselm, you will gain valuable insight into how the world works and how you could make it work better.
6.00 66
Pre-professional Programs
460.00 460460 +
arts and humanities courses
17.00 1717
majors in the arts and the Humanities
Departments & Programs
Explore our programs
Experiences in the arts and Humanities are designed to be transformative—stimulating a passion for discovery, sharpening perspectives and values, and gaining valuable insight into what it means to be human in our shared world.
Internships
Get hands-on, real-world experience and bolster your resume with a paid or for-credit internship. Recent internships include Disney College Program, Entertainment 2 Affect Change, New Hampshire Historical Society, New Hampshire Department of Environmental Services, and Putnam Investments.
Careers in Secondary Education
If you're interested in a teaching career, you may double major in English, Spanish, French, History, Studio Art, or Music and in Secondary Education while completing requirements to earn a license. 
Study Abroad Opportunities
Spend a semester abroad or take a course with a week-long international component - courses that travel abroad include: 
• The Cold War in Cuba • Music and Culture in Vienna, Austria • Medieval Philosophy in the Netherlands • Normandy Through the Ages • Advanced Spanish Immersion and Internship in Mendoza, Argentina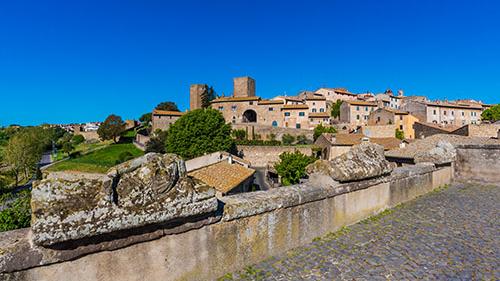 Saint Anselm in Tuscania
Experience a semester of cultural immersion and community engagement in the small town of Tuscania, Italy. You can leave a lasting impact through meaningful service projects and mission-based activities as part of our signature study abroad program.
A Faculty Advisor in your corner
Strong academic advising can be critical to your success. So, our faculty, the people who know the curriculum best, advise you on which courses to take and when. Every student is assigned a faculty advisor in their declared major. Your advisor will become your best champion, the one who helps you find research opportunities or internships, teaches your favorite course, and writes your recommendations long after you've graduated.
More Ways to Discover
Related Links: