If you are considering Saint Anselm College, there is no better way to find out if the college is the right fit than to visit our campus. Each year, we welcome prospective students and their guests from all over to come and learn more about our academic programs and admission policies, meet community members, explore campus, and experience what it means to be an Anselmian.
We offer a variety of visit opportunities to best suit your needs. If you have any questions, please call the Office of Admission at (603) 641-7500. We look forward to having you on campus!
Please note that the Office of Admission will be open on the following holidays:
Monday, November 12 (Veteran's Day)
Please note that Saint Anselm College will be closed on the following days:
Thursday, November 22 and Friday, November 23 (Thanksgiving)
Monday, December 24 - Tuesday, January 1 (Christmas/New Year's Break)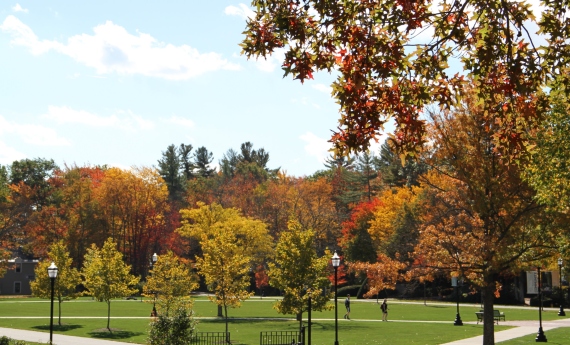 FALL OPEN HOUSE 2018
Saturday, October 27
8:30 a.m. - 2:30 p.m.
We invite you and your family to spend a day at Saint Anselm College. Whether you will be visiting for the first time or making a return trip, there's nothing quite like the Hilltop during the fall. You will have the chance to meet many members of our community and discover Saint A's through academic opportunities, student life experiences, and more!