From the President
We need a place where you don't have to choose between career outcomes and life outcomes. That place is Saint Anselm. 
Read Dr. Favazza's letter →
On the Hilltop
Keep up to date on all the happenings at Saint Anselm College over the past months.
Read the stories →
Scene on campus
Explore the gallery of images captured on campus and enjoy the visual beauty of your hilltop home.
See the scenes →
Philanthropy
The naming of the Donald E. Healy '60 Conference Room in the Savard Welcome Center this fall is a testament to Donald Healy '60, pictured here with his wife Patricia, who dedicated more than 40 years of his life to Saint Anselm College, first as a student, then a coach, and finally as director of admission.
By Anna Brennan-Curry
Read the story →
Alumni News
Read about what your fellow Anselmians have been up to and submit your own class notes for future issues.
Get the news →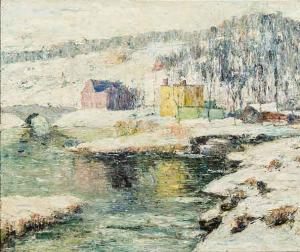 Winter can be onerous. Cold and ice are foreboding, especially on a gray day, when the two are such a menacing pair. In the dimness, they seem to scheme at keeping comfort and progress far away.
Timidly, warmth approaches, and the ice breaks. While the creek can no longer be crossed, the muddy banks thicken, maintaining a hold on tepid hopes. Will springtime ever come
Relentless, industrious color. It works. It makes for charm even on neglected, worn facades. And as it represents the melted water, it becomes an inviting passageway to sheer, chromatic delicacy. Dark blackish-blues are steely strength. Murky, glassy, fragile reflections say: "Look to me."  
Color excites and invites. It changes and adapts to every phase of light.
Even in frozen, lonely hills, color waits. It's eternal; it's always there, waiting.  
—Fr. Iain MacLellan, O.S.B. '78
Alumni Magazine of the Year
Congratulations to Portraits Magazine for winning First Place for Alumni Magazine of the Year for the second year in a row.