Due to COVID-19 restrictions, the Chapel Art Center is presently open only to the Saint Anselm College community. Please explore our virtual options like ArtSurround and stay tuned for upcoming virtual collaborations with other campus partners.
Current Exhibitions
Open only to the Saint Anselm College Community
 
Works on Paper, Including Recent Acquisitions
Selections from the Permanent Collection
ON VIEW FEBRUARY 18 – MAY 7
Learn more about the current exhibitions
---
Virtual Exhibitions
ArtSurround: Pairings
An interactive viewing of pairings of works selected from the Chapel Art Center's Permanent Collection.
---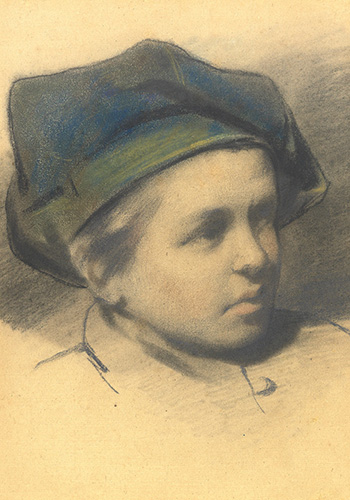 Paper Palaces
A VIEWING OF WORKS FROM THE PERMANENT COLLECTION
Thursday, April 22 at 5:00 p.m.
Join Fr. Iain MacLellan, O.S.B. '78, Director of the Alva de Mars Megan Chapel Art Center, and Mary Feenan Nelson '12, Exhibitions Project Assistant at the Museum of Fine Arts, for an interactive viewing of works on paper, and how works on paper create room, as well as space for ideas, thoughts, inventions, dimensionality, and remote possibilities.
Credit: 19th Century French School.
The Head of a Young Boy Wearing a Cap.
Black and red chalk and pastel on paper. 334 x 259 mm.
About the Chapel Art Center

The Alva de Mars Megan Chapel Art Center is Saint Anselm College's gallery for the exhibition of fine art. Founded in 1967, this facility provides a gracious setting for special exhibitions and houses a permanent collection of artworks. It welcomes the campus and general public with exhibitions throughout the academic year.

Formerly the college's chapel, the Chapel Art Center maintains a beautifully decorated vaulted ceiling with allegorical lunettes painted by Father Raphael Pfisterer, O.S.B. (1877-1942) and magnificent stained glass windows. Its uniquely serene ambiance and rich historical significance make for the perfect cultural setting. As a center for the promotion of the fine arts, exhibitions coincide with lectures, tours, concerts, and recitals.

The Arts are Alive!

The Chapel Art Center has partnered with the Dana Center for the Humanities and the Fine Arts Department to promote that the arts are alive and thriving at Saint Anselm College. Get a sneak peek at what's upcoming and keep an eye out for more virtual and in-person collaborations.