Sara Smits Keeney
Peace and Justice Studies
"This major encourages students to think about and appreciate the dignity of all individuals and the rich diversity of the world, and to advocate for equity and justice while imagining a world without violence."
By Kate Grip Denon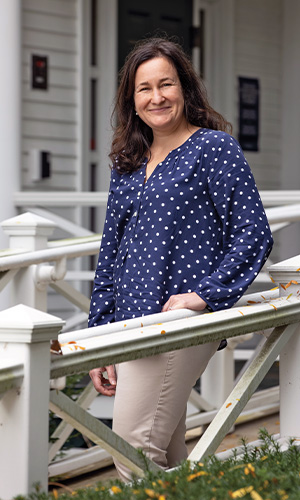 What brought you to Saint Anselm?
In 2007 I had just completed my Ph.D. and was living in Boston, and the former chair of the sociology department, Dennis MacDonald, reached out to me. He went to school in Wisconsin, where I'm from, and we hit it off. I also really connected with Dan Forbes '81 and the work he was doing at the Meelia Center. And when I drove through campus, it felt like it was the right place, it felt like home.
How do you describe the Peace and Justice Studies major?
It is an interdisciplinary major that bridges across the humanities and social sciences, and delves into helping students understand the structure and different types of justice. This major encourages students to think about and appreciate the dignity of all individuals and the rich diversity of the world, and to advocate for equity and justice while imagining a world without violence.
When a student first walks into your class, what are they surprised by?
The way I start my Intro to Peace and Justice Studies class is by talking about war and violence, and my students react with 'Hey, I thought this was about peace and justice.' We've never known a time without violence, and justice is the implementation of how can we move forward, how can we change, and how can we get somewhere else. It is important to critically assess how decisions are made and ask who gets to decide? How do we determine the victim? The accuser? What is our role as an individual? And how do structures perpetuate these inequalities?
How do you help students navigate all of that?
We're giving students the tools to critically assess these questions. We teach theoretical and practical knowledge, but also research methods about how knowledge becomes knowledge. One of the many important takeaways from this major is the conflict-resolution class taught by Criminal Justice Professor Peter Cordella—how do we deal with conflict in our lives? This is skills based; they learn mediation, dialogue and the different types of negotiation. Students love being able to take this skill with them when they graduate.
Is there a typical career path for Peace and Justice Studies graduates?
This is a major that gives students the ability to choose their own direction. They take a core of five Peace and Justice classes, but electives come from history, philosophy, theology, sociology, political science, economics, psychology, business, biology, chemistry, communication, criminal justice, and because of this we are very popular double-major. It works very well with a lot of things. My students also are required to participate in some type of experiential learning, and this inspires many graduates to participate in a year of service, work for a nonprofit or an NGO, or pursue a career in education or the law.
Why is experiential learning an important aspect of this major?
The idea is you can read about all of this, but until you really see it, do it, feel it, experience it—that's where students learn the most, that's where I've learned the most. Growing up, my mom was always very good at exposing me to other people's experiences, and after college I was an AmeriCorps Vista volunteer in the New York City schools and also did a lot of international travel. I've found it's by weaving in these real experiences that make the content come alive.
What might your students not know about you?
There are only two continents I have not been to: Antarctica and Australia. The only state I've never been to is Hawaii.
Michael McGuinness '78

Michael McGuinness '78

Economics and Business

"Invest in yourself first. New graduates need to establish a budget once they leave here, and make sure they're putting money away each pay period."

By Kate Grip Denon

What brought you to the Hilltop as a student?

I grew up in Lynn, Mass., my father was an alum—he went here back when it was one building. I knew I wanted a small school, where I could find my niche, and Saint Anselm had a great reputation. I was very quiet but was lucky to make a great group of friends and I still see that happening today to students. Saint A's really is a special place.


When did you return to the Hilltop to teach, and why?

I worked for Converse Inc. for 16 years, finishing as the director of international finance and operations. I then did contract work doing international operational audits where I would travel overseas for two weeks and be home for one week—but it was tough on my family. Then in 2002, I started getting calls from friends that Saint Anselm was looking for an economics and business professor, and I knew it was meant to be.


What is your favorite class to teach?

While I love my accounting courses, believe it or not, it's personal finance for non-business students. It's such a relevant class, and if a student pays attention in it, they'll hopefully make good financial decisions through their lifetime. It's practical, and I get great questions from the students. What's most rewarding for me is knowing they're going to use this information in their lifetime.


Did this give you the idea for your book?

Yes. The school was kind enough to grant me a sabbatical, and I took representative questions and answers from this class as the basis for the exchanges in the book, A Young Adult's Guide to Personal Finance (Mascot Books, 2018).


What do students say is their biggest takeaway from your personal finance class?

Students will come back and tell me how useful the information has been to them (and some have actually become good financial planners). I've met some of their parents, and I think they like the course even more than the students.


Have you seen a change in students and their financial savviness over the years?

With all due respect to our current students, I don't believe they are as financially well versed initially as prior generations, and it is absolutely critical for them to be so. Many companies are eliminating pension plans and, in my opinion, local governments and states are going to have to, at some point, put their new employees on a 401k or 403b plan. These students are going to be more responsible for their own retirement and financial future than any other generation has previously been.


If you could give one piece of financial advice to young people, what would it be?

Invest in yourself first. New graduates need to establish a budget once they leave here, and make sure they're putting money away each pay period.


In your opinion, what sets Saint Anselm economics and business students apart from students at other schools?

Former faculty Tom Moses and David St. Cyr really laid the foundation for the accounting department. Professor Emeritus John Romps HD '18 was just exceptional; I had him in class, and then found myself teaching alongside him. Professor Emeritus Arthur Kenison '63 and Professor Emerita Jeanne Kenison '62 (Mount Saint Mary) loved the school. With the efforts of our prior faculty, continued by our current faculty, our students, across all majors, succeed in many different areas. They are logical, articulate, and know how to go out and solve problems. I am very humbled by former students coming back to visit when I see how well they have done.

Professor Emerita Katherine Hoffman, Fine Arts

The Power of Cultural Diplomacy

By Professor Emerita Katherine Hoffman, Fine Arts Department


During my time teaching as a full-time professor in the fine arts department at Saint Anselm College, I have been grateful to receive three Fulbright awards to spend time teaching and doing research in various European countries.

J. William Fulbright was a prominent American 20th-century statesman, who served more than 30 years in the United States Congress as both a member of the House of Representatives and of the Senate from Arkansas. He was also president of the University of Arkansas from 1939-1941, at the time the youngest university president in the country. In 1946, his legislation in the Senate established the Fulbright Program. The first U.S. participants in the program went overseas in 1948, and the program continues to have significance, fostering the importance of cultural diplomacy and advancing mutual understanding at various international levels.

The Fulbright Experience

In 2006, I was awarded a Fulbright Distinguished Chair position at the Karl Franzens University in Graz, Austria. During the spring semester of 2006, I taught several courses in American art history and studies, to both graduate and undergraduate students. I greatly enjoyed living and working in Graz, and having the opportunity to visit other Austrian cities, including Vienna and Salzburg.

Following my semester in Graz, I continued to be in touch with the chair of the American studies department and we co-sponsored, and participated in, a number of sessions at various European Association for American Studies conferences throughout Europe. In 2014, I was awarded a Fulbright Specialist award to teach in the American studies department during the summer session at Ruhr University in Bochum, Germany. I have continued to be in touch with one of the professors there, and was happy to be able to host her at Saint Anselm College when she and her mother came to visit. She was particularly impressed with our Chapel Art Center, and greatly enjoyed meeting Father Iain MacClellan, O.S.B., director of the Chapel Art Center, who graciously served them tea in his office area.

During the fall semester 2017, I was grateful to receive an early sabbatical leave from the college, in order to accept a Fulbright Terra Foundation award to teach in the American studies department at Radboud University in the city of Nijmegen, in the Netherlands. My responsibilities included teaching a course, "History of American Photography, 1900-1970," specifically prepared for carrying out this award. Students in the class were from a variety of backgrounds and cultures, including the Netherlands, Spain, and Afghanistan. I was very pleased to receive a round of applause at the end of the course, which apparently does not happen often, and a number of students came up to me individually to thank me at the end of the course. I also gave a guest presentation and assisted with a graduate, master's-level course, "Mediating America," taught by the chair of the department. I also worked individually with a master's degree student and a Ph.D. student, related to their research interests.

Besides teaching in the American studies department, I attended and contributed to regular departmental weekly or biweekly meetings. As with my other Fulbright awards, I also gave guest lectures. At Radboud, one of my lectures was titled "Documents, Art Work, and/or Critical Propaganda: Alfred Stieglitz's '291' Installation Photographs." Two of the seven books I have written have been on the work of the photographer Alfred Stieglitz.

In addition to working in the American studies department at Radboud, I also met individually on several occasions with faculty in the art history and cultural studies departments. I gave a guest presentation in the art history department: "Fighting for the Light: Selected Female Photographers in the Alfred Stieglitz Circle."

Part of the Fulbright Terra award also involved working on a research project that I had proposed, dealing with the work of Stieglitz during the time he was working in the Netherlands: "Exploring Transnational Modernist Connections: Alfred Stieglitz and Painting/Photography in the Netherlands."

I was able to use the Radboud University library for research, related to this project and other aspects of my work. I also visited the small coastal town of Katwyk, where Stieglitz took a number of photographs. I spent time at the museum there as well.

A Saint Anselm Connection Abroad

I visited a number of other museums in the Netherlands, in Nijmegen, Amsterdam, The Hague, Rotterdam, Utrecht, Maastricht, 's-Hertogenbosch, and Delft that included some Dutch paintings that had influenced Stieglitz.

In Delft, I was able to meet Diego Nicolas, the son of Sylvia Nicolas HD '91. Sylvia Nicolas sculpted the bronze statues of Saint Anselm and of Saint Benedict on campus, among other works, and she and her family created the stained glass windows in the Saint Anselm Abbey Church. Diego showed me the stained glass windows created by his family in the Delft "Old Church." I was able to purchase a book about those windows to share with members of the Saint Anselm College community.

Living in the city of Nijmegen, considered by many to be the oldest city in the Netherlands, also allowed me to explore various aspects of Dutch history, in particular, the impact of World War II and the well-known September 1944 Operation Market Garden on the city and the area, including the neighboring town of Arnhem, which I visited on several occasions. That event served as inspiration for the book and film A Bridge Too Far.

During a brief study break, I traveled to Paris, where the Terra Foundation European office and library are located. I was able to meet with people at the foundation, discussing both my research and teaching, as well as use the library there. The Terra Foundation is particularly interested in supporting the study and exhibition of American art in European and other foreign venues. I was also able to visit a number of Paris art museums, including the Pompidou Center and the Cinema Museum.

Living the Fulbright Mission

As with my two previous Fulbright awards, I plan to continue to be in touch with a number of faculty with whom I worked in the Netherlands. During all of my Fulbright awards, I greatly enjoyed hearing a variety of perspectives related to international relations, both past and present, and felt it was most valuable to work at various international locations as well as meet with a variety of people.

In the U.S., I have also become actively involved in the New Hampshire Fulbright Association and have attended Fulbright conferences in Washington, D.C., and other locations. I greatly believe in the power of cultural diplomacy to foster important aspects of international and mutual understanding. The mission of the Fulbright program continues to be of much importance in our contemporary world.


Word Works

Published books by Professor Emerita Katherine Hoffman

An Enduring Spirit: The Art of Georgia O'Keeffe (Scarecrow Press, 1984)

Collage: Critical Views (UMI Research Press, 1989)

Explorations: The Visual Arts Since 1945 (Harper Collins, 1991)

Concepts of Identity: Historical and Contemporary Images of Self and Family (Harper Collins, 1997)

Georgia O'Keeffe: A Celebration of Music and Dance (George Braziller Books, 1998)

Stieglitz: A Beginning Light (Yale University Press, 2005)

Alfred Stieglitz: A Legacy of Light (Yale University Press, 2011)


Professor Emerita Katherine Hoffman retired in May 2019 after 29 years of teaching on the Hilltop. She is currently working on her next book, Fighting for the Light: Female Photographic Pioneers in the Alfred Stieglitz Circle and Collection, to be published by Yale University Press. She lives in Peterborough, N.H.

Photos by Kevin Harkins
Also in the Issue
Past Issues