Letters for the Spring/Summer 2022 Issue of Portraits
To the Editor, Portraits: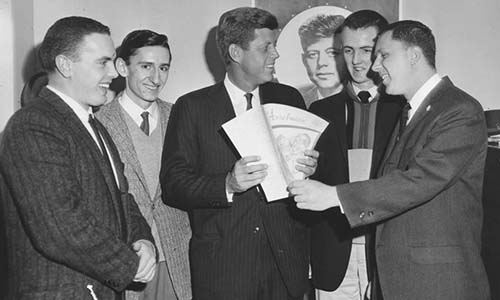 The article on the 20th anniversary of the New Hampshire Institute of Politics in the Fall/Winter 2022 issue of Portraits was most interesting. Your readers might like to know more. On page 32, the top photo (shown left) can be fully identified. John F. Kennedy stopped by the Hilltop during the New Hampshire Presidential Primary in 1960. Sponsored by the Saint Anselm Chapter of Young Democrats, he spoke to the student body at the old Abbey Theater located behind the Main Building. In the photo with Kennedy are Anselmians (from left) Richard Dwyer '61, John Evans '62, William Burns and John Coakley '61. Interestingly, Kennedy is holding a copy of the October 30, 1958, Anselmian, the campus magazine. On the cover was the new campus under construction at that time, the one we know today. It was an exciting time!
—Sal DeFazio '61, co-editor of the 1961 Anselmia yearbook
Letters for the Spring/Summer 2021 Issue of Portraits

Letters for the Spring/Summer 2021 Issue of Portraits

More Hidden Gems

The following contribution was submitted by Father Cecil J. Donahue, O.S.B. '50 in response to the call for sharing more hidden gems of Saint Anselm from the Fall/Winter 2021 issue of Portraits.

1. I believe that two pine oak trees which I planted about 1975 to the east of the road which then ran in front of the Joan of Arc Convent, one in memory of Father Paul Houde O.S.B. (+1969) and the other in memory Father John Lynch O.S.B. (+1967) were doubtless the first two commemorative trees planted on the Saint Anselm College campus. Father Paul had been the formidable dean of students from the time of his return from military service overseas after WWII while Father John had served as college treasurer for several decades during and previous to WWII. The trees were donated by a Boston vendor from whom Father Paul occasionally purchased furniture for student use.

2. Dawn Redwood trees, deciduous conifers officially known as Metasequoia, flourished 30,000,000 years ago at a time when dinosaurs roamed the land. They were considered extinct until a small stand was discovered a century ago in a remote valley at the base of the Himalaya Mountains. When they first became available in this country, two small trees were purchased about 1960 and allowed to establish themselves before being planted where they stand today: one between Geisel Library and Poisson Hall, the other at the SE corner of the Carr Center.

3. The present generation of Anselmians is well acquainted with the two entrances onto the upper campus from Saint Anselm Drive, but unlikely even aware that there once existed a third entrance. It ran from the present Saint Anselm Drive, through the wooded area past the monastery, continued along just about parallel to the present power lines, and exited onto the field behind the monastic cemetery. Nicely secluded, it was up until mid 20th century a favorite parking area for young lovers at night and dubbed "Lovers' Lane" by Abbot Bertrand.

4 In 1896 Benedictine Sisters arrived to serve the monastery and school and were housed in the 125 year-old Kimball House. In 1915 a convent building was erected for them in which they lived until they were replaced in 1927 by the arrival of the newly founded Sisters of St. Joan of Arc. To make room for the construction of Perini Science Building, the convent building was lifted off its foundation and rolled up the hill and set on a foundation prepared for it and renamed Bradley House. Several Locust trees between the Art Gallery and Bradley House suffered the loss of bark on the west side of their trunks—stars still visible over 60 years later.

5. The campus print shop building was originally intended to house a coal-fed boiler and be joined to the back of Alumni Hall. Foresight happily prevailed, and as built, the building with its towering smokestack stands a short distance removed from Alumni Hall. Why, it might be curiously inquired, was this less than sanitary type of building then located over a well whose depth is measured in scores of fee, whose water was likely used for drinking, and whose water level is higher than the building's basement floor level?

6. It is an incredible page in the history of the foundation of Saint Anselm that construction of the building replacing the one destroyed by fire on February 18, 1892—just 12 days after the fire. The contract specified that construction must be completed before payment was required. The building burned down 10 days before it was to be turned over to the Benedictine community, and although both parties suffered loses, the major loss was borne by the building contractors. Abbot Hilary must be commended for realizing that neither party had anything to gain by time lost in legal wrangling. He acted quickly to remain on good terms with the major contractors by obtaining from one source or another a small sum of money which he advanced to the contractors at 4 percent interest to enable them to begin construction of the replacement building on March 1, 1892—just 12 days after the fire which destroyed the original structure.

7. When in 1959 a master plan for the placing of the six new buildings on campus was approved, the proposed science building was located occupying the same terrain as the former Sister's convent. The 55-year-old convent was scheduled for a new location overlooking the pond, a new purpose and a new name. A local contractor took on the task of raising the building from its foundation, setline it on two parallel girders, then carefully lowering it onto a series of rollers in preparation for rolling it westward on the road, up the grade to the top of the hill and then lowering it onto the prepared foundation, where it was to become a men's dorm named Bradley House.

8. Hidden in plain sight is a full size statue of St. Joseph, husband of Mary and Heavenly Patron of the Church. He is holding the Child Jesus in his arms. Although the statue correctly portrays St. Joseph as modest and perhaps somewhat retiring, the picture of this statue recently appeared in a very respectable Saint Anselm College publication

9. Mr. "Dusty" Coffran lived alone toward the final years of his life in the farmhouse located directly south of Joan of Arc dormitory. He is the source of the information that he first telephone on the college campus was an "extension from my telephone line over to the office of Father Bertrand." This, the first Saint Anselm phone (#26478) was installed no earlier than 1920, the year Father Bertrand took charge of the school. This phone was one among several on a party line where each phone had its own special ring and where every other part, if curious, discretely listen in.

10. Entering the second floor of Gadbois Hall from the road, glance down and back to the right to see a rather high old stone retaining wall covered with small brush and moss. That "wall" was built as the front of a large cellar running into the side of the hill for the cool storage of apples. A century ago, the campus sported more than 300 apples trees. It seemed, however, that each time a building was put up, an apple orchard was cut down. Once there was no further use for the apple cellar, the roof was collapsed, the cellar filled in, but the stone front was left standing to testify to Saint Anselm's past apple glory.

11. A series of bird feeders mounted on 10 foot poles and connected by a well-worn footpath was set up and serviced by Father Eugene Goellner until abandoned after his death in 1941. A solitary pole hidden by trees near Saint Anselm Drive bears mute witness of his devotion and love for birds.

12. From the first years of the college's foundation, religious sisters played a crucial role. In 1896 Benedictine Sisters arrived at Saint Anselm from New Jersey to serve in the kitchen and laundry. They were housed in the 125-year-old Kimball House until in 1915 a convent could be built. After 20 years of service the Benedictine Sisters were replaced by Ursuline Sister who took charge for four years and were followed for a short period by the Meyer family. Then in 1927 a good number of Sisters of St. Joan of Arc were sent from Quebec, Canada. They had been founded precisely to serve as housekeepers for clergy and for more than 80 years they quietly lived, prayed and served in the midst of the Saint Anselm community. After the construction of a new Abbey complex in 1955, the vacated temporary monastery was prepared for use by the Joan of Arc Sisters who expressed themselves delighted with their new home.

13. Threescore years ago, the area which now lies between the Joan of Arc dormitory and Davison Hall, between Gadbois Building and the Dana Building resembled a wet thicket. Decades earlier under the direction of Father Vincent Amber, it had been developed as a hockey rink and provided with lighting for night skating. In the course of time, however, better facilities became available and this area was completely abandoned. The increased number of student cars permitted on campus from the 1960s on increased the demand for an expansion of parking areas. This area was gradually drained, made suitable for parking and ultimately paved. Although less than ideal, it served for decades until in the present century adequate parking in outlying areas of campus was provided and this once ugly duckling area was transformed into an exceptionally attractive campus centerpiece with expanses of grass and beautiful shrubbery, trees, crosswalks and benches for seating.

14. As WWII wore on, the financial plight of Saint Anselm College grew ever more critical. The income from the two U.S. Flight training Programs had dried up the first half of 1944, and although the administration took serious steps to reduce costs, the need to close to avoid further debt was very real. Mr. John Daley had for many years run a truck farm south of Worthley Road in Bedford where he raised vegetables and sold them locally. He also had wanted to sell his produce o the college but had never been successful, given the fact that the college already had a large farm which was cared for by a dozen Benedictine Brothers. It was and remains generally true that raising your own food is less expensive than purchasing it. Relations between Mr. Daley and the monks nevertheless remained friendly, and from time to time a number of the Brothers would walk over to the Daley Farm to lend him a welcomed hand with the chores. When in 1944 John Daley passed away, it was discovered that he had left his entire estate to Saint Anselm College: his two houses and automobile, his 14-acre farm and $25,000 in two bank accounts. These assets both lifted the hope of the Benedictine community for its future and much improved the economic standing of the college. About 1980, the newly built Maintenance Building was named the Daley Maintenance Center, intending to memorialize both the critical timeliness of the Daley gift for the future existence of the college as well as the kindness of the Benedictine Brothers whose generous assistance to John Daley surely motivated him to donate his entire estate to Saint Anselm College.

Abbot Bertrand, for most of the final three decades of his life took care of St. Leander's, the monk's cemetery: removing dead branches, pruning the shrubs and trimming the evergreen hedge, meanwhile keeping a close eye on the young monks who were building a Way of the Cross in the woods nearby. He also kept a sharp eye out for anyone heading for the cemetery. He especially disliked being "trapped" inside the fence that ran around the cemetery. Should he see someone coming toward the cemetery, he would quickly exit the cemetery and make himself invisible until the "danger" passed.

As the Abbot himself told the story, he was on his knees one afternoon painting the bottom of the fence when he heard a woman's voice behind him inquiring if he worked here. When he replied that he did, she countered with another question. "How long have you been working here?" She wanted to know. "About 30 years," he answered. "Well!" she huffed. "I would expect that anyone who worked here that long would have a better job than this."

---

The only known evidence of a toboggan run on campus is this photograph (shown). It must date sometime after 1923 since the passage between the south wall of the college building and the chapel (built in 1923) appears on the left side of the picture. Building the launching structure must certainly have consumed considerable time and labor and like Rome was not built in a day. Counting the steps of the ladder (at least 15) and adding on five feet for the height of the man standing at the foot of the ladder suggests that the height of the structure must have been 18 to 20 feet. The toboggan was hauled to the top and placed on the level launch pad while the riders got into position on the toboggan. When ready, the fellow standing at the top of the structure had the task of tipping the launch pad by raising the rear (shown raised in the picture) and getting the riders off to a jackrabbit start down the toboggan run and onto the hillside to finish on the level area at the end of the run.

Father Cecil J. Donahue, O.S.B. '50

---

The article on nurses in the Spring/Summer 2020 issue of Portraits was excellent! The cover with the nurses' caps was beautiful, and I hope this history of how they came to be is not forgotten.

Jean Zimmermann '73

---

Thank you for a wonderful glimpse into the recent nursing graduates. I have read each of their stories, reflecting on what nursing must be like for them now. These nursing graduates from 2019, and I am sure the nursing graduates of 2020, are models of exemplary nurses we so desperately need today. I continue to support the Joyce Clifford Scholarship for this reason. Joyce Clifford would be proud and honored to know these nurses.

Carmela Horlitz '75, B.S.N., M.S.

---

Two Springtime 2020 non Covid-19 related deaths are worthy of special note: Rev. Vincent O'Connor '44, and Carmen "Butch" Massimiano '66.

At the time of his death, Fr. Vincent was the oldest priest in the Diocese of Springfield, having been ordained in 1948. He had a very active, engaged ministry throughout Western Massachusetts, establishing Catholic Charities in the Diocese, the founding chair and longtime professor of the School of Social Work at Elms College, and as pastor in Leeds, Mass., for over 40 years. A faculty member at Boston College, he was, also, the director of Vincent de Paul throughout the Springfield Diocese. With all of this, and more, Fr. Vincent remained a dedicated and enthusiastic son of St. A's, directly responsible for scores of Western Massachusetts students successfully making their way to the Hilltop.

Enter one of those students, Carmen "Butch" Massimiano '66, of Pittsfield, Mass. He was under Fr. Vincent's tutelage, a junior Vincentian. Like so many others, he was encouraged by Fr. Vincent to apply and enroll and doing so Butch, then, became very involved in student government at St. A's through out his student days. After a few years in probation/social work, Carmen was elected sheriff of of Berkshire County, and repeatedly re-elected, as he was to the Pittsfield School Committee.

Both he and another St. A's grad, Mike Ashe '62 (another friend of Fr. O'Connor), the long-time Hampden County sheriff, worked often in tandem in putting progressive social work principles to the benefit of their most-needy populations.

With both Fr. Vincent and Butch, lessons learned at St. A's resulted in positive life experiences for so many—well done, faithful Anselmians.

Dan Lynch '66

Letters for the Fall/Winter 2021 Issue of Portraits

I had to take a moment to tell you how much I enjoyed the most recent edition of Portraits. I count on the magazine to keep me connected to the many reasons that I love the college so dearly. Whether it is the history of the college, updates on campus developments or the wonderful stories about fellow Anselmians I feel like I am visiting "my home" when I go through the pages.

I was saddened to hear of Dr. Lucille Lavoie's passing. She was instrumental in my nursing education and now that I am a nursing professor there is not a semester that goes by that I do not share a story about her with my students. I am enjoying the stories you have done in the past few issues that focus on our faculty. I was glad to see a picture of Professor Dan Lavoie just as I remember him from my microbiology course in 1982!

Thank you for the time, energy and talent that you have poured into the magazine.

Christine Dixie Douville '86, M.S.N., R.N.
Trustee, Saint Anselm College
Clinical Assistant Professor, Sacred Heart University
Also in the Current Issue (Fall/Winter 2023)