Honoring the Legacy of Ernie Thorne '34
BY ANNA BRENNAN-CURRY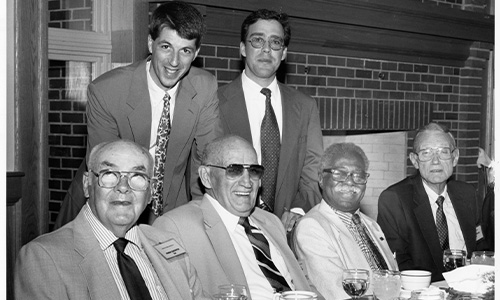 When he graduated from Saint Anselm College in 1934, Ernie Louis Thorne became the college's first Black alumnus. From that time on, he became not only a memorable member of the Anselmian community, but also a vital part of Manchester. At his 70th birthday party, former Manchester mayor Sylvio Dupuis '56, H.D. '83 said, "He is one of the few people I know who could have a letter addressed 'Ernie Thorne, Manchester' and it would still be delivered to him."
Thorne's path to the Hilltop was a unique one. "As the story goes, in 1930 Ernie's mother appeared on campus and convinced the monks of the Abbey to admit her son Ernie to the college even though he and his family did not have the resources to finance his education," says Father Francis McCarty, O.S.B. '10. "The monks admitted Ernie to the class of 1934 on a complete scholarship."
As a student, Thorne was a member of Delta Sigma Mu, serving as the secretary and vice president, and worked as a reporter and contributing editor for The Tower newspaper. He studied history and Romance languages. He performed in a number of school productions and in 1933 directed Amateur Night at the college.
After graduation, Thorne continued to live and work in Manchester for the rest of his life where he was a well-known member of the community. He worked as a car salesman, driving instructor, and later in life as the bartender and host of the Anheuser- Busch brewery in Merrimack, N.H., where he met many Saint Anselm students. He regularly attended alumni and sporting events at the college and served as the vice chairman of the Order of Golden Anselmians. Thorne passed away in 1995 at the age of 85, and his class ring is held in Saint Anselm's archives.
" Our strong social justice focus of the Catholic intellectual tradition grounds our work and propels us toward empathy and action."

— Joseph A. Favazza, Ph.D.
This past summer, Denis Lynch '81 and Keith Woolley '82 led the charge to set up the Ernie Thorne '34 Scholarship Fund for Racial Equality in his honor. This endowed scholarship will provide financial aid and educational opportunities to underrepresented students from Manchester, southern New Hampshire, and California. The idea for the scholarship was in response to the deaths of George Floyd and Breonna Taylor.
"Denis has been my friend for over 40 years. I believe this long-standing friendship, fostered as students at Saint Anselm, and solidified as alumni, has been enriched by our willingness to engage in open and candid discussions about race," says Woolley. "We both believe that now is the time for not just passionate dialogue but, more importantly, it is time for action."
Lynch agrees. "After attending three global town hall meetings on racial equality and inclusion by my company, Hewlett-Packard, I was motivated and challenged to make a difference in my new community of New Hampshire," he says. "I believe in supporting this scholarship because I know the gift of a Saint Anselm education will benefit the next generation of black leaders."
More than $100,000 has been raised, including generous matching gifts from Hewlett-Packard and a leadership gift from the monastic community. "The monks of Saint Anselm Abbey have designated a gift of $50,000 to the Ernie Thorne '34 Scholarship for Racial Equality with the hope that others will join in supporting the fund so that the college's diversity initiatives will be sustained for years to come," says Father Francis.
These gifts, according to Joseph A. Favazza, Ph.D., president of Saint Anselm College, are important and appreciated for many different reasons. "We are grateful to all our generous alumni, the monastic community, and the Saint Anselm community, who contribute to the college, and these gifts are particularly important at this moment as we feel a new urgency to our commitment to creating a community of inclusion and equity," he says. "Our strong social justice focus of the Catholic intellectual tradition grounds our work and propels us toward empathy and action."
The college will begin awarding the scholarship in the 2021-2022 academic year.
 
Michael Sheehan '82, H.D. '11 Fuels Signature Humanities Program by Paul Pronovost '91

Sheehan Fund Fuels Signature Humanities Program

By Paul Pronovost '91

For generations of Saint Anselm students, the cornerstone of the curriculum was Portraits of Human Greatness, a two-year program that examined humanity, morality and spirituality through archetypes like the "Warrior" and individuals such as Thomas Jefferson and Martin Luther King, Jr.

In 2014, however, after years of work to reimagine the program, a new humanities program was unveiled. In Conversatio, Saint Anselm students consider questions of value, moral choice, and the real significance of human life through a multidisciplinary series of seminars, readings and lectures, and an expansive program of films, concerts, exhibitions and stage presentations.

Pivoting to a new humanities model was not easy and has required extensive faculty training and continuous learning. The program's success can be credited to a $500,000 gift from the Sheehan family in support of the college's humanities efforts. Through the Frederick and Claire Sheehan Endowed Faculty Fund, professors are provided the resources to develop innovative seminars and other learning experiences to help develop critical thinking skills that are the underpinnings of a Saint Anselm education, regardless of a student's major.

Dr. Gary Bouchard, a professor in the English department and executive director of the Grappone Institute for the Humanities, says the Sheehan Fund provides the lifeblood to the college's signature program.

"Just as the National Endowment for the Humanities helped sustain the Portraits of Human Greatness program by providing opportunities for selected faculty to read and study relevant classical texts together for a full year, the Sheehan Fellows program helps keep Conversatio vibrant by funding a similar opportunity for selected faculty in the program to spend a year reading and studying texts that can then inform or even become part of the curriculum," he says.

Rooted in the Benedictine vow that encourages faithfulness to a way of life within community, Conversatio is the foundational shared learning experience for every Saint Anselm student.

As part of the Fund, a cohort of Sheehan fellows are provided support to develop and discuss new ideas for Conversatio. This year's Sheehan fellows—David Banach, philosophy department; Dale Kuehne, politics; Sean Parr, fine arts; Aubrey Scheopner Torres, education; and Kevin Staley, philosophy—have been meeting biweekly to read and discuss works together.

The fellows continuously shape Conversatio, keeping the program vibrant each year. An annual retreat also is held for humanities faculty so those teaching in the program can debrief and review new approaches to continually improve the lessons.

"As the curriculum in Conversatio becomes less entrenched, faculty need to develop new curricular materials related to the modifications that are made each year," says Dr. Derk Andrew Wierda, a professor of chemistry and director of the Conversatio program. "The Sheehan Fund helps to enhance the experience of all of our students and the faculty who teach in Conversatio, the common shared learning experience of the college."

At a time when many universities are moving away from a focus on the humanities, Saint Anselm's Conversatio program distinguishes the college in how students are engaged in a variety of topics that might be outside of their comfort zone and in how they are asked to challenge themselves to have a better understanding of people, politics and culture.

Michael Sheehan '82, H.D. '11, managing partner of Allied Sports and former chair of the Board of Trustees at Saint Anselm, says the skills learned through the college's humanities program will make a difference in life for graduates.

"By encouraging critical thinking and reasoning, Conversatio helps students define and refine their creativity and to develop lifelong intellectual curiosity. Innovation isn't solely about STEM; it's about ideas and concepts and original thinking. Conversatio gives Saint Anselm students, regardless of their major, an important advantage."

Over the years, the humanities program has expanded at Saint Anselm and now includes a minor with classes such as "Gender in Music and Literature," "The Qu'ran, Culture, Conflicts: An Introduction to Islam," "Shakespeare and Political Power" and more.

Photo by Jeff Dachowski

Elizabeth (LaMalfa) Kelly '83

Paying it Forward

By Anna Brennen-Curry

Elizabeth (LaMalfa) Kelly '83 has always lived her life committed to her core beliefs and values—her Catholic faith, her family, and education—not just in speech, but also in action.

Elizabeth (Beth) arrived on campus in 1979, with dreams of becoming a teacher. Saint Anselm had almost everything she was looking for—a strong liberal arts education rooted in Catholicism, as well as being close to her brother, a student at Merrimack College. At the time, however, Saint Anselm did not have an education department. The college worked with her to solve this problem, and she was able to take additional classes at Notre Dame College in Manchester. She loved her time on the Hilltop—living at Croydan Court, celebrating Bonfire weekend, and ending the week with Sunday night mass at the Abbey Church. In 1983, she graduated with a double major in English and Elementary education.

After graduation, she moved back to Connecticut to begin working as an elementary school teacher, while also keeping in touch with her friends from the Hilltop. A close friend from Saint Anselm introduced her to her husband, John. Together they shared the same values, as well as a love of sports, which continues today. Eventually, Beth received a master's degree in remedial reading and language arts from Central Connecticut State University that allowed her to work as a reading specialist. She stayed connected to Saint Anselm, returning to campus for homecomings and reunions, which helped her to stay in touch with friends who lived outside of Connecticut.

Life changed drastically when, in 1995, Beth and John moved with their infant son, Chris, to Puerto Rico on a short-term assignment with Pfizer. They ended up living in Puerto Rico for 11 years. While there, Beth learned some Spanish, taught kindergarten at the local international school, and served as a religious education teacher at their local parish. John and Beth had two more sons, Thomas and Andrew, and all three grew up bilingual.

In 2007, the family moved back to Connecticut. Beth reconnected with Saint Anselm and began serving as a member of the board of trustees in 2012, where she has been an engaged and active member, serving on presidential search committees, the student engagement committee, and the facilities committee, which was key to developing the Living & Learning Commons, the Jean Student Center, and the Welcome Center.

Beth loves to look at the transformations seen on campus—a parking lot that is now the green quad in front of Joan of Arc, as well as returning to the Abbey Church, a place that has always kept her centered. Saint Anselm has changed since Beth graduated, but she believes what hasn't changed is the college's mission to be a community that is inclusive and welcoming.

"My advice to alums would be that if you get the chance, come back to campus, find those friends you lost touch with, and meet them back on the Hilltop," she says. "Attend a sporting event, come back for a lecture, because when you do that, you reconnect with the school and realize why you chose Saint Anselm College."

Five years ago, Beth and John decided to make an additional commitment to the college, and, after her years of experience in the education field, set up the Kelly Family Scholarship Fund to provide ongoing financial aid support to students.

"High school is a tough time for students," she says. "They can experience self-doubt as they try to figure out where they are going and what they want to do." With this scholarship, Beth's hope is to remove some of the financial burden from their decision, allowing students to create a new chapter in their life.

Since establishing the scholarship, Beth and her family have enjoyed hearing from the students who received the scholarships, and find their words drive home the importance of giving back. They hope the students recognize that their Anselmian experience does not end with graduation. They should try to stay connected, and when they can, pay it forward.

Photo by Leah LaRiccia
Also in the Issue
Past Issues