Saint Anselm is a home to many. Students, faculty, staff, and our monastic community spend their days here living, learning, serving, and connecting with each other. With a focus on enriching academics and countless opportunities for leadership and growth, the Saint Anselm experience is unlike any other.

It's time to see it for yourself.
We offer both on-campus and virtually scheduled visit experiences. Learn more about each opportunity and register for one or more.
On-Campus Visit Experiences
On-Campus Tours
We invite you and your guests to the Hilltop for a student-led tour of campus. Tours are about an hour and a half in length and will encompass academics and student life.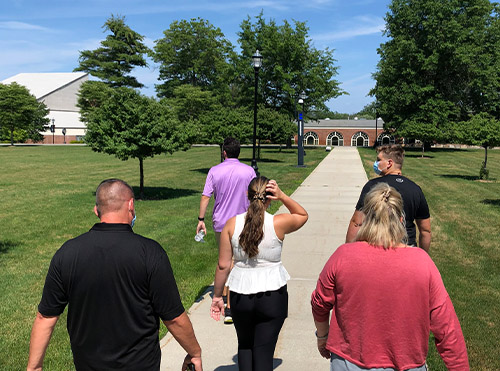 Campus Tours
Monday - Saturday: 9:30 a.m., 12:00 p.m., 2:30 p.m.
 
Pre-registration is required. You must register yourself and any guests (up to 2) for a campus tour ahead of time. Those who do not have a scheduled appointment will not be able to tour the campus with our students.
What to Know Before You Tour
For the added safety of our Anselmian community and its guests, we ask that all visitors abide by the following guidelines:
Campus Tours must be scheduled ahead of time.
Each guest must sign their own Waiver of Liability and bring it with them to the visit. A form will need to be completed by a parent or guardian for all guests under the age of 18.
Please make sure that all guests are in good health prior to arrival. Should anyone in the visiting party feel unwell, we ask that the visit be rescheduled for another day. Any guests who have contracted or have knowingly been exposed to COVID-19 should quarantine for at least 14 days prior to arrival on campus.
Guests may check in no earlier than 10 minutes prior to the scheduled tour time. Check-in will take place at the front of the Savard Welcome Center. Early arrivals are asked to stay in their vehicle until it is time to check in.
All staff and guests will be required to wear a face mask while on campus and practice social distancing of at least six feet.
Please note, residence halls and our nursing facilities are currently unavailable to be shown on tours. We have additional content available for these areas on our virtual tour.
We ask that all guests abide by New Hampshire's traveling policy for New Hampshire and out-of-state residents:
"NH residents or out-of-state visitors traveling to/from areas outside of New England (Vermont, Maine, Massachusetts, Connecticut, or Rhode Island) need to self-quarantine for the first 14 days of any intended stay in NH after travel (starting from the last day of their travel outside New England). This recommendation is irrespective of the mode of transportation for travel (public vs. private transportation)."
Please consider this policy prior to scheduling your visit.
If you have any questions, please contact the Office of Admission at admission@anselm.edu. You can also learn more about how Saint Anselm College is responding to COVID-19.
Tour on Your Own Time
For guests who would like to explore campus but can't make a scheduled tour time or would prefer to walk around on their own, consider taking a Self-guided Walkabout. We have a custom Walkabout campus map with labeled stops for you to take your own tour around the Hilltop. See photos and videos of the spaces and learn more by listening to audio from one of our Admission Ambassadors.
Please note that Walkabout tours will not have access to the inside of buildings. We also ask that you not walk through residential areas on campus for the health and safety of our students.
 
Virtual Visit Experiences
Virtual Information Sessions
Information Session and Student Panel
Monday - Friday, 3:00 - 4:00 p.m. EST
If you're just beginning to discover Saint Anselm College, then we highly recommend attending a virtual information session. You will learn more about our academic and extracurricular opportunities as well as our admission and financial aid processes from an admission counselor. Once the session has ended, spend some time with a panel of our current students to hear about life on the Hilltop and what it means to be Anselmian.
Schedule an information session »
A Spanish information session is available to view here.
Virtual Counselor Chats
Scheduled Mondays & Thursdays, 7:00 p.m. EST
Throughout September and October our Admission staff is offering virtual webinars to help guide prospective students and their families through the college process. All sessions will be recorded and topics include:
Monday, September 14 - Keeping Calm During the College Process
Thursday, September 17 - Admission Counselors as Advocates
Thursday, September 24 -Try it on, Take it For a Spin: Shopping for the Right "Fit"
Monday, September 28 - Questions to Ask Admission Counselors
Monday, October 5 - The 1-2 Punch: Life as a Student Athlete
Thursday, October 8 -Preparing for College: What You Should Know
Thursday, October 15 -Financial Aid 101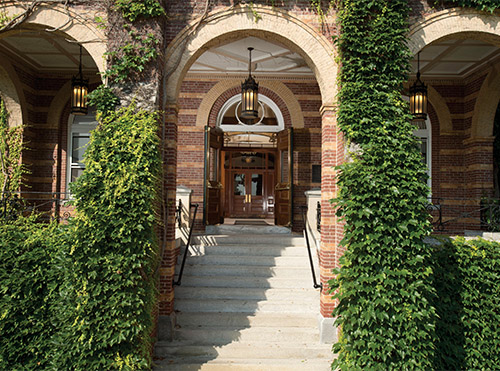 Virtual Interviews
Monday - Friday, 10:00 - 10:30 a.m. EST & 1:00 - 1:30 p.m. EST.
Students interested in applying for Fall 2021 are encouraged to schedule an informational interview with an Admission Counselor. Interviews are conducted via Zoom and family members are invited to join and ask questions following the interview.
Transfer Visit Opportunities
Transfer Talks (30 minutes)
Discuss the transfer process at Saint Anselm College and have your questions answered in a one-on-one meeting with Tony Trodella by phone or Zoom.
Schedule a Transfer Talk »
Transfer Information Session
Tuesdays, 2:00 - 3:00 p.m. EST
Virtual transfer information sessions are led by Tony Trodella, Coordinator of Transfer Admission. Learn more information about academics, campus life, and the transfer admission process.
Schedule a Transfer Information Session »
International Student Visit Opportunities
International Student Information Session
Tuesdays, 10:00 - 11:00 a.m. EST
Information sessions are led by Mercy Lara-Bautista, Associate Director of Admission & Coordinator of International Admission, who will share information about the admission process, academics, campus life, and more. You will be able to ask questions throughout the presentation through our chat feature.
International Student Interviews
Monday and Wednesday, 9:00 - 9:30 a.m. EST
Informational interviews are conducted by an admission counselor through a video chat platform. At the end, family members may join the interview and ask questions. Interviews are approximately 30 minutes in length.