Follow the stops below to take an audio tour of the campus. As you navigate to each stop, press the play button on each audio player to hear more about each area of campus. In order to see where each stop is located on campus, you can use the map at the top of the page. 
Download the walking tour map »
 
For the health and safety of our campus community, we ask that any guest taking a self-guided walkabout comply with the following guidelines:
Wear face coverings over nose and mouth
Do not enter buildings. Guests may walk around campus building exteriors. Residential areas on campus are strictly off-limits for walkabout guests.
Each space on the tour includes interior photos and videos. If you would like to take a tour that includes building interiors, you will need to schedule a visit.
 
Enter Campus - Main Entrance
Welcome to the Hilltop! We recommend entering campus by the second and main entrance. Proceed down the tree-lined drive and take your first right turning towards Alumni Hall. Go straight, following the signs to the Welcome Center and visitor parking lot.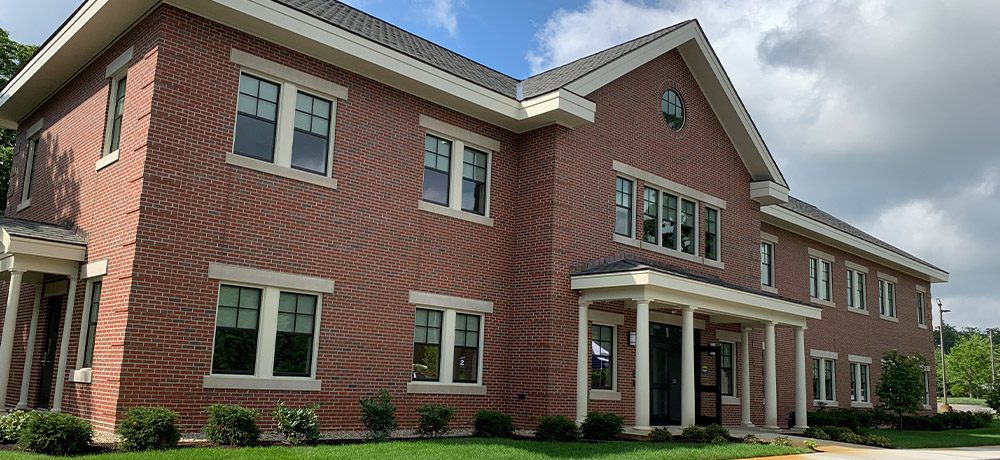 Park Here - Visitor Parking
Once you've parked, take a short walk to the front of Alumni Hall to begin your Anselmian journey.
---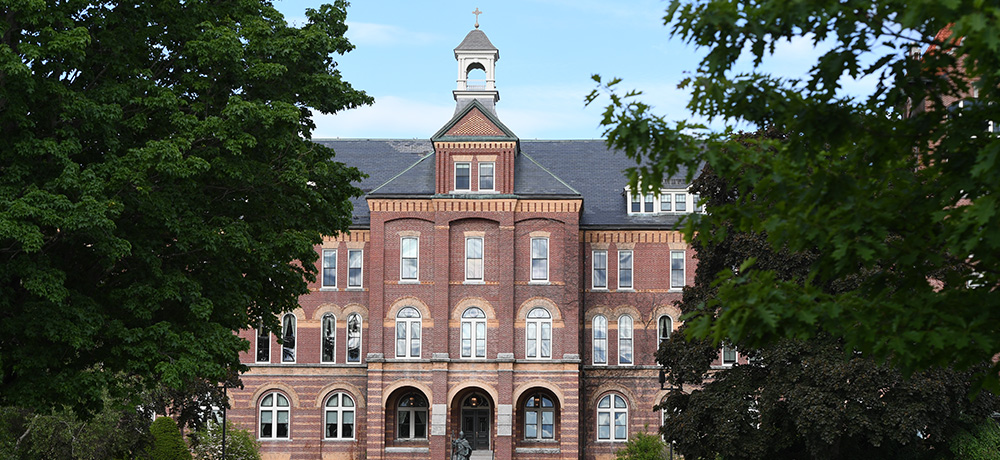 Stop #1: Alumni Hall
This is where it all began. The iconic Alumni Hall was the first building on campus and has seen many changes in its 130-year history. Today, it houses administrative offices, classrooms, the Modern Languages and Literatures Department, the Chapel Art Center as well as student housing.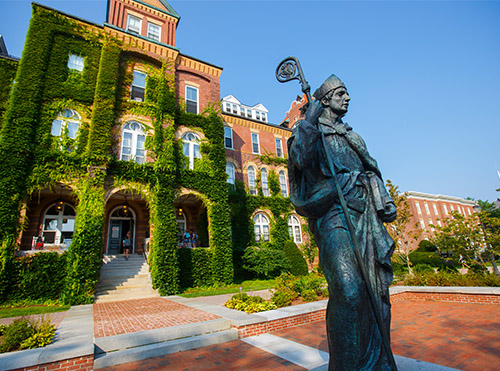 Take a Moment - Grab a Picture!
Every Anselmian has at least one picture with the Saint Anselm statue. Snap your first one today and share it with us on Instagram by tagging @saintanselm
---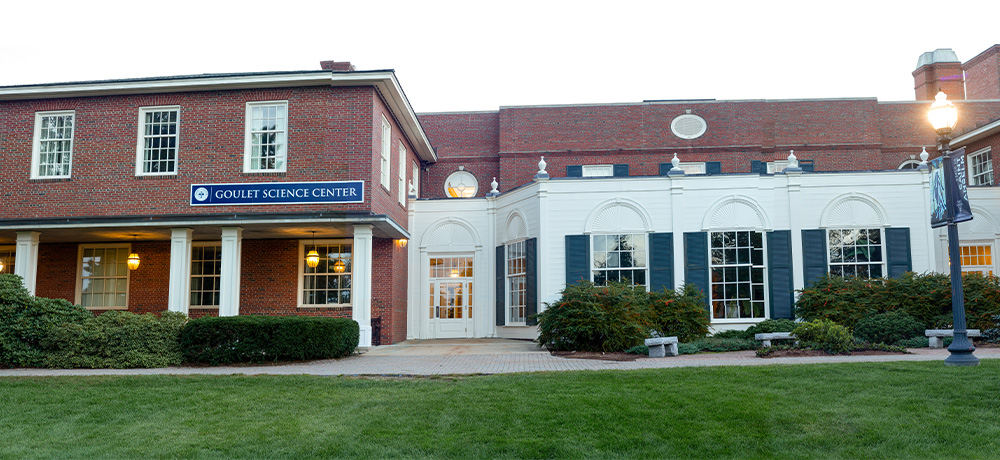 Stop #2: Goulet Science Center
Home to the college's sciences, Goulet Science Center features a lecture hall with advanced multimedia technology, a reading room, computer center, greenhouse, and modern labs with specialized equipment for each of the departments of biology, chemistry, physics, and psychology.
---
Stop #3: The Roger & Francine Jean Student Center
The dynamic hub of Anselmian life, the Jean Student Center is where students gather. Inside you will find several student services, a lounge and study areas, an auditorium, a café with Starbucks, a function room, and the college's bookstore.
---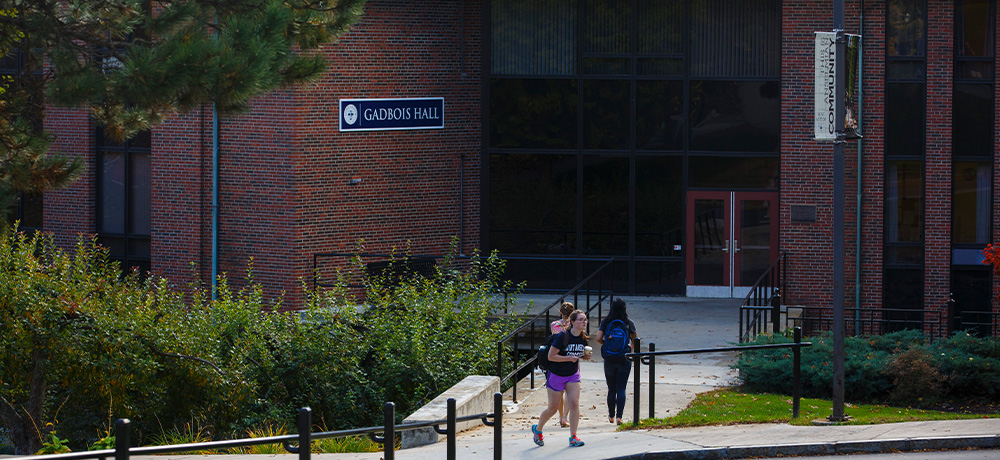 Stop #4: Gadbois Hall
Featuring classrooms, faculty offices, and state-of-the-art nursing labs, Gadbois is home to the college's nursing program.
---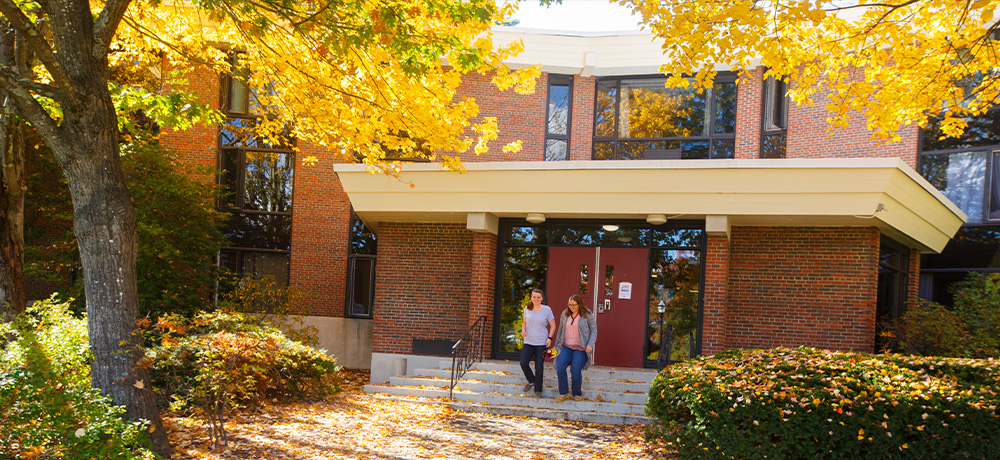 Stop #5: Joan of Arc Hall
Fondly known as JOA to our students, Joan of Arc Hall is a larger, traditional style residence hall for first-year women. Other residence halls for first-year females include Baroody Hall and Alumni Hall. First-year males typically reside in Dominic Hall and Saint Mary Hall.
---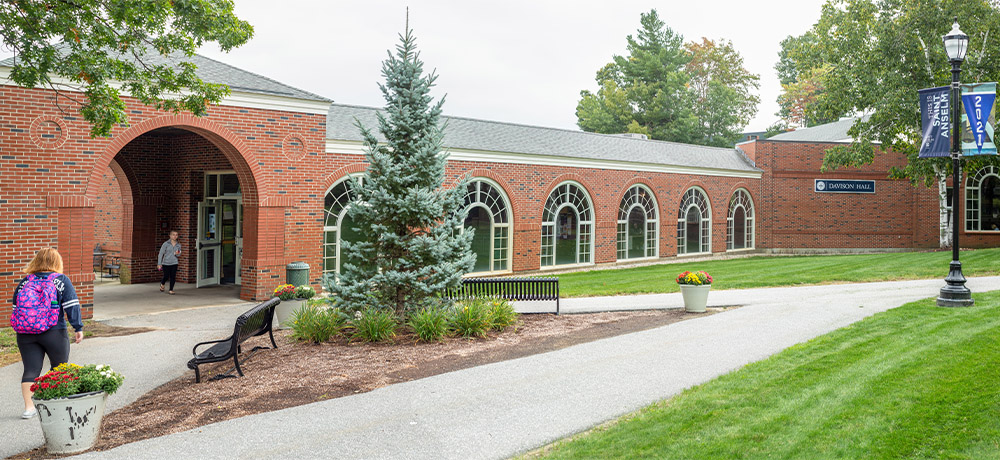 Stop #6: Davison Dining Hall
The college's main dining facility on campus, Davison is known for offering a diverse menu with options for every palate, which helps make us #15 in the nation for food.
---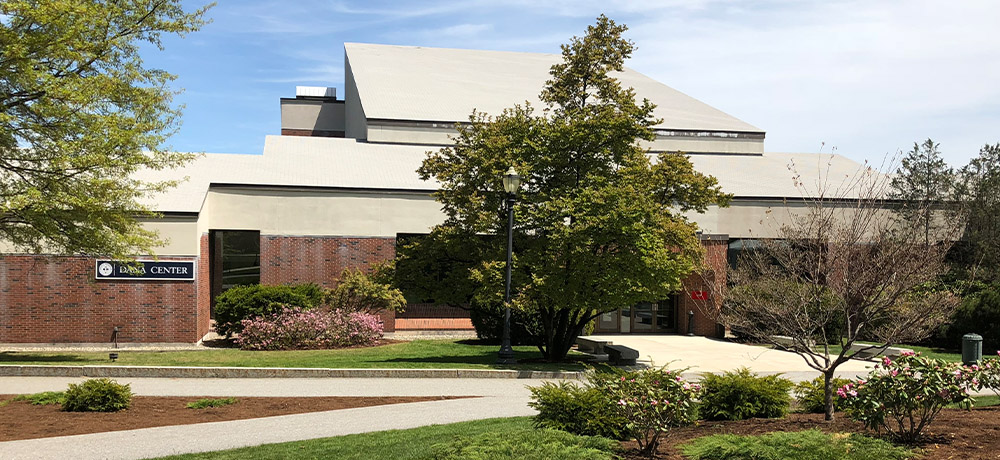 Stop #7: Dana Center for the Humanities
Great shows and conversations happen in the 575-seat Koonz Theatre in the Dana Center, where dozens of performances and lectures are presented annually. It is also home to the student theater group, the Anselmian Abbey Players.
---
Stop #8: Carr Center and Stoutenburgh Gymnasium
A multi-purpose facility with basketball, volleyball, racquetball, tennis courts and a 9,000-square-foot fitness center, the Carr Center also houses the administrative offices for coaches and Athletics staff members. Stoutenburgh Gymnasium is home to the basketball and volleyball teams as well as the brand-new Salamone Family Athletics Hall of Fame space, dedicated in February 2020.
---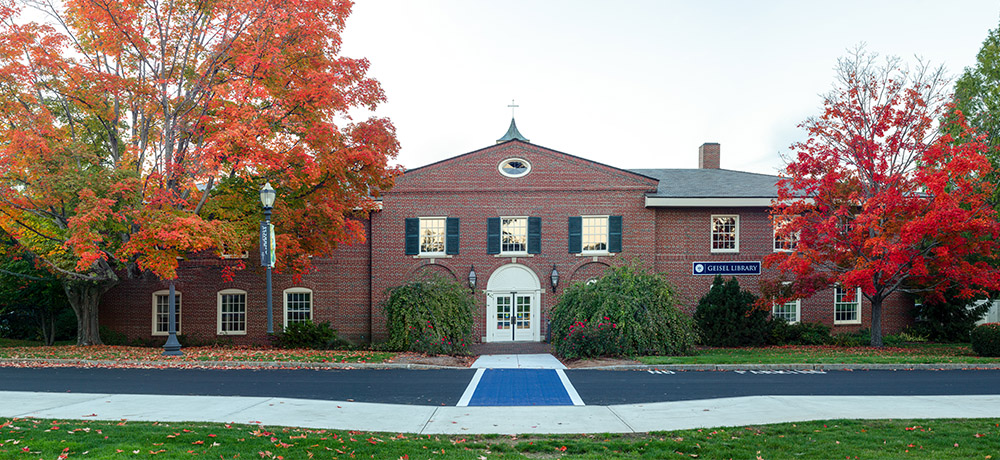 Stop #9: Geisel Library
Finding a quiet spot or a group study space is easy at Geisel Library. You'll also find research assistance, the college's archives, and Information Technology's HelpDesk.
---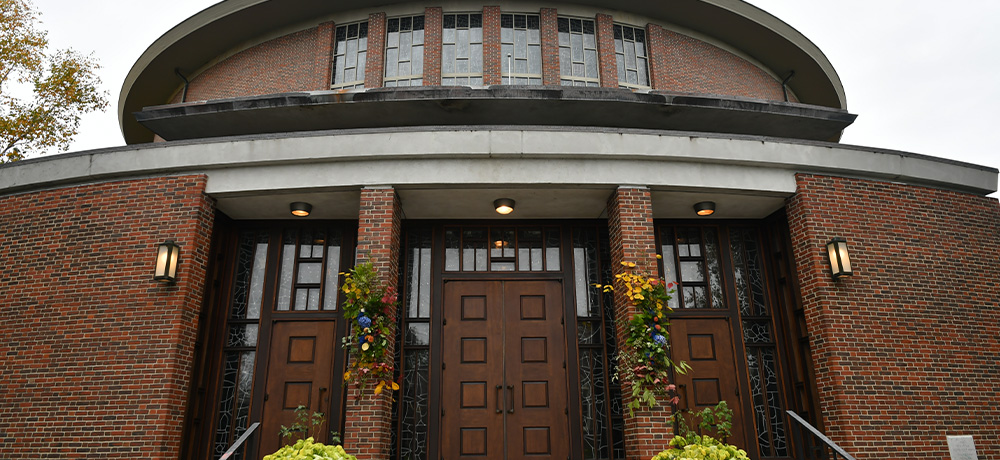 Stop #10: Abbey Church
Considered the heart of campus, the Abbey Church is a peaceful place for prayer and reflection in accordance with your own beliefs. The monks of Saint Anselm Abbey hold Mass and Liturgy of the Hours in the church daily.
---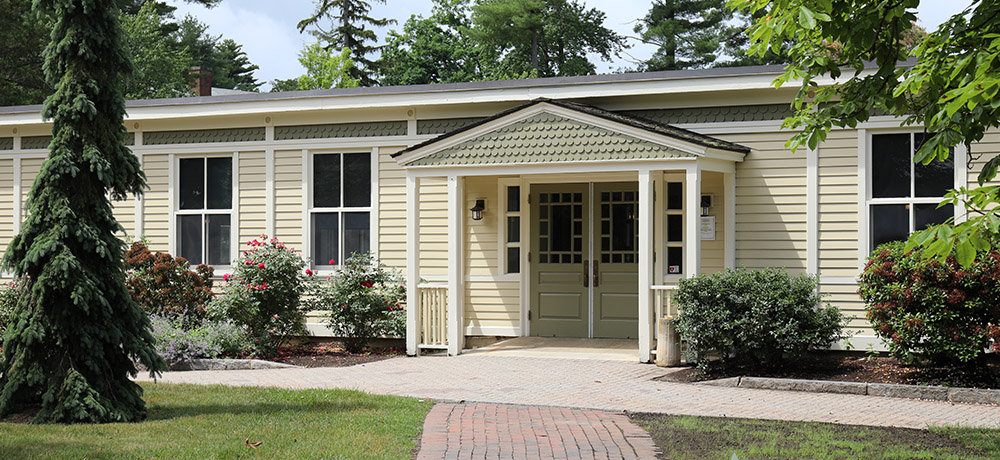 Stop #11: Coffee Shop & Pub
Another favorite spot among students, the Coffee Shop and Pub offers a variety of food and beverage options throughout the day. It's a great spot to catch up with friends, discuss a project with a professor, or try your hand at pub trivia. When it's warm and sunny, grab your sunglasses, your friends, and a table on the deck to enjoy a casual lunch outside.
---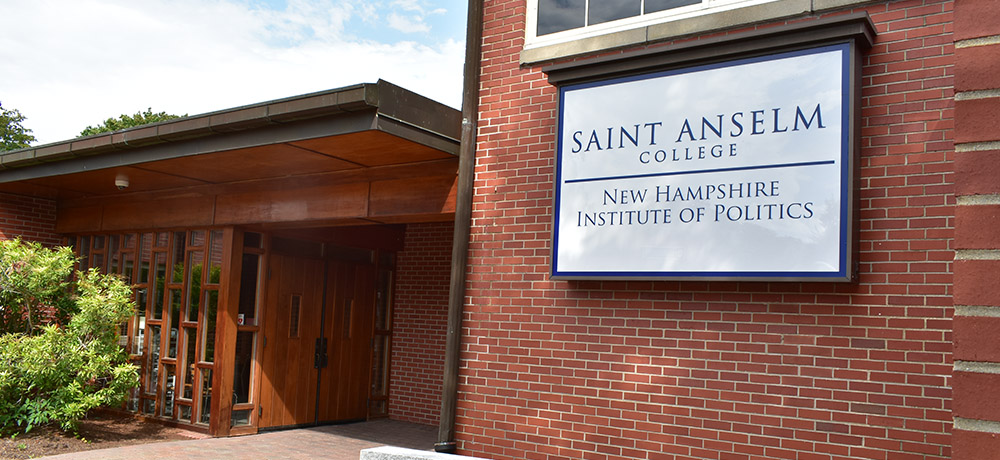 Stop #12: New Hampshire Institute of Politics
At the New Hampshire Institute of Politics, our students have unparalleled opportunities to be in the front row of a democratic process. It's home to two television studios, an auditorium, classroom space, a library, faculty offices, and a café.
---
We hope you enjoyed your tour. If you liked what you saw and are interested in continuing your Anselmian journey, tell us a little more about yourself and you'll get the latest from our Office of Admission, including information about future events and applying to the college.