The New Student Page is your gateway to becoming an enrolled Anselmian. It consists of a series of forms, assessments, and programs to be completed in order to start classes in the fall. Here, you'll learn how to access and navigate the page.
Activate Your Saint Anselm Email
An email has been sent to your personal email address with an individualized link providing your Saint Anselm email address and password. The subject line of the email is New Student Page Information. You'll be asked to create a permanent password the first time you log in. Once completed, you will use this username and password access your New Student Page. This account information will also be your access to your email and myAnselm.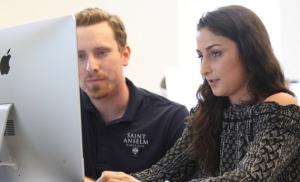 Navigating the Enrollment Portal
You will find the following on your new student page:
Enrollment checklist
Access to college email and myAnselm
Recommended program offerings
Links and resources to various college departments
The Enrollment Checklist
Your enrollment checklist includes required forms, assessments, and tasks that you will need to complete. Most items are clickable and will allow you to either directly complete a form or open instructions for completing the item. Each checklist item also includes a due date, by which you will need to have it completed.
Items on your checklist will be preceded by one of four status designations:
Red X (Awaiting): You have not yet completed this item or the item is pending approval.
Green Check (Completed): You have successfully completed the item or it has been marked as received.
Optional: You are not required to submit this item, but are eligible to complete (such as recommended programs)
Grey X (Waived): Your item has been waived. This designation is only offered on a case-by-case basis and you must contact the Office of Admission to ask for a waived designation.
Most items can be completed electronically through the portal and their designations will be updated to a green check mark shortly after submission. Other items cannot be completed in the portal itself and designations are processed manually. College offices will send the Office of Admission lists of completed students at regular intervals, upon which green checks will replace red X's on your checklist. Items that are processed manually include:
Final School Transcript: In order to successfully enroll at Saint Anselm College, you will need to have graduated from your current school. Please ensure your school sends the Office of Admission a final transcript, including your date of graduation.
Academic Assessments: Both the Mathematical Skills Assessment and the Language Assessment are completed through external sites. 
Health Service Forms: Health forms are submitted directly to Health Services via the Patient Portal. 
Financial Aid Requirements: You will access and update your financial aid information through Anselmian Aid on myAnselm.
Course Registration: Enrolling students in the Class of 2027 will complete course registration at Anselmian Beginnings: New Student Orientation Part 1. Enrolling transfer students are advised to contact Tracy Morgan, Registrar, to coordinate fall classes. 
If you have questions or concerns about the completion of these forms, we encourage you to contact the corresponding departments.
---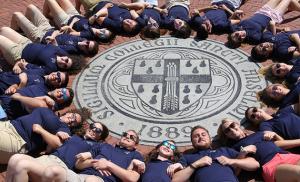 New Student Orientation - Anselmian Beginnings Pt. I
All incoming students are expected to attend New Student Orientation Part 1. This one-day orientation experience will introduce you to the academic culture, community expectations, resources, and involvement opportunities on-campus and in the community. You will also register for fall classes.
Registration for Anselmian Beginnings: New Student Orientation Part 1 will be available on the New Student Page and will be due by June 2. 
Save the Date
New Student Orientation Part 1 will be offered on June 20, 21, and 22, 2023.