You don't have to be a politics major to take advantage of the many events and programs held at the New Hampshire Institute of Politics & Political Library.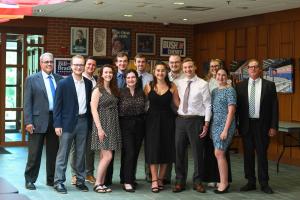 The Institute offers opportunities for students that are unavailable at any other college. No matter how prominent the speaker, it is always a student who steps up to the microphone to make the introduction.
One politics major introduced Hillary Clinton, when she was a presidential candidate. Another student later conducted a one-on-one interview with her. This student had already met most of the candidates of both major parties-but she had only shaken their hands. The experience was one of the highlights of her four years of college, and no doubt one of the things that influenced CBS News to offer her an internship.
Past Student Experiences Include:
Chat with NBC's Brian Williams in the Common Grounds Cafe.
Collaborate with professors on studies of voter behavior and environmental policies.
Talk with Madeleine Albright about being the first woman secretary of state.
Attend a naturalization ceremony and witness the pride and joy of becoming a U.S. citizen.
Town Hall style meetings with presidential candidates.
"Politics and Eggs" breakfasts.
Discussions with journalists such as Mark Shields, and The Washington Post's E.J. Dionne.
Attend live broadcasts of shows such as MSNBC's "Morning Joe."
Students usually have to wait until they graduate to get this kind of experience. But thanks to the New Hampshire Institute of Politics & Political Library, students are welcomed into the political process the day they start their college experience.
Department of Politics
The Department of Politics is located within the Institute building. Politics and international relations majors attend many of their classes at the Institute. For more information about Saint Anselm College's academic programs, please visit the academic section of our Web site.
Academic Advisory Committee
The NHIOP academic advisory committee has oversight of the NHIOP Distinguished Speaker Series, NHIOP Faculty Research Incentive Fund, and the Gordon Scholar Program, as well as overarching responsibility for the development of strong academic and research programs and self-sustaining grant revenues.
Albert H. Gordon Fellowship
Thanks to the generosity and support of the late Mr. Albert H. Gordon, Saint Anselm College is pleased to offer the Albert H. Gordon Summer Research Fellow at the New Hampshire Institute of Politics. This summer fellowship offers one deserving Saint Anselm student the opportunity to participate fully over the summer months in the extraordinary opportunities available at the Institute, and in mentored opportunities to perform research and writing tasks critical to the Institute's mission.
This position is made available through a competitive process to students at the completion of their junior or senior year, and carries a stipend of $6,100 per summer. Recognizing the need to educate, engage, and empower all students, the Albert H. Gordon Fellowship is made available to students of all majors.
Students selected for this prestigious appointment are chosen in recognition of leadership and critical thinking skills, a proven commitment to civic education and engagement, and a high degree of intellectual depth and inquisitiveness. The Gordon Fellowship helps to lead extraordinary men and women to enhanced opportunities for admission to graduate and professional schools, while at the same time providing meaningful work experience that will lead them to careers where an interest in public affairs and public policy is nurtured.
Saint Anselm College expresses its profound gratitude to Mr. Albert H. Gordon for his steadfast commitment to education, and for his generosity that has added a vitally important element to the exciting work of the New Hampshire Institute of Politics.