The Kevin B. Harrington Student Ambassador Program is a unique opportunity for Saint Anselm College students of any major to be involved in supporting the Institute's various events and activities.
Ambassadors are highly motivated, dedicated students who work closely with the New Hampshire Institute of Politics (NHIOP) staff on public programming and civic engagement work. They assist in event promotion, welcome guests and VIPs, and serve as greeters and ushers. In addition, the non-partisan student ambassadors often moderate question and answer periods, facilitate book signings, and lead other post-event activities.
As speakers and candidates visit the Institute, student ambassadors often get special opportunities to meet guests behind the scenes. During election cycles, ambassadors have been able to serve as stand-ins on local and national debate sets and assist media outlets in covering the first-in-the-nation primary.
Student Leadership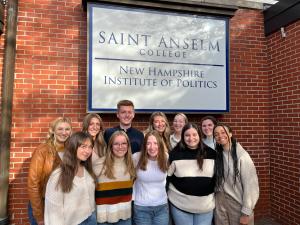 New Hampshire Primary Student Involvement