About the Dean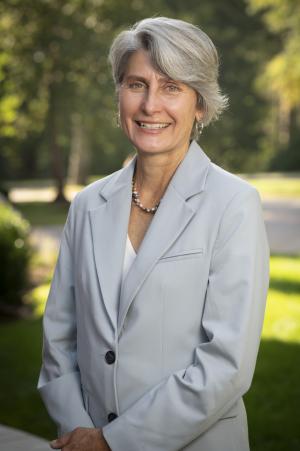 Diane Uzarski, DNP, was appointed as the inaugural dean and Professor of Practice at the Jean School of Nursing and Health Sciences on July 24, 2023.
As dean of the new Jean School of Nursing and Health Sciences, Dr. Uzarski is developing and implementing the vision, mission, and strategic plan of the new School of Nursing and Health Sciences; including the alignment of the school with the liberal arts, new strategic initiatives and bidirectional partnerships. She oversees the undergraduate nursing program, the Continuing Nursing Education (CNE) program, and the Public Health and Health Sciences programs within the school, ensuring the school's programmatic and operational success, and facilitating the achievement of all nursing and health sciences academic outcomes and competencies.
Dean Uzarski's healthcare career in a variety of private, public, and academic settings spans more than 35 years. A highly regarded and well published thought leader from Duke University,  Dr. Uzarski has brought her diverse nursing, public health, research administration and academic leadership to the inaugural dean role. During her 19-year tenure at Duke University, she managed strategic alliances with private industry and academic organizations, and led diverse collaborative teams to successfully execute mission-driven initiatives. She served as chief of staff in the Dean's Office at Duke University School of Nursing, where she led the implementation of the school's five-year strategic plan, and other innovations in education. She is currently adjunct professor in the Doctor of Nursing Practice (DNP) program, and has served on several boards, including the Duke Catholic Center Board of Advisors, chairing the Strategic Plan Committee. 
Dean Uzarski's scholarly interests include strategic and racial justice planning in academic organizations and leveraging partnerships for to accomplish mutually beneficial goals. 
Dean Uzarski earned her Bachelor of Science in Healthcare Administration from Iona College; a Masters of Public Health from the University of California, Berkeley; a Post Master's Certificate in Nursing, and Doctor of Nursing Practice from Duke University.