Saint Anselm College has announced the appointment of Dr. Diane Uzarski as the inaugural dean of the School of Nursing and Health Sciences. She begins her new role on July 24, 2023.
A highly regarded healthcare leader at Duke University, Dr. Uzarski brings her diverse nursing career and experiences in research and academic healthcare leadership to this important role as the college launches a School of Nursing and Health Sciences and begins construction on a $35 million facility.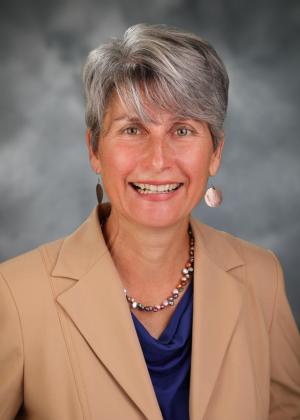 "We were fortunate to have many high-caliber candidates interested in this position," said Saint Anselm College President Joseph A. Favazza, Ph.D. "With a dynamic career in nursing, public health, and research at a top-tier university, Dr. Uzarski brings the skill and experience we were seeking to help grow our exceptional nursing program."
Saint Anselm nursing has a strong reputation in New England, with students consistently outpacing the national average on the NCLEX licensure exam and finding placements in some of the top hospitals in the country. The new School of Nursing and Health Sciences, which launches July 1, will position the department for growth in graduate programs, community collaborations, and more. Saint Anselm's new public health and health sciences majors also will be housed at the new school.  
Dr. Uzarski serves as the Senior Staff Director of Strategy and Planning for the Duke University School of Medicine's Clinical and Translational Science Institute, in addition to holding a clinical associate faculty appointment at the Duke University School of Nursing. She earned her Bachelor of Science in Healthcare Administration from Iona College; a Masters of Public Health from the University of California, Berkeley; and a Doctor of Nursing Practice from Duke University. Her healthcare career in a variety of private, public, and academic settings spans more than 35 years.
Dr. Uzarski brings a deep understanding of health professions education and challenges facing today's faculty and students, coupled with extensive experience in healthcare business development, along with project, fiscal and people management. During her five-year tenure serving as chief of staff in the Dean's Office at Duke University School of Nursing, she performed executive-level initiatives on behalf of the dean, including leading the implementation of the school's five-year strategic plan and the leadership of multiple mission-driven strategic initiatives. She also collaborated with the Duke University Health System and a wide variety of Duke University organizations, co-led the development of the School of Nursing's Racial Justice Plan, and currently serves as a member of the Duke Catholic Center Board of Advisors, chairing the Strategic Plan Committee. 
"I'm truly honored to have this unique opportunity to build upon the rich history and reputation of Saint Anselm nursing, and bring the public health and health sciences programs into the fold to create the college's first school," she said. "Together with the exceptional team of Saint Anselm's nursing and health sciences faculty and staff, I am truly looking forward to creating a dynamic environment at the new school, and advancing the college's strategic plan. My hope is that we will provide all nursing and health sciences students with diverse interprofessional, community-based experiences to prepare them to improve the health and well-being of patients and communities, and address our most pressing healthcare and societal challenges."
In her most recent position at the Duke Clinical and Translational Science Institute, Dr. Uzarski focused on strategic planning and supporting both operations and partnerships to advance health equity research. This experience provided her the opportunity to support a partnership with North Carolina Central University, a local historically black college and university, and other community organizations serving diverse constituents.
Dr. Uzarski will work collaboratively with the undergraduate nursing program, the Continuing Nursing Education program, and the leadership of the public health and health sciences programs, developing and implementing the vision, mission, and strategic plan of the new School of Nursing and Health Sciences, and facilitating the achievement of all academic outcomes and competencies. Additionally, she will work closely with senior leadership on marketing, fundraising, and publicly representing the new school. 
 
"I look forward to Dr. Uzarski joining the academic leadership at Saint Anselm," said Vice President of Academic Affairs Sheila Liotta, Ph.D. "She is well-prepared to support our distinguished nursing program and our dynamic new programs in public health and health sciences through existing and new initiatives, both on campus and in the community. This is an exciting moment for the college."
For more than 60 years, the Saint Anselm College nursing program has been one of the most selective and respected in New England, incorporating the Benedictine values of stewardship, humility, and hospitality to promote the health and well-being of individuals and society. Founded in 1889, Saint Anselm is a Catholic, Benedictine college providing students a distinctive liberal arts education that incorporates opportunities for professional and career preparation.