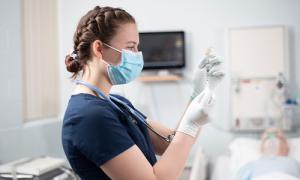 Saint Anselm College President Joseph A. Favazza, Ph.D., has announced plans to establish a School of Nursing and Health Professions to be housed in a new state-of-the-art nursing facility.
The decision follows the recommendations of the Presidential Nursing Commission and subsequent consultation with the nursing department and faculty leadership.
"Without a doubt, our nursing program is among the finest in the country and features some of the best outcomes at the college," President Favazza said. "The direction outlined by the commission will ensure that we maintain our elite position while remaining distinctly Anselmian."
A School of Nursing and Health Professions would position the department for growth in graduate programs, community collaborations and more. The school will strategically position the nursing program, develop partnerships within greater Manchester and New Hampshire, and work collaboratively with other academic departments, the communications and marketing team, the admission team, and the advancement team.
President Favazza is asking Vice President of Academic Affairs Sheila Adamus Liotta, Ph.D., to lead a transition committee primarily comprised of faculty to plan the new school structure, which is expected to be established on July 1, 2023. In addition, a design team comprised of nursing faculty and others is being formed to help plan the programmatic elements of the new facility.
The new nursing facility is preliminarily estimated to be 40,000- to 50,000-square-feet in size with an estimated cost between $20 and $25 million.
It would include nursing simulation labs, high-fidelity patient simulators, classrooms, office space and other special features. It will support undergraduate program as well as future graduate and certificate programs in nursing and health professions.
"We are excited by the prospect of a state-of-the-art building, which will provide a modern learning environment and allow us to expand our lab and simulation capabilities as we move forward," said Maureen O'Reilly, Ph.D., executive director of the nursing department. "We are very proud of our program and our goal is to maintain the quality education which produces the outstanding nurses that employers have come to expect."
The Saint Anselm nursing program has a strong reputation in New Hampshire, Boston and beyond. Students consistently outpace the national average on the NCLEX nursing licensure exam; the class of 2021 passed at a rate of 98.84%, significantly higher than the national average of 86.06%. Since 2017, 97% of Saint Anselm nurses have been employed within the first six months of graduation, according to the First Destination Survey.
"(Saint Anselm) enjoys an excellent reputation with the many hospitals and other clinical agencies where its graduates work," the nursing commission report states. Graduates are valued because of their critical-thinking skills and well-rounded overall education.
With increased competition in recent years from other colleges and universities, Saint Anselm intends to build on an already exceptional program.
Earlier this year, a partnership was announced between Saint Anselm and Catholic Medical Center to build a 13,000-square-foot simulation lab on the hospital's Manchester campus. The project received a $2 million federal grant to advance the project.
"Partnerships such as this will help build on the strong relationship we have with hospitals for clinical experiences and other training opportunities," President Favazza said.
In concluding its report, the Nursing Commission emphasized "a sense of urgency" in pushing the recommendations forward.
"We recognize that there is much work that still needs to be done and that additional resources are needed to accomplish the vision that has been proposed," the report states. "The spirit of the proposal aligns with the mission of the college and supports fundamental elements within the strategic plan. We are confident that the stakeholders at Saint Anselm College will realize significant benefits when these recommendations are implemented."
 
The Presidential Nursing Commission was launched in October 2021. Members of the commission include:
Co-chair Dixie Douville, '86 MSN, RN, trustee and clinical assistant professor of nursing at Sacred Heart University.
Co-chair Margaret Emmons '75, Ph.D., ACNP-BC, RN, trustee and retired RN from Dartmouth-Hitchcock Medical Center.
Co-chair Maureen O'Reilly, Ph.D., Executive Director, Saint Anselm College Department of Nursing.
Jennifer Cassin, MS, RN, CNS, CENP, chief nursing officer at Catholic Medical Center.
Drew Harding, '00, BS, MS, Ph.D, interim chief nursing officer at South Short Hospital.
Roger Jean, '70 HD'06, retired executive vice president, Liberty Mutual.
Lisa Kennedy Sheldon '78, Ph.D., APRN-BC, AOCNP, college trustee and chief clinical officer, Oncology Nursing Society.
Martha Leighton, MS RN, chief nursing office at Elliot Hospital.
Jennifer Parent, '89, RN, BSN, trustee and owner and manager, J. Parent Properties LLC.
Pam Preston, DNP, MSN, BSN, associate professor, Saint Anselm College Department of Nursing.
Sheila Evjy '74, RN, BSN, MSN and Med, Ed.D., CENP, trustee, retired from Elliot Hospital.
Susan Reeves, Ed.D., RN, CENP, executive vice president at Dartmouth-Hitchcock Medical Center.