"Our Fire is Stronger Than Your Bombs" - An exhibit of Ukrainian graphic artists' response to war
In Person
May 1, 2023
4:00 pm EDT - 5:30 pm EDT
Location
: New Hampshire Institute of Politics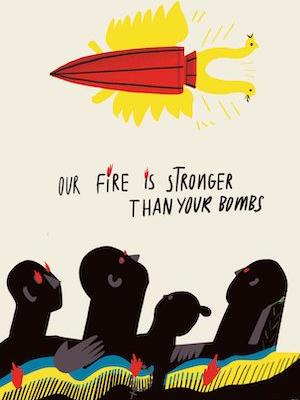 The New Hampshire Institute of Politics is pleased to offer a special program to mark the one-year anniversary of the start of the full-scale Russian invasion of Ukraine. The program features an exhibition of war posters by contemporary Ukrainian illustrators, living and working in Ukraine, sometimes, with no power, water, cell signal, or Internet connection.
Lada Kolomiyers, Veronika Yadukha, and Hanna Leliv, three scholars and translators currently at Dartmouth College, will present a selection of translations they have been working on over the past year. The poetry reading will be performed to the music accompaniment by Joe Deleault and Don Davis.
Program Participants:
Lada Kolomiyets is a Habilitated Doctor of Philology in Translation Studies and Full Professor of the Department of Translation Theory and Practice at the Taras Shevchenko National University of Kyiv. Currently, she is a Harris Visiting Professor at Dartmouth College.
Veronika Yadukha is an art curator of Ukraine's annual literary and translation festival TRANSLATORIUM and a member of VERBatsiya, a collaborative translation group. Currently, she is a graduate student in the comparative literature program at Dartmouth College.
Hanna Leliv is a literary translator from Lviv, Ukraine. A former Fulbright fellow at the University of Iowa's Literary Translation Workshop, she is now a Leslie Center Faculty Fellow at Dartmouth College.
Joe Deleault is an award-winning international performer, composer, and session pianist. His recent projects include work with academy award-winner Ernest Thompson, filmmaker Ken Burns and StoryFirst. Joe recently won the 2022 Telly Award.
Don Davis plays saxophone, clarinet, flute, and percussion. He studied composition and saxophone at Berklee College of Music in Boston, MA. Don teaches woodwinds at The Manchester Community Music School.
Light refreshment will be served.
In partnership with the Gregory J. Grappone '04 Humanities Institute at Saint Anselm College and the Leslie Center for the Humanities at Dartmouth College, and New Hampshire Humanities.
This event is made possible by a grant from New Hampshire Humanities.