The Roger and Francine Jean Student Center Complex is the dynamic hub of Anselmian life, as students gather, work, and learn in its central location.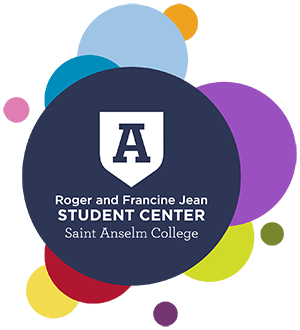 Home to multiple student services, the student center complex also offers spacious lounge and study areas, wide hallways, a 250-seat auditorium a café, a function room with an incredible view of Alumni Hall, the college bookstore, and abundant natural light to provide an open, inclusive, and comfortable environment.
Built on the former site of the college's Cushing Center, the new student center complex officially opened in May of 2018 offering the college's 2,000 undergraduates a state-of-the-art facility. Roger Jean, a Manchester native, 1970 graduate, 2006 honorary degree recipient, and trustee of the college, with his wife Francine, made a $6 million contribution — the largest individual gift in Saint Anselm College history — to make the complex that bears their name possible.
Student Center Contact
Susan Gabert
100 Saint Anselm Drive #1748
Manchester, NH 03102
Game Room
Located on the ground floor of the Jean Student Center, the game room is a place for students to relax, play games, and hang out with friends. With a state-of-the-art Bose sound system, music is continually played for an energetic atmosphere. There are two televisions located on the back wall that have HDMI hookups and gaming center capabilities. To reserve this space for functions, email jeanstudentcenter@anselm.edu for more information. 
Gallo Café
On the main level you can find all your Starbucks needs. The Gallo Café has breakfast sandwiches, paninis and lunch wraps, soup of the day, açai bowls, Starbucks products, and pastries made daily at our dining facilities.
Multi-faith Prayer Room
Saint Anselm College provides the Multi-Faith Prayer Room (located on the main level) as a space for all members of this community to pray, meditate, reflect, and find quiet. This space is generally available on a drop-in basis, though it can be reserved through the Office of Campus Ministry for appropriate private use (i.e. faith sharing groups).
Thomas A. Melucci Jr. '88 Memorial Auditorium
Accessible from the ground floor and the main level, the Thomas A. Melucci Jr. '88 Theater seats 250 people. Home to many events, lectures, and watch parties, the theater is available for any reservation needs. 
Event Space
On the top floor of our Student Center with an incredible view of Alumni Hall, the event space has many functions. Often reserved for different events it's perfect for lectures, meetings, and cocktail events.