Zoning Atlas Launch
In Person & Remote
May 9, 2023
8:00 am EDT - 10:15 am EDT
Location
: New Hampshire Institute of Politics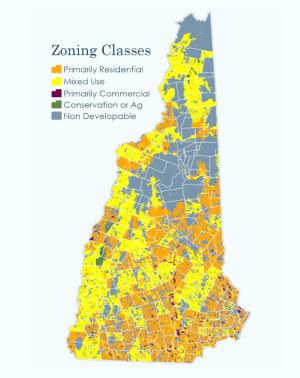 Join the Center for Ethics in Society, in partnership with NH Housing and the NH Office of Planning and Development, on May 9 as we launch the New Hampshire Zoning Atlas, the result of a 16-month effort to research, catalog, digitize, and graphically display all of New Hampshire's zoning regulations, community-by-community, district-by-district.
 
The NH Zoning Atlas has the potential to be a valuable tool for researchers, policymakers, planners, community leaders, builders and developers, advocates, and others to understand NH's zoning, as well as to stimulate a statewide discourse about the ways in which zoning in our communities - both individually & collectively - affects housing supply & affordability.
 
The launch will include a presentation of the atlas, a panel discussion, and remarks from special guests, including Sara Bronin (U.S. Advisory Council on Historic Preservation and founder of the National Zoning Atlas).
We hope you will join us for this exciting event. Breakfast is included.