Athletics Hall of Fame Looks Forward to Class of 2022
By Abigail St. Jean '21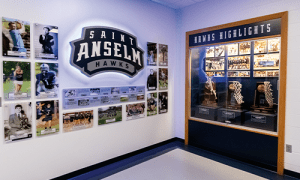 The continuous journey to find normalcy amidst a pandemic has created several challenges during this unprecedented school year. It comes with great sadness that the Athletics Hall of Fame was cancelled this year due to the ongoing pandemic. Unfortunately, "with the health and safety of those in attendance and the campus community at the forefront, hosting a proper gathering to honor the legacies of our inductees is not presently feasible," says Director of Athletics Daron Montgomery.
Created in 1980, the Athletics Hall of Fame includes more than 150 student-athletes, faculty, staff and other supporters. After a 10-year hiatus, the Hall of Fame was revived, reestablished, and recreated in 2017 and the reinstated Salamone Family Athletics Hall of Fame space was unveiled and dedicated in February of 2020, merely weeks before the college was shut down for the 2020 spring semester.
Parallel to the new space, the Department of Athletics also launched an updated website in January of 2021, which includes new photos of inductees, biographies, and revised statistics. The website correlates to the touch screen in the Hall of Fame to cohesively commemorate those inducted. As the Hall of Fame is a monument of history, an abundance of research was necessary to uncover original press releases from the history of Saint Anselm athletes and athletic rankings were progressively updated. The Department of Athletics encourages Alumni to visit the Hall of Fame website to see the various improvements.
Nominations for the Athletics Hall of Fame are being accepted on the SaintAnselmHawks.com website. Although the Hall of Fame was cancelled this year, it should be noted that Alumni can continue to nominate athletes, mentors, coaches, or teams for inclusion in next year's Hall of Fame. The deadline is rolling and submissions are welcome at any time. The criteria for nominations can be found on the website. Montgomery adds, "we look forward to celebrating the athletic achievements of future classes as soon as possible."
For more information on the Athletics Hall of Fame, or to make a nomination, visit saintanselmhawks.com/honors/athletics-hall-of-fame.
---
Nursing Pioneers: Ryan Gagnon '97 and Brian Laneau '98
By Jana F. Brown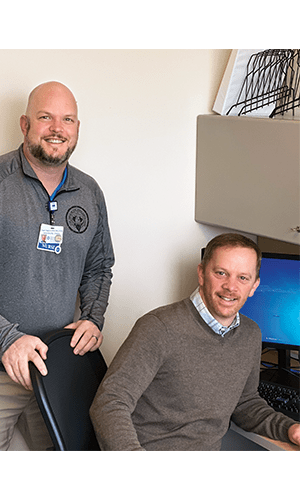 When the Covid-19 pandemic struck the Northeast in March 2020, Atrius Health, the largest independent physician group in Massachusetts, quickly reorganized its operations to triage and coordinate care for patients who were infected with the virus and those who were worried they might have it.
Among the people who took the lead in establishing what is considered the largest nursing-run Covid resource center in the Northeast were Nurse Manager Ryan Gagnon '97 and Nurse Director for Clinical Informatics Brian Laneau '98. The home-based call center allowed a trained team of nurses to manage up to 4,000 calls and emails a day at the height of the surge.
"We recruited volunteers from across the organization to take this on," says Gagnon, who coordinated the training of 70 nurses when the call center was established. "We had to build it from the ground up."
That infrastructure is where Laneau came in. The plan was to send nurses home to work remotely, using a triage module to answer Covid-related questions and direct callers to next steps.
Both Gagnon and Laneau credit their own training at Saint Anselm with preparing them. Gagnon's varied career has taken him from pediatrics to diabetic nurse educator to nurse manager of a NICU. He has worked for Arnold Palmer Hospital in Florida, the University of Chicago Medical Center, and Boston Children's, with stops along the way. Laneau spent much of his career in various critical care nursing posts at Tufts Medical Center, before finding his way to Atrius Health three years ago. Laneau remembers the open-door policies of Saint Anselm mentors, and how they helped to guide him.
"It's that holistic approach to the social, emotional, physical, and spiritual needs of people that prepared me," says Laneau. "Trying to meet the needs of patients [during this crisis] is grounded in some of those things from Saint Anselm."
Though both men were educated at Saint Anselm, and graduated a year apart, they did not meet until they landed at Atrius. Fate seems to have brought them together to lead the establishment of the Nursing Resource Center. Gagnon describes Laneau as the cog in the operation's wheel. When a change needs to be implemented due to ever-changing CDC guidelines, it's Laneau who makes it happen.
"I'm the people person," says Gagnon. "Brian gets changes made behind the scenes and brings them to me so I can roll them out. Without him, this whole call center never would have happened."
The praise is mutual, as Laneau describes how Gagnon leads daily Zoom "huddles" with nursing staff to listen to concerns and implement ideas.
"He's good at breaking down barriers for people working at home and feeling alone," says Laneau. "He has the ability to bring people together."
Since the resource center opened on March 15, 2020, nurses have fielded more than 300,000 calls, replied to more than 10,000 emails, and ordered more than 90,000 Covid tests. Gagnon and Laneau are part of an operation that now offers full Covid testing at multiple locations, a variety of virtual care options, and vaccine scheduling.
While fingers are crossed that the pandemic will subside soon, Gagnon and Laneau have learned the efficiencies of centralized care. Atrius is in the process of determining the call center's future, with a team of nurses who have accepted permanent positions.
"A centralized call center unrelated to Covid is the vision," says Gagnon. "A lot of the calls may seem like little things, but what makes me smile at the end of the day is knowing we made a difference."
---
Breaking Down Barriers: Craig Welton '03
By Bridget (Martin) Lazzara '11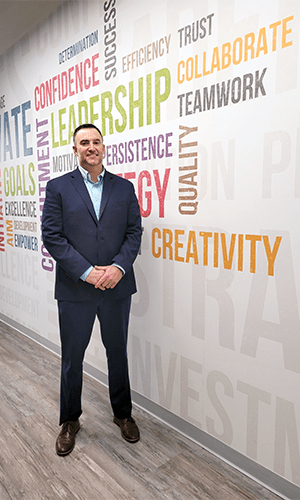 When Northeast Arc's Center for Linking Lives opened in October 2020, it was a revolutionary milestone for the disability community. The state-of-the-art facility, located in the Liberty Tree Mall in Danvers, Mass., is surrounded by stores and restaurants and is easily accessible by public transportation, situating Northeast Arc's programs—and the people who participate in them—in the heart of the North Shore community.
"The Center for Linking Lives will have an exponential impact on folks who have been historically underrepresented in their communities," says Craig Welton '03, chief development officer at Northeast Arc. The organization's mission is to help people with disabilities become full participants in their communities. Northeast Arc provides a variety of resources to disabled people of all ages and their caregivers, including intervention services, support groups, recreation, and job training.
The Center houses Northeast Arc's community-facing programs and Parcels, a retail store that sells products made by people with disabilities. "The physical presence in the mall leads the change in normalizing interactions with people who have disabilities and in greater inclusion for the disability community," Welton says.
He first experienced the impact of inclusion as an undergraduate. The political science major took a service-learning elective during his junior year and spent time volunteering at the Sununu Youth Services Center in Manchester (formerly the Youth Development Center) as part of his coursework, helping young people with their studies.
"Service learning had a profound impact on me. I found it was important to get real-world experience beyond the classroom," Welton says. "I also saw firsthand the meaningful, proactive change that you can have on someone's life."
His service-learning experience and an internship at the Washington Center in Washington, D.C., reinforced the importance of community activism. After graduation, Welton moved to California and began volunteering with Best Buddies International, an organization that promotes inclusive living for people with disabilities.
His volunteer experience led to a job offer, and Welton soon transferred to Best Buddies' Boston office, where he focused on college-level volunteer recruitment. Welton left the organization to pursue a master's in public administration from Northeastern University. He returned to Best Buddies as the state director of Massachusetts and Rhode Island, a role he held for a decade.
Welton became the chief development officer of Northeast Arc in 2018, where he oversees fundraising, public relations, and marketing strategies. "I was attracted by [Northeast Arc's] reputation for innovation and the opportunity to work with a population in my own community," says Welton, who lives with his family on the North Shore.
Welton was instrumental in the development and opening of the Center for Linking Lives, and he guided the Center through the unforeseen disruptions of the Covid-19 pandemic. This included securing PPE for the organization, and when hand sanitizer dwindled, he turned to his Saint Anselm community, connecting with friend and former football teammate Sergio Bonavita '03, who owns Westfield River Brewing Co. in Southwick, Mass. Bonavita produced 300 gallons of hand sanitizer for Northeast Arc and surrounding service providers.
Welton, who was selected as Boston Business Journal's "40 Under 40" in 2020, credits his education for his creative problem-solving. "Saint Anselm encourages students to think outside the box and determine how they can make a difference in the world for other people," he says.
Welton hopes the Center for Linking Lives will serve as a blueprint for other communities looking to activate vacant retail space. Reflecting on the impact that the Center's services have on participants, he emphasizes that inclusion takes minimal effort but has resounding effects.
"It is really easy to include people and make a huge impact on someone's life," Welton says. "Your effort doesn't need to be a profound gesture, but you can move the needle in contributing to a more inclusive society."
---
Art History Through the Lens of the Slave Trade: Catherine Doucette '18
By Rachel Strutt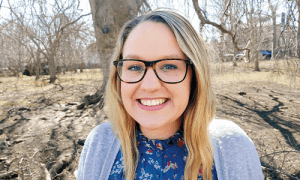 At first glance, curating 18th-century decorative objects at Hunter House, a Georgian house in Newport, R.I., might seem like an interesting but perhaps esoteric, dusty affair. Yet, in the hands of Hunter House Research Fellow Catherine Doucette '18, every object, whether an ornate cabinet or a pewter porringer, tells a story that is urgently relevant in the here and now. Often, these stories relate to colonialism, the slave trade, and systemic power systems.
"We're shifting the focus away from the Eurocentric narrative that focuses on the role of white male craftsmen and property owners," says Doucette, who is working with a team to rearrange the historic house and create a new visitor experience for the public. "We're exploring Newport's place in the circum-Atlantic world and the many different people, both enslaved and free, who played a role in 18th-century Newport."
One of Doucette's many areas of research is mahogany furniture—chairs, clocks, and even bedframes. Rather than just focus on the wealthy patrons, Doucette poses questions like: What must it have been like for an enslaved laborer in the Caribbean to cut and log mahogany trees for export while working long hours in brutal heat? And how did the Caribbean influence the aesthetics of what we consider to be quintessentially New England furniture?
Doucette says she learned how to "read" and interpret objects—and ask endless questions—while studying art history at Saint Anselm College with Professor Katherine Bentz and Professor Emerita Katherine Hoffman, among others. The more she took classes, ranging from 19th-century art to Renaissance painting, the more Doucette saw the relevance and power of art history. She credits Professor Bentz in particular for encouraging her to enter the art history playing field—which, she explains, "can be a competitive field."
Doucette's trajectory from Saint Anselm to Hunter House has been impressive. As she says with a laugh, "I've been up to quite a lot after I left the Hilltop."
After graduation, Doucette interned at the Cleveland Museum of Art where she catalogued Italian lace. Then it was off to The Metropolitan Museum of Art in New York City, where she began working with British decorative arts. Doucette was instantly smitten. And so she honed in on this subject, getting her master's at the esteemed Courtauld Institute of Art in London, where she studied British material culture within the context of the entanglements and encounters of African, European, and American cultures during the period of transatlantic slavery and colonialism.
It was this line of inquiry that led her to Hunter House. And in the fall, Doucette will delve even deeper into the subject when she heads to the University of Virginia for a Ph.D. program in Art & Architectural History, where she will focus on the material culture of colonial Jamaica.
"I am interested in learning how enslaved individuals used their artistic skills to survive slavery and create their own Afro-Creole forms of cultural expression within this formative period of history," says Doucette.
While her work focuses on the long 18th century, she sees a direct connection to contemporary struggles and the Black Lives Matter movement.
"Our society is figuring out how to deconstruct old power systems and create more diverse and inclusive spaces," she says.
And this is what makes Doucette's work so timely. By unearthing and amplifying untold stories of the marginalized, Doucette shows how an 18th-century mahogany chair can tell stories about power systems that we're still struggling to dismantle today.