Athletics Hall of Fame: Congratulations to the Class of 2022
Saint Anselm College inducted its five-member Athletics Hall of Fame Class of 2022 on Saturday, February 19 at the New Hampshire Institute of Politics. The signature event for the Department of Athletics was held for the first time since 2020 after a pandemic-related hiatus for 2021.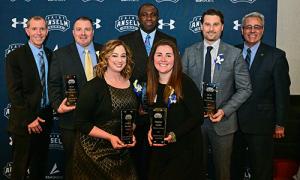 Established in 1980, the Saint Anselm College Athletics Hall of Fame recognizes student-athletes, coaches and athletics administrators that have brought recognition to themselves and the college through their efforts on and off the playing surface.
After a hiatus, the Athletics Hall of Fame was reinstated in 2017 when the Class of 2007 was finally inducted along with two additional candidates. The Salamone Family Athletics Hall of Fame, a physical home for the Hall of Fame space, was unveiled in February 2020 with the help of a generous donation from Chris M. Salamone, J.D., Class of 1984.
Andrea Messina '03
Andrea Messina '03 was a four-year member of the Saint Anselm softball team, and remains the program's all-time leader in career earned-run average (1.22) and ranks second all-time with 105 career appearances and 627.1 innings pitched. She racked up 666 career strikeouts, the second-most in team history. Her eight career saves is also tied for the most in Saint Anselm history.
Messina helped Saint Anselm to 109 victories in four years as a part of one of the winningest classes in program history, winning 60 of those games for Saint Anselm in the circle. The NE10 Rookie of the Year in 2000 and the three-time NE10 All-Conference pick finished the team's first-ever NCAA postseason run in 2002 with three appearances, striking out 13 batters in 14 innings and allowing just one earned run.
Darlington Okerulu '06
Darlington Okerulu '06 is the all-time leader in rebounds for the Saint Anselm men's basketball team. Racking up 953 career rebounds across 119 career games for Saint Anselm, Okerulu was also a proficient scorer, finishing with 1,343 career points in a four-year career on the Hilltop. He presently ranks fourth all time in games played (119) and 10th in rebounds per game (8.0).
He put together an impressive campaign as a freshman, averaging 13.7 points per game while hauling in 8.6 caroms per contest. His strong play throughout his career helped the Hawks to back-to-back NE10 Championships in 2005 and 2006. Okerulu finished with 31 career double-doubles and 71 games with at least 10 points for Saint Anselm, logging a .481 career field goal percentage.
Brian O'Leary '01
Brian O'Leary '01 was one of the first stars for the fledgling Saint Anselm men's lacrosse team from 1998 through his graduation. Joining a team that had won just seven games across the first four seasons of its existence, O'Leary and the Hawks racked up 29 wins during his time that saw him establish the team's assists record (152) that remains unthreatened to this day.
Racking up 210 career points of offense for Saint Anselm, he registered 39 assists in 1998 and followed with back-to-back campaigns of 42 and 44 helpers, respectively—those figures remain the top three single-season assist records to date. The two-time NE10 Second Team All-Conference selection was pivotal in his team's first NE10 tournament appearance in 1999.
Brett Smith '07
Brett Smith '07 remains the first (and only) four-time First Team All-Conference selection in Saint Anselm men's ice hockey history. Competing as a defenseman, Smith earned back-to-back Defensive Player of the Year honors from the NE10 as the Hawks won four Regular Season Championships and two postseason titles in his tenure.
Bursting onto the scene in 2003, the 100 career point scorer (35-69=104) captured the NE10 Rookie of the Year award and was a finalist for the prestigious Joe Concannon Hockey Award in 2006 after leading all ECAC East student-athletes with 21 power-play points (6-15=21). In total, Smith helped the Hawks to a 68-35-6 record (.651) which stands as the winningest four-year stretch in team history.
Meghan Smith '12
Meghan Smith '12 was a standout member of the Hawks women's lacrosse team from 2009 through 2012, and averaged 4.36 points per game across 56 career games, the team record to this day. Potting 203 goals with 41 assists for 244 career points (203-41=244) to rank second all-time, Smith is the far-and-away team leader in draw controls with 372 (6.64/game) during her tenure on the Hilltop.
As a senior, Smith scored a team-record 67 goals (single-season record) with 12 assists for 79 points (67-12=79), earning IWLCA North All-Region honors and a First-Team All-Conference selection from the NE10. Just one season prior, Smith hauled in a single-season record 130 draw controls to give her 9.29 per game, the second-most in NCAA Division II single-season history.
For more information on the Athletics Hall of Fame, or to make a nomination for the Class of 2023, visit the Athletics Hall of Fame page.
---
Anselmians Recognized by the NH Business Review
Six Anselmians were recently recognized for their work in the state by the NH Business Review's New Hampshire 200 awards. The initiative features 200 individuals in New Hampshire who the Review's editors believe to be the state's most influential business leaders across major industries comprised of education, business, marketing, nonprofit, and real estate.
We are so pleased to see these Anselmians recognized as leaders in their fields. Each one represents the thoughtful and values-based education that is provided here on the Hilltop.

—Dr. Joseph A. Favazza, president, Saint Anselm College
Included on the list are Professor Loretta Brady '99 and New Hampshire Institute of Politics Executive Director Neil Levesque as well as alumni Dean J. Christon '78, Natalie Jutras '99, E.J. Powers '05, and Michael Skelton '04.
"We are so pleased to see these Anselmians recognized as leaders in their fields," said Dr. Joseph A. Favazza, president of Saint Anselm College. "Each one represents the thoughtful and values-based education that is provided here on the Hilltop."
Professor Brady teaches in the college's psychology department and is director of the Community Resilience and Social Equity Lab formerly known as Requity Labs. As a licensed clinical psychologist, she has additional certifications in leadership coaching, addiction treatment, infant mental health, and conflict mediation. Her clinical efforts have served returning veteran's, chronically ill patients, professional teams, families in crisis, and patients with trauma and addiction. In addition to research on risk and resilience, Professor Brady has developed a specialty in technology, employee training, diversity and organizational psychology.
As executive director of the New Hampshire Institute of Politics since 2009, Levesque has lead the institute and college through a variety of state and national productions including five presidential debates and numerous distinguished speakers including U.S. presidents, vice presidents, and presidential candidates. As the institute celebrates its 20th anniversary, it continues to fulfill its mission of educating, engaging, and empowering citizens to participate in the civic and political life of their local, national and global communities. Prior to his work at the college, Levesque held leadership roles in politics and governance across New Hampshire.
Christon, a 1978 graduate of the college, retired as the executive director and CEO of New Hampshire Housing Finance Authority on December 31, 2021. He led the organization since 2007, holding leadership roles there for more than 33 years. Christon has been influential in advocating for affordable housing for New Hampshire families, as well as working with state officials on economic and community development strategies. He serves as a member of the State of New Hampshire's Council of Partner Agencies, the New Hampshire Community Development Advisory Committee, and the Council on Housing Stability. He also has served on the board of directors of the National Council of State Housing Agencies. Christon serves as vice chair of the Advisory Board of the Saint Anselm College Center for Ethics in Society, and is a trustee of NeighborWorks Southern NH.
Jutras is a business development representative with Bank of New England in Manchester, N.H. She was previously the director of advancement at the Boys & Girls Club of Manchester where she led the organization's fundraising efforts. She told the NH Business Review that she considers it an honor to help raise money for an organization whose purpose is to serve children well. She has worked in a variety of positions in the nonprofit world. She graduated from Saint Anselm in 1999 with a degree
in business.
Powers graduated from Saint Anselm in 2005 and has since developed and executed strategic communications campaigns for clients across the state and beyond through his work as a partner of leading communications and marketing agency, Montagne Communications. In his position, he supports client goals in reaching audiences around the world and provides strategic counsel and communications and marketing support in a variety of industries including government, tourism, energy, healthcare, manufacturing, hospitality, real estate, tech, and nonprofit.
As the former president and CEO of the Greater Manchester Chamber of Commerce (GMC), Skelton led the state's largest business advocacy organization, representing nearly 800 businesses across southern New Hampshire. He was the organization's key spokesperson and an advocate for the Greater Manchester business community. Since the beginning of his tenure in 2014, he oversaw management of the organization, the development and implementation of the GMC's strategic plan, programs, and budgets. Skelton has served on the board of directors of Stay Work Play, and was named to the 2014 class of New Hampshire's "40 Under Forty" young leaders by the Union Leader. He graduated from the college in 2004. This past January, he became president and CEO of the Business and Industry Association of New Hampshire, in Concord, N.H.
Anselmians Recognized by NH Business Review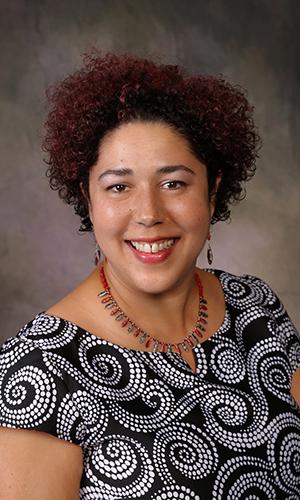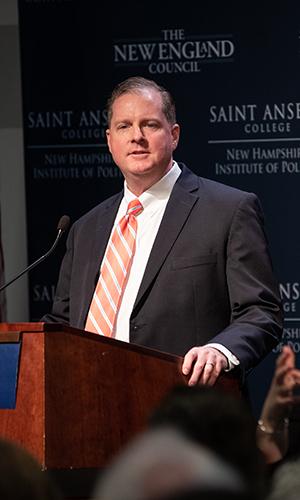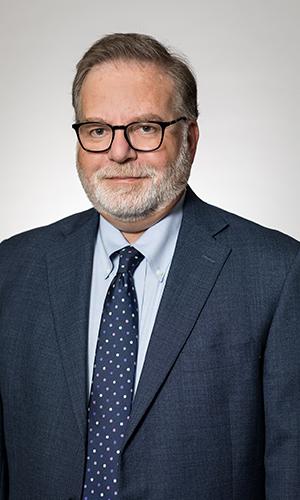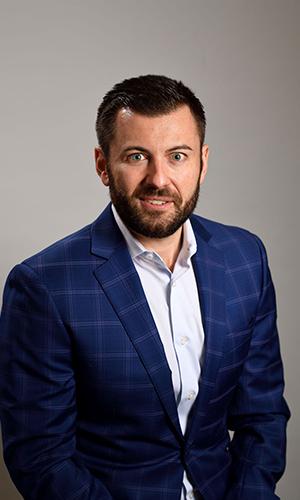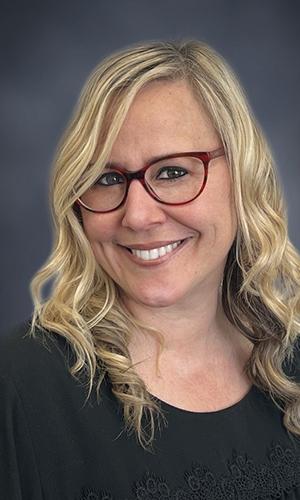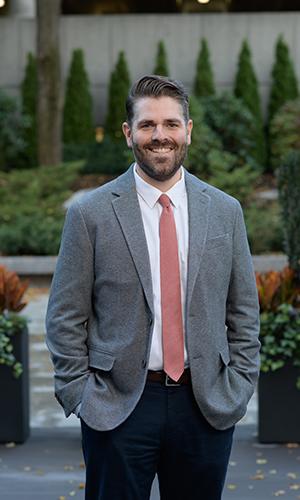 ---
Paving the Way for a Vaccine: Amy (Lewis) Genest '96
By Laurie Morrissey
Rolling up their sleeves for their first Covid-19 shot, many people breathed a sigh of relief. It was the end of a long and worrisome wait. For Amy (Lewis) Genest '96, it was especially exciting. She had not only waited but played a key role in bringing the shot from the laboratory to people's arms.
"It was a very emotional day when I got my shot, and the same when my kids got their shots," she says.
Genest works for Pfizer, one of the world's premier biopharmaceutical companies. In 2020, her task was to locate, manage, and oversee organizations that could manufacture the coronavirus vaccine under contract with the same quality and integrity followed at Pfizer-owned facilities. The company had not yet received authorization for their Covid-19 vaccine—but when they did, they would need more production capacity than they had at their current sites.
"We knew we needed more supply and had to be positioned to supply the world. My team was looking at the technology and seeing if we had contractors that would be a good fit," Genest says. "We started by looking at manufacturing organizations in the United States and Europe to see if they were open to working with Pfizer in a new, emerging technology, even before we had clinical results and didn't have a well-defined process."
The lack of a viable vaccine made her work challenging. In addition, although Genest normally does some of the vetting and negotiating with external suppliers onsite, travel was impossible.
The team was successful: There are more than 20 external vendors on four continents that support Pfizer's coronavirus vaccine production. They are on track to produce the four billion doses allocated for this year, Genest says.
Genest is one of a small number of people who specialize in "technology transfer." After finding an external partner, she handed over the project to an engineer in India to manage the top-secret transfer of the vaccine's blueprint and manufacturing.
"It was a very intense eight to 10 months," says Genest, who works from a home office in Andover, Mass. "Typically, we have a much bigger window for selecting and qualifying our partners. It was done at lightning speed—there was no time to say no. If a meeting was scheduled for 5 a.m. or 10 p.m., it had to be done. My two girls were in first and third grade doing school remotely, and my husband was working from home too." Fortunately, she shares a home with her parents, who oversaw the children's schooling.
After graduating with a natural science degree, Genest had an interest in clinical research. Lacking experience in the field, she took an entry-level job on the manufacturing floor of a small biopharmaceutical company, making drugs for hemophilia. With a master's degree in business, she had the skills to move up. She joined Pfizer in 1997 as a process technician and is now the new product lead in Pfizer's global supply organization.
"I'm responsible for teams that launch products in Pfizer's pipeline, making sure products are ready, so when approval comes, we can get them out to the markets and to the patients who need them."
The most rewarding part of Genest's job is having an impact on patients' lives: "It was demanding but also humbling and thrilling to be asked to be even a small part of this amazing journey."
---
Shaking It Up: Alex Macomber '10
By Samantha Jette '20
After working for nearly a decade in robotics, Alex Macomber '10 is forging a new path. Since late 2019, Macomber and his wife, Kelsey, have opened a series of protein shake and tea bars across southern New Hampshire. Their trendy shops serve over 40 flavors of low-sugar protein shakes and energizing teas to customers as a healthy alternative to fast food.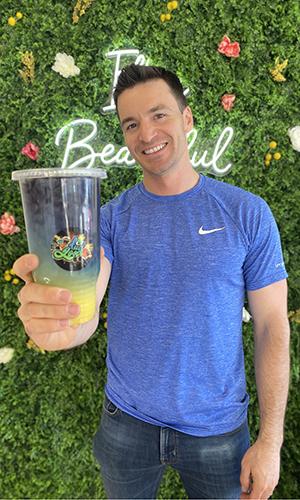 Macomber's career path has been anything but traditional. Following his graduation from Saint Anselm in 2010, the applied physics major went on to receive his bachelor of science in electrical engineering from the University of Notre Dame as part of the 3 + 2 engineering program. Macomber spent more than eight years as a robotics engineer for Kiva Systems, later acquired by Amazon, where he deployed robots throughout the United States and Europe.
Through Kelsey's work as a health coach, the couple learned about brick-and-mortar beverage shops opening across the country. They noticed the need for a similar store in New Hampshire and set a plan to start their own.
"It was a very difficult decision as I thoroughly enjoyed my career in the technology field and loved my colleagues at Amazon, but with our second baby on the way, and my burning desire to own a business, I made the calculated leap," Macomber says.
Macomber credits his humanities background at Saint Anselm with helping him shift careers. He found that emphasis on reading, writing, and critical thinking can be adapted to any career path.
"It was definitely helpful to have a well-rounded education so that I could break away from my niche in technology," he says.
The couple hit the ground running, opening five shops in less than a year, including The Nutrition Corner in Derry, Nourished in Manchester, and The Vibe in Hudson. The shops serve a variety of nutritious shakes and teas, including flavors like Reese's and Pineapple Breeze, Macomber's personal favorites. Each shake contains at least 29 grams of protein, as well as a host of vitamins and minerals, making it the perfect meal replacement for those who are on the go.
So far, the shake and tea bars are a hit in the local community. Despite Covid-19 shutdowns just months after The Nutrition Corner opened its doors, the shop has become a popular local spot. After adapting to accommodate for curbside orders and take-home shake and tea kits in spring 2020, the store's business more than tripled.
"It was out of control, people driving 45 minutes and then waiting in their car for another 30 minutes for a protein shake," says Macomber. "It became a cool place to hang out, tailgate and talk to friends."
As Covid restrictions lessen, the store continues to be a focal point in the community. The business continues its commitment to healthy lifestyles, and even hosts fitness classes at their Windham location. Now, Macomber is eager to help other aspiring business owners open their own beverage shops. Their business group now has 20 stores on the East Coast and plans to open dozens more in the coming years.
---
A Skilled Negotiator: Kristine E. Adams '16
By Kate Grip Denon
For Kristine E. Adams '16, being able to speak another language with people from around the world is just part of the job. As an air services negotiator for the Department of Transportation in Washington, D.C., Adams, who speaks Spanish fluently, coordinates with foreign countries all around the globe, airline companies, and the U.S. government interagency to negotiate and maintain Open Skies Agreements.
"These legally binding air transportation agreements are negotiated bilaterally or multilaterally between the U.S. government and the governments of foreign countries that allow any airline of the foreign entity and any airline of the United States to fly between any point in the foreign entity and any point in the United States," she says.
According to Adams, since the negotiation of the first Open Skies Agreement in 1992, international passenger and cargo flights to and from the United States increased exponentially, facilitating expeditious travel and trade, enhancing commercial productivity, and spurring high-quality job opportunities and economic growth.
Adams, who was a Spanish and international relations major, credits her studies of the humanities for her ability to navigate and facilitate these negotiations. "I cannot think of a professional discipline more informed by the study of the humanities than foreign affairs," she says. "The study and practice of international relations crosscuts so many core disciplines of the humanities, such as religion, history, philosophy, and modern languages."
For Adams, in order to advocate on behalf of the U.S. government to another country, it is essential to understand the culture and history of that foreign partner. "Context is crucial to creating consensus," she says. "For instance, had I not known that in 2017 Saudi Arabia, the United Arab Emirates, Bahrain and Egypt severed diplomatic ties with Qatar, I could have never accomplished my meeting objectives if I told my Qatari counterparts about my recent trip to Bahrain. Even worse, it could have caused a diplomatic incident."
Fluency in another language also has been instrumental to her success in this role. "Being able to converse with foreign partners in their native tongue can also be key to concluding a negotiation," she says. "It shows that you and the department you are representing [are] open to understanding their perspective and that you value both the similarities between you but also the differences."
This ability to have a conversation in another language is crucial for doing business, according to Adams. "Many diplomats in Central and South America consider a U.S. diplomat's ability to speak Spanish essential to doing business," she says. "I am so thankful for the language proficiency and soft skills I learned in the modern language and politics department—without them, my career in foreign affairs would be impossible."
Adams is especially thankful for Professor Jaime Orrego in the modern languages department and Professor Peter Josephson and Professor Erik Cleven in the politics department for courses that taught her cultural literacy, diplomacy, and regional history. She also is appreciative of the advice she received from Professor Sarah Glenn in the philosophy department. "She would argue that 'it is worth studying the humanities to have something to talk about at [social gatherings].'" Living in D.C. has made Adams appreciate the truth of that statement. "A comparison of the federal appropriations process to the myth of Sisyphus was a great ice breaker when I met the Secretary of Homeland Security for the first time," she says.